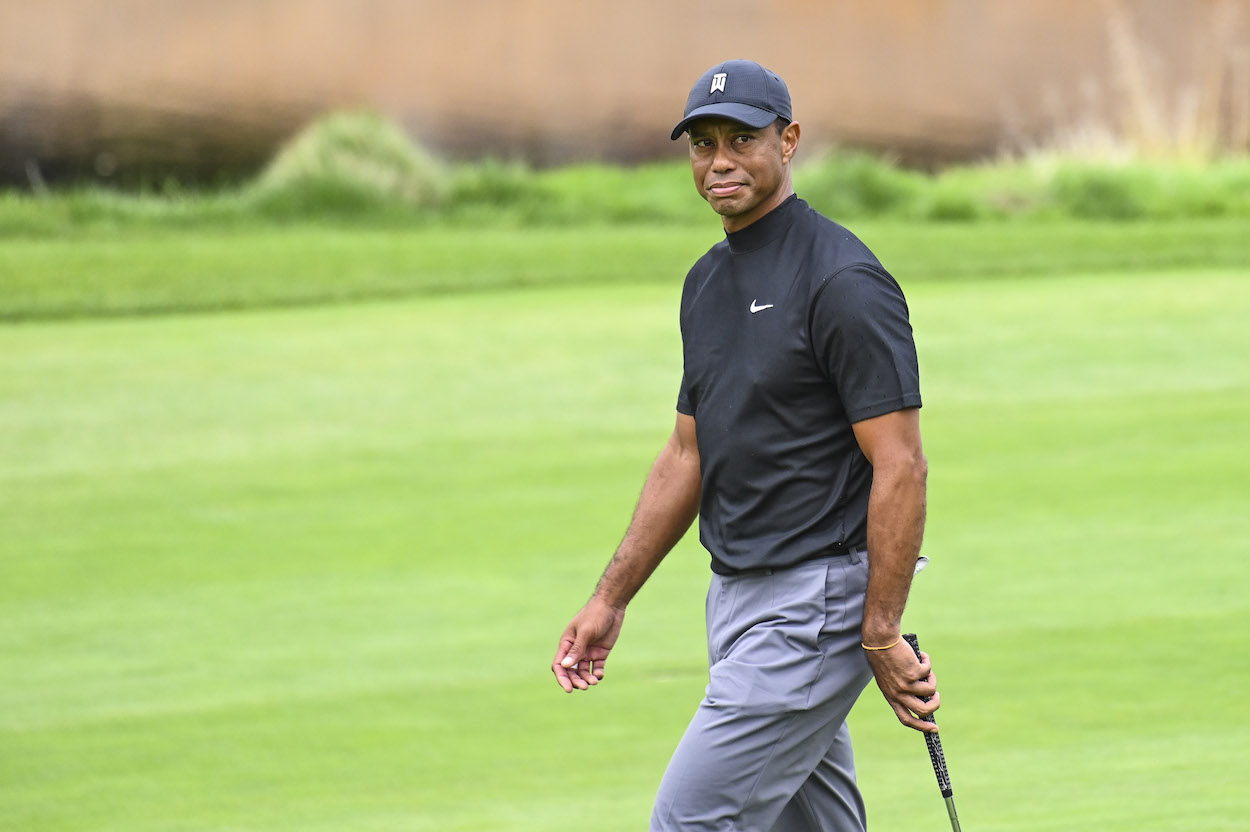 A Mysterious Source Offers the Most Encouraging Tiger Woods Injury Update Yet: 'He Knows When He Wants to Return, and He's Going to Make It Happen'
Tiger Woods reportedly believes he'll be able to play on the PGA Tour again.
Tiger Woods has largely stayed out of the public eye since his single-car accident in February that left him with fractured bones up and down his right leg. The only updates we've heard about Woods' recovery have been from his friends on the PGA Tour, but they've all been fairly vague and uneventful.
But this week, an anonymous source gave fans the most encouraging injury update yet by telling People Woods is making a "remarkable recovery," and he still plans on teeing it up on the PGA Tour.
Tiger Woods was recently spotted on the golf course without a cast
Woods has basically been a ghost for the last seven months. The 82-time PGA Tour winner fractured his right tibia and fibula and suffered more injuries to his ankle and foot in a single-car crash in late February, so he hasn't been able to get out much since.
A few pictures have surfaced online of Woods in a cast holding crutches, but the most recent image of the golf legend revealed a promising update on his recovery. Over the weekend, a snapshot first posted by Facebook user Mack Williams started circulating online of Woods on a golf course with just a sleeve on his right leg. He's pictured alongside his girlfriend, Erica Herman, watching his son, Charlie, compete in a junior golf event in Florida.
It's not an earth-shattering photo by any means, but being out of a cast and walking on his own is a great sign for the 45-year-old Woods.
A mysterious source says Woods is making a "remarkable recovery"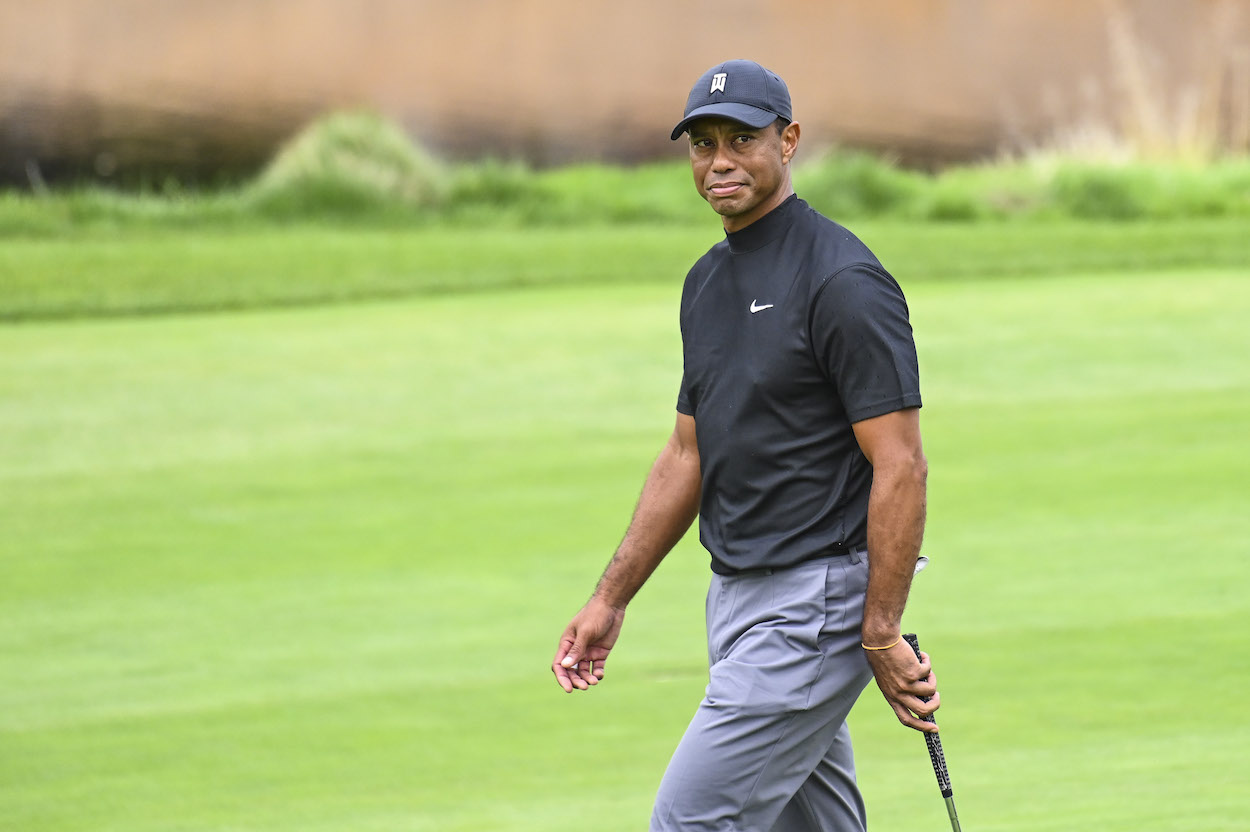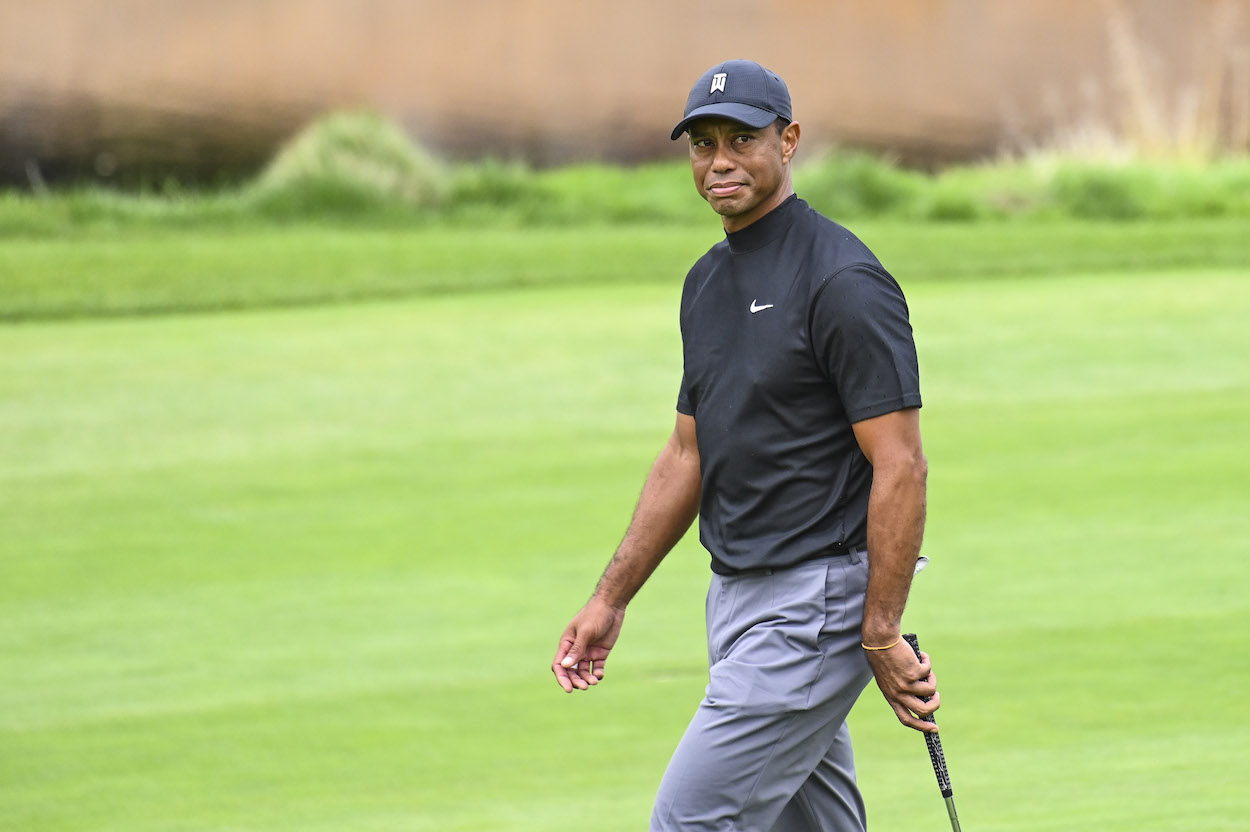 We've heard from Justin Thomas, Rickie Fowler, and Jack Nicklaus in the last few months about how Woods' recovery is going, but they've mostly said he's working hard on his rehab and likes spending the extra time with his family.
This week, though, the golf world received the most encouraging update yet.
An anonymous source familiar with Woods recently told People that the 15-time major winner has made a "remarkable recovery" in the past few months.
"It's like every day he can do more, he can handle more, the pain is less and he's feeling better," the source said.
He says that the pain is very manageable now. For the first couple months, he'd just be sitting at home with his leg up, and it would be throbbing and he'd be in so much pain. Now he still has pain, but it's nothing like what he dealt with before. He's feeling strong and healthy and optimistic that he'll be able to return to tour.

Anonymous source, People
That's a major development if the source is a reputable one, and golf fans around the world sure are hoping he or she is.
Tiger is focused on playing professional golf again
When Woods crashed his car off the road and underwent emergency surgery for his injuries, his friends and fans were just happy that he made it out alive. Considering his older age and the severity of his injuries, it felt unlikely he would ever tee it up on the PGA Tour again.
But we've seen Tiger make miraculous golf comebacks before, so he can't be counted out this time around. According to the source, Woods surely isn't giving up yet.
"He's got a timeframe in his head, but he's not really putting that out there; he knows when he wants to return, and he's going to make it happen," the source said. "He says even if he's not at 100%, he knows how important it is to get back out there and compete. That's his goal."
If that doesn't pump you up as a golf fan, nothing will.
Like Sportscasting on Facebook. Follow us on Twitter @sportscasting19.