NASCAR Confirms Cup Series Will Include In-Car Cameras in 2023 for All Cars Like 2022 Playoffs
NASCAR heard a lot of feedback last year in the first season of the Next Gen car. Some good. Some bad. Fans enjoyed the entertaining racing product and numerous different winners. Conversely, drivers consistently complained about harder impacts, and the resulting concussions backed up their claims.
Toward the end of the season in the playoffs, NASCAR made a change to the car that was universally viewed as a good move with the addition of in-car cameras to all cars. Fans appreciated watching inside their favorite driver's car and witnessing things happen in real-time that would later become headlines.
The overwhelming sentiment was for NASCAR to incorporate the cameras in 2023. They will.
NASCAR adds cameras at Kansas in 2022 playoffs
Last year days before the second race of the Cup Series playoffs in Kansas, NASCAR announced it would be installing in-car cameras for every driver, allowing fans to watch any driver's feed for the remainder of the season.
"Our goal is to deliver an immersive experience for the most passionate fans in all of sports, no matter where they are," NASCAR senior vice president and chief digital officer Tim Clark said. "We know the significant role second screens play in the overall viewing experience, so to provide live video from inside every car and alongside leaderboards, performance data, pit stats, live betting odds, and more is something we're excited about."
NASCAR to include in-car cameras in 2023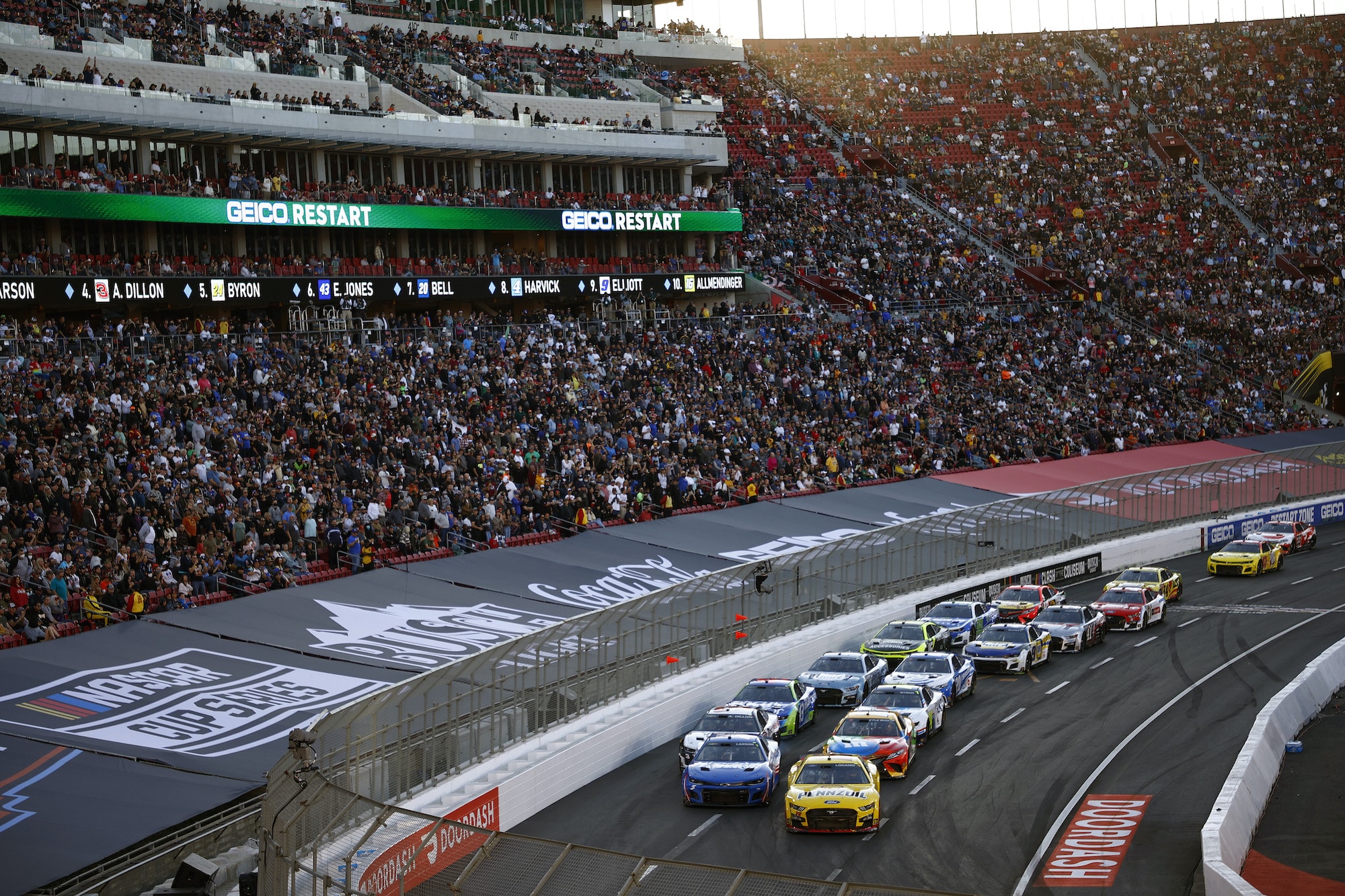 Most NASCAR fans have grown to accept that they won't always see eye to eye with the sanctioning body and its decisions. There will be times when officials will decide on something that goes counter to what most of the fans want. 
Fortunately, this isn't one of those times. NASCAR installed the cameras last year and heard the overwhelmingly positive feedback from the fans and confirmed that it will include the cameras in all cars for the 2023 Cup Series season. 
In-car camera controversy in 2022
While NASCAR provides the cameras and perspectives to enhance the overall fan experience, the governing body also learned last year how the extra eyes watching can result in holding officials accountable. It happened after the race at Texas when the then-vice president of competition Scott Miller told reporters that NASCAR inexplicably missed William Byron blatantly spin Denny Hamlin under caution and didn't penalize the Hendrick Motorsports driver because it "didn't have eyes" on the incident. 
This occurred several weeks after the in-car cameras had been activated. Fans were understandably unhappy with NASCAR's answer because it made absolutely no sense how the masses could watch the incident happen in real-time but officials at the track couldn't access the same views. It didn't help that NASCAR's own Twitter account posted Byron's in-car camera footage within minutes of the contact.
This year fans will get that same opportunity to see such a unique vantage point during a live sporting event. It's hard to find that kind of access in any other sports. And that's something all NASCAR fans should try and remember when the sanctioning body inevitably upsets them in the future.