NASCAR Finally Offers Fans More for Their Money Instead of Less
Imagine spending major coin for a concert ticket and then watching the band stop performing in mid-song and start moping around. NASCAR does that to its fans twice per race and gets away with it by calling it "stage racing."
It's every bit as annoying as watching NBA teams take 20 minutes to play the final 75 seconds of an eight-point game – and even more unnecessary.
NASCAR finally did a little something – emphasis on little – about it this week. Hopefully, it's an incremental step toward getting rid of all stage racing forever.
Which tracks won't use stage racing in the 2023 NASCAR Cup Series season?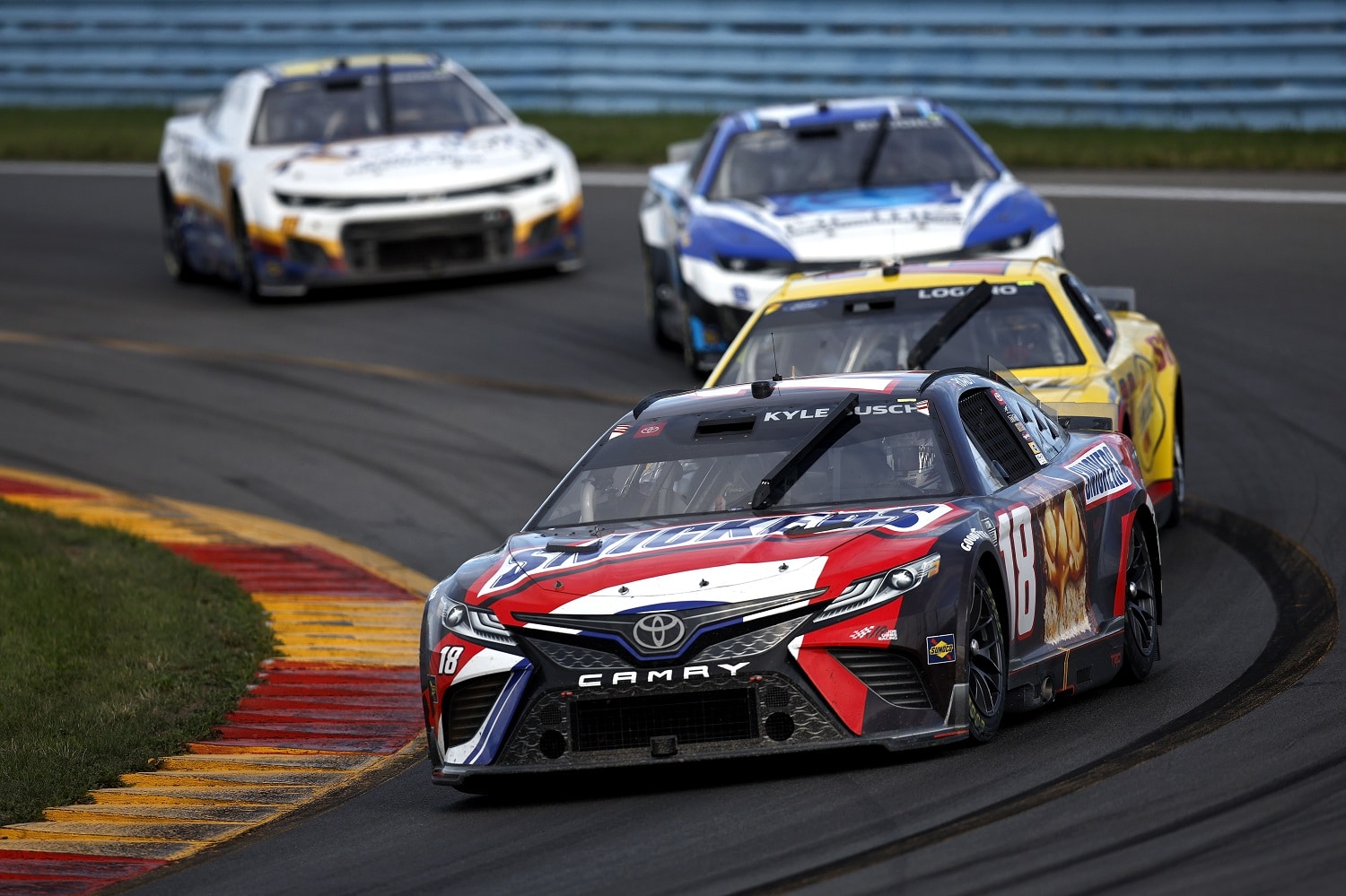 NASCAR will abandon stage racing in its six Cup Series road races in the upcoming season and in certain Xfinity and Truck races, it announced Tuesday.
The first of the affected Cup Series races is on March 26 at Circuit of the Americas. The others are Sonoma, the Chicago street course, the Indianapolis road course, Watkins Glen, and the Charlotte Roval.
Stage points will be awarded on the two designated laps, but the racing will not be interrupted. Also, stage winners will still earn a playoff bonus point.
The only road courses with stage breaks will be Xfinity races at Portland and Road America and the Craftsman Truck Series race at Mid-Ohio. NASCAR is making those exceptions because most regular pit personnel will be supporting Cup Series cars at other venues on the corresponding weekend.
Most fans find stage racing annoying because it interrupts the flow of the race and drags leaders who worked hard to forge an advantage back to the pack. The fact that those laps under caution count makes it worse.
The effect on competition is even more drastic on the road courses because the need for green-flag pit stops is next to nil. Drivers who head to the pits shortly before the end of the first stage under the old system do so as a matter of strategy to gain position when other cars pit during the stage break.
When did NASCAR start stage racing?
NASCAR instituted stage racing and the associated bonus points in 2017. The winner of the stage earns 10 points toward season standings and a playoff bonus point. The next nine finishers earn one to nine points according to their position.
The work in the scoring tower will be no more difficult than it already is. If there is an impact, it will be on NASCAR's television partners, who've used stage breaks to stuff more commercials into the telecast. In theory, it means more green-flag interruptions for fans watching at home. Even some of those fans might consider that an acceptable tradeoff.
"One of our most important elements was our fans," senior VP of competition Elton Sawyer explained on Fox's NASCAR Race Hub. "They threw their counsel and (we were) talking with our teams. When we implemented stage races four or five years ago, it basically took a lot of the strategy away from the road courses."
A stage could still end under the yellow if a caution flag is thrown for an incident late in the stage, but that will be the exception rather than the rule.
Fans finally get more for their money instead of less
Have you noticed how that two-pound box of cereal you used to buy in 2019 is now 29.5 ounces and costs more than it used to? It's called shrinkage, and it's done to avoid an even more drastic price increase.
NASCAR has its own shrinkage going on. Last season, Martinsville shortened its spring race from 500 laps on the half-mile track to 400 in a nod toward the fact that a 7:30 p.m. start time was resulting in fans spending a lot of late-night hours on the road home.
This season, two more races will be shorter than they used to be. The Autotrader EchoPark Automotive 400, a playoff race on the 1.5-mile Texas Motor Speedway, is dropping down from 500 miles to 400. The spring race at Atlanta Motor Speedway is taking the same haircut.
As a result, the only 500-mile races on the schedule are the Daytona 500, both Talladega dates, and the Southern 500 at Darlington. The Coca-Cola 600 at Charlotte remains (obviously) at 600 miles.
Each announcement of a shorter race brings out complaints from fans who say they're getting less for their money. NASCAR giving them back more "real racing" laps on road courses is a positive move in the other direction.
Got a question or observation about racing? Sportscasting's John Moriello does a mailbag column each Friday. Write to him at [email protected]sting.com