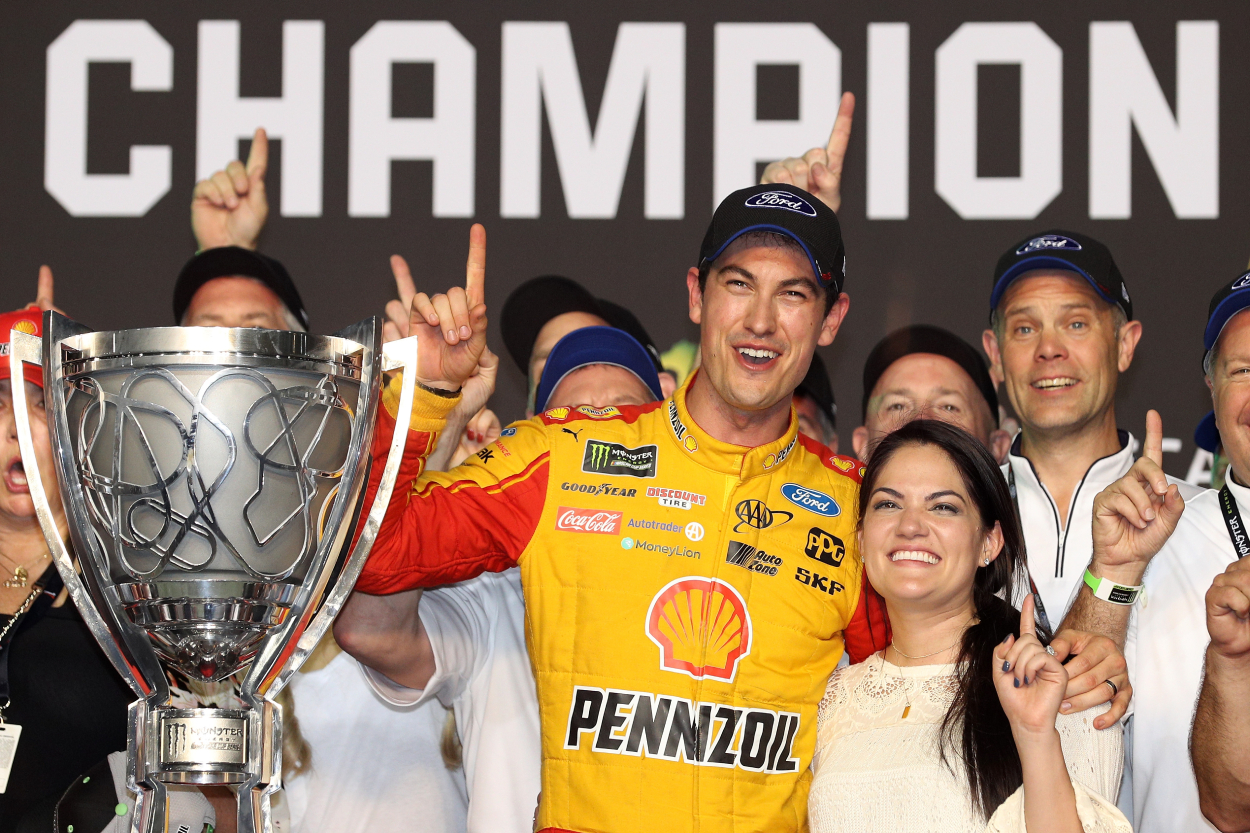 NASCAR's Joey Logano Admits He's 2 Different People
There's the Joey Logano on the race track and then there's the Joey Logano outside the race track.
Joey Logano will do anything it takes to win a NASCAR race. He's aggressive and he's hungry. The 2018 NASCAR Cup Series champion has said that what you see on the race track is not what you see outside the NASCAR circuit.
Joey Logano burst on the scene at a very young age
Joey Logano began racing when he was six years old, but he got the bug a little earlier. "I started racing when I was six, but I was driving go-karts when I was four," Logano told ESPN back in 2009. "Racing is what I've done my whole life. It's something I've always wanted."
He continued to make noise with his young age when he hit the NASCAR scene. Logano became the youngest winner in Cup Series history at 19 when he claimed the 2009 Lenox Industrial Tools 301 at New Hampshire Motor Speedway. He had also been the youngest to win a Nationwide Series race at 18 years old.
Logano is also the first driver born in the 1990s to have competed in NASCAR's top three divisions. The 30-year-old Logano has already run 440 Cup Series races. He was also the second-youngest driver to ever win a Daytona 500, winning in 2015.
Logano has already put together quite the NASCAR resume
He's only 30 years old, yet Joey Logano has already collected 26 Cup Series wins in his 440 races. To put that into perspective, Dale Earnhardt Jr. finished his NASCAR career with 26 wins in 631 races and he's a Class of 2021 NASCAR Hall of Famer. Of Logano's 440 races, he finished in the top 10 224 times.
Logano won his first Cup Series race in 2008 at Loudon, New Hampshire, claiming the Sylvania 300. He notched his first victory the following season, also at Loudon, when he captured the Lenox Industrial Tools 301. During his 14 years in the Cup Series, Logano has 22 poles.
In 2014, Logano signed a multi-year extension with Team Penske. In 2015, he showed he wasn't just going to take the money and run as he opened the NASCAR season with a Daytona 500 victory. He wound up finishing sixth overall in the points standings.
Logano admits he is much different outside the track
During an interview with Kyle Petty for Motorsports on NBC, Joey Logano admitted he's two different people. He admitted he was like Petty when it comes to not caring about what people say about him on social media. "I think we're very similar in that way," Logano told Petty. "We both kinda like reading it because it's funny.
"No disrespect to those people who are saying things but they don't know me. They see Joey Logano the racecar driver. Once I put the helmet on, I'm pretty aggressive. I'm out there for one reason, that's to win, not to make friends. It's about getting the trophy at all costs. That's my job and that's what Roger Penske pays me to do. That what Ford wants. So, if you don't like that, I don't care."
He then went on to say it's different when people say negative things about him personally. "Now, when it's something about my character and who I am when I take the helmet off, well I'm a different person when that happens," he said. "If I was like I was in a racecar all the time, yeah, I would be kind of a jerk."