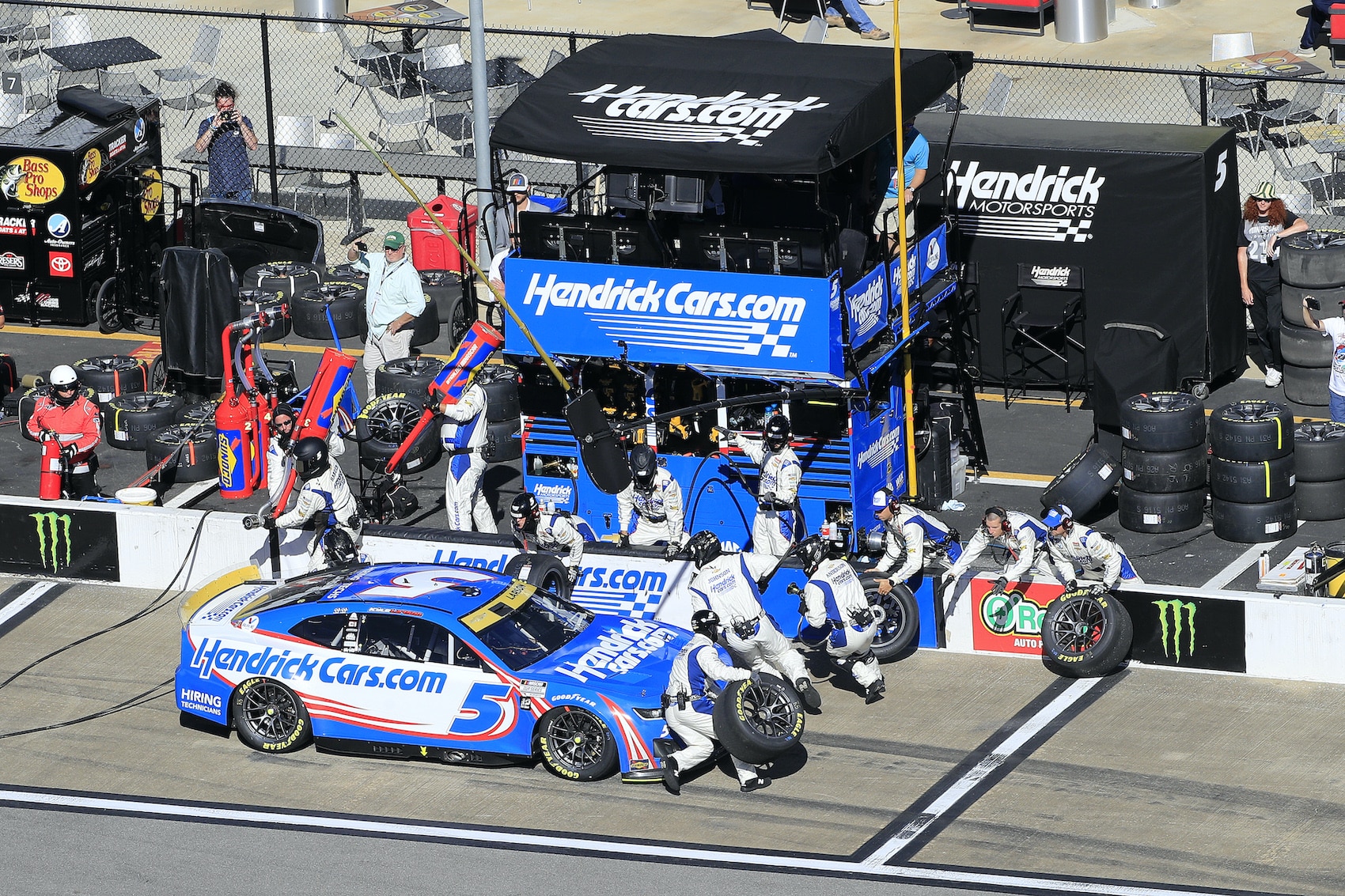 NASCAR Reveals New High-Tech 3D Billboard With Kyle Larson's Car That Promotes Championship in Phoenix, and Includes an Embarrassing Mistake 
NASCAR is promoting the upcoming championship race in Phoenix with a sharp high-tech 3D billboard downtown that features Kyle Larson's car and includes an embarrassing mistake.
Years from now, fans will look back at the officiating during the 2022 NASCAR Cup Series season and shake their heads in disbelief. Sadly, fans currently living through the blunder-filled experience now regularly expect the sanctioning body to make some kind of mistake during each race. 
Soon, NASCAR will be taking its mistake game next level — literally. A new high-tech 3D billboard will be going up in downtown Phoenix near the city's sports and entertainment center, promoting the upcoming Championship 4 race. The eye-catching action-packed sign will certainly get the attention of those unfamiliar with the sport. For existing NASCAR fans, it's going to get their attention for all the wrong reasons. 
NASCAR made plenty of mistakes in 2022
NASCAR, like any sport, has officials whose sole purpose is to oversee and manage the action, including identifying and penalizing infractions of all varieties. Unfortunately, as we saw last month in Texas, sometimes those officials fall asleep on the job and miss things like Denny Hamlin getting spun by William Byron under caution. 
"So, I'll have to be honest with you, Bob, when we were in the tower we were paying more attention to the actual cause of the caution up there and dispatching our equipment," NASCAR Vice President of Competition Scott Miller told reporters in a hastily arranged press conference following the race. "The William Byron-Denny Hamlin thing, we had no eyes on. We saw Denny go through the grass. And by the time we got to a replay that showed the incident well enough to do anything to it, we had gone back to green, but I'm not sure that that issue is completely resolved as of yet."
It wasn't resolved. Several days later, NASCAR retroactively fixed its mistake and penalized Byron for the move. 
NASCAR billboard features embarrassing mistake
The mistake in Texas was one of many by the sanctioning body this year. But the latest, ironically, is a Texas-sized mistake in Arizona. 
With the championship race being held in Phoenix on Nov. 6, NASCAR is trying to promote the season finale in the downtown area on a billboard near the Footprint Center, which hosts concerts and is home to the Phoenix Suns and Mercury.   
The 3D billboard features 2021 Cup champion Kyle Larson's car in a simulated pit stop (without crew obviously), which includes filling up with fuel, changing four tires, and spinning out of sight. Overall, it's an impressive display that is certainly eye-catching to anyone who sees it.
But for NASCAR fans who see it, there's one obvious error that immediately sticks out during the simulation. The wheels have five lugs. This year's car features the single-lug wheel and it has received plenty of publicity all season with numerous cars losing wheels and sending their crew chiefs on unexpected four-week vacations.
For those who might defend the five-lug mistake on the billboard by suggesting the vehicle is representing Larson's 2021 championship-winning car, the forward-shifted numbers suggest otherwise.
Signage on track at Charlotte Roval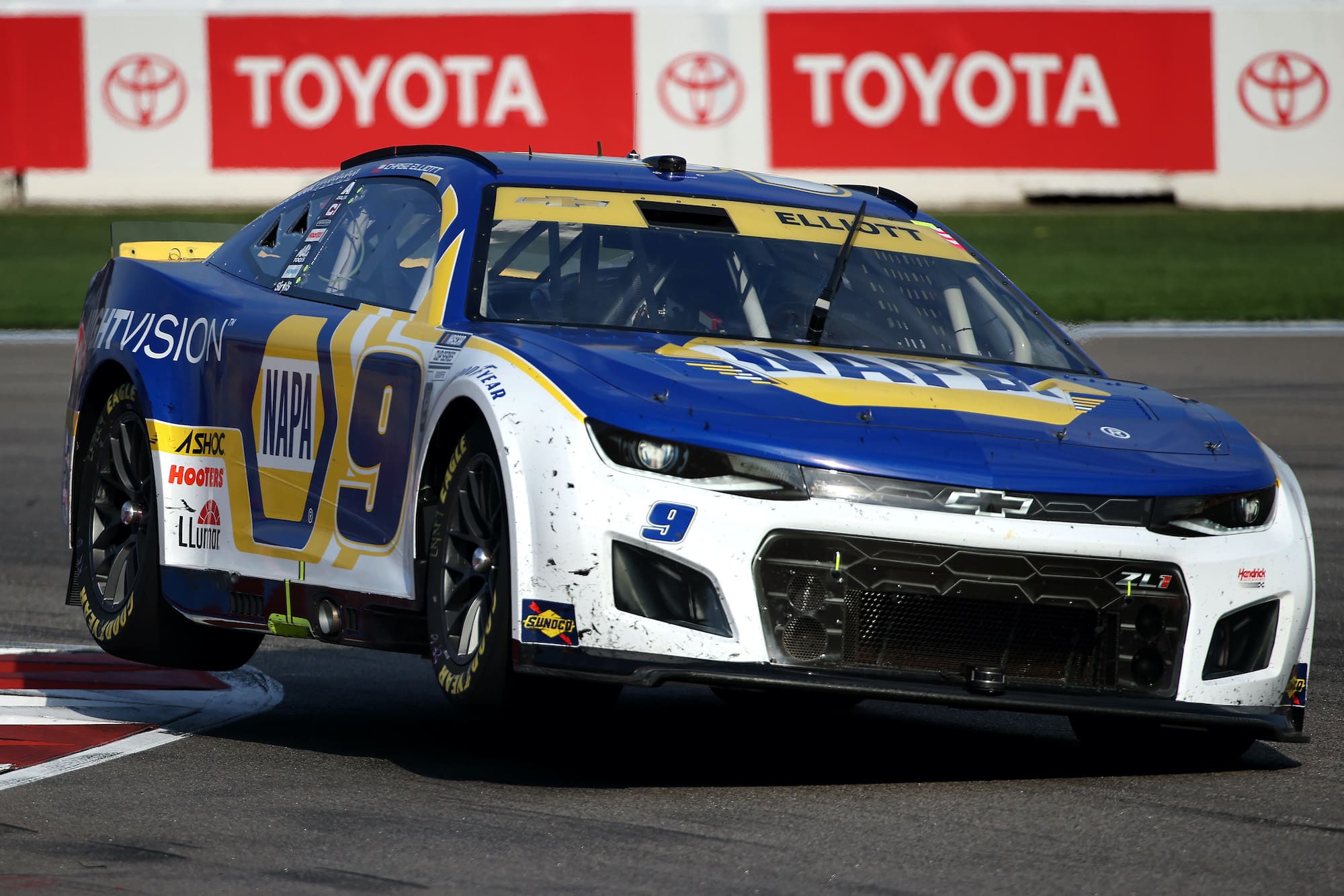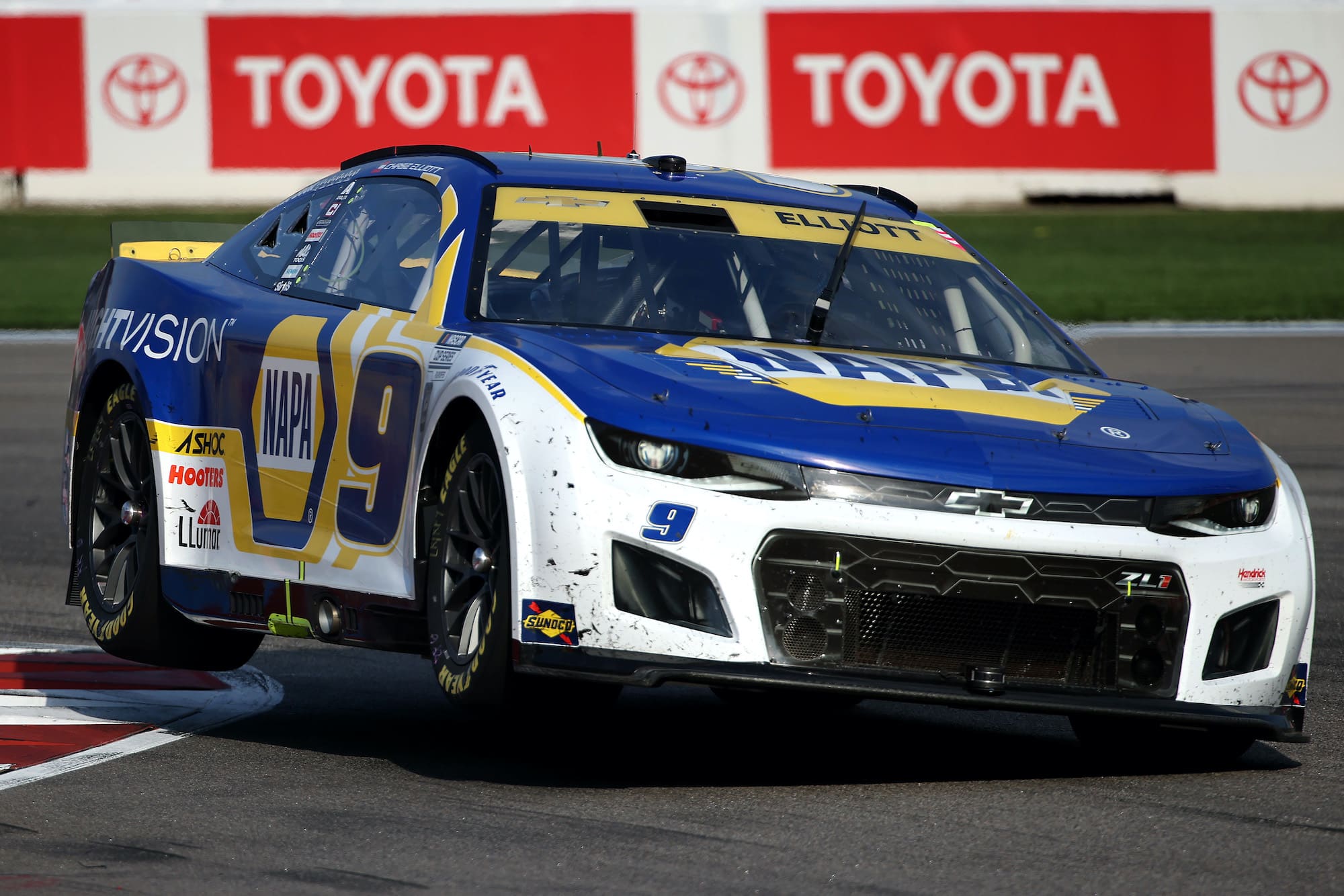 Unbelievably, this isn't the only weird story about a sign and NASCAR this month. Several weeks ago at the Charlotte Roval, Chase Elliott appeared headed for his sixth win of the season with a lengthy four-second lead and six laps to go when a sign inexplicably made its way onto the racing surface. 
A caution came out and changed everything. Elliott got spun out by Tyler Reddick on the restart and was involved in another multi-car pileup on the final restart, which resulted in him finishing 20th. Christopher Bell won.
Interestingly, fans viewed the Roval sign as a mistake for varying reasons. The obvious is a sign should never make its way onto the track. Ever. But others viewed it as NASCAR made a mistake by putting out the caution because, according to various reports, the sign had been in that same vicinity for several laps. The thinking was NASCAR used the sign as an excuse to put out a caution and bunch up the field for a restart.
A sign that's not supposed to be on the track surface. A sign that incorrectly depicts your car in a major metropolitan area. All of it is a sign that NASCAR, as an organization, has some work to do both on and off the track.
Have thoughts on this topic? Keep the conversation rolling in our comments section below.