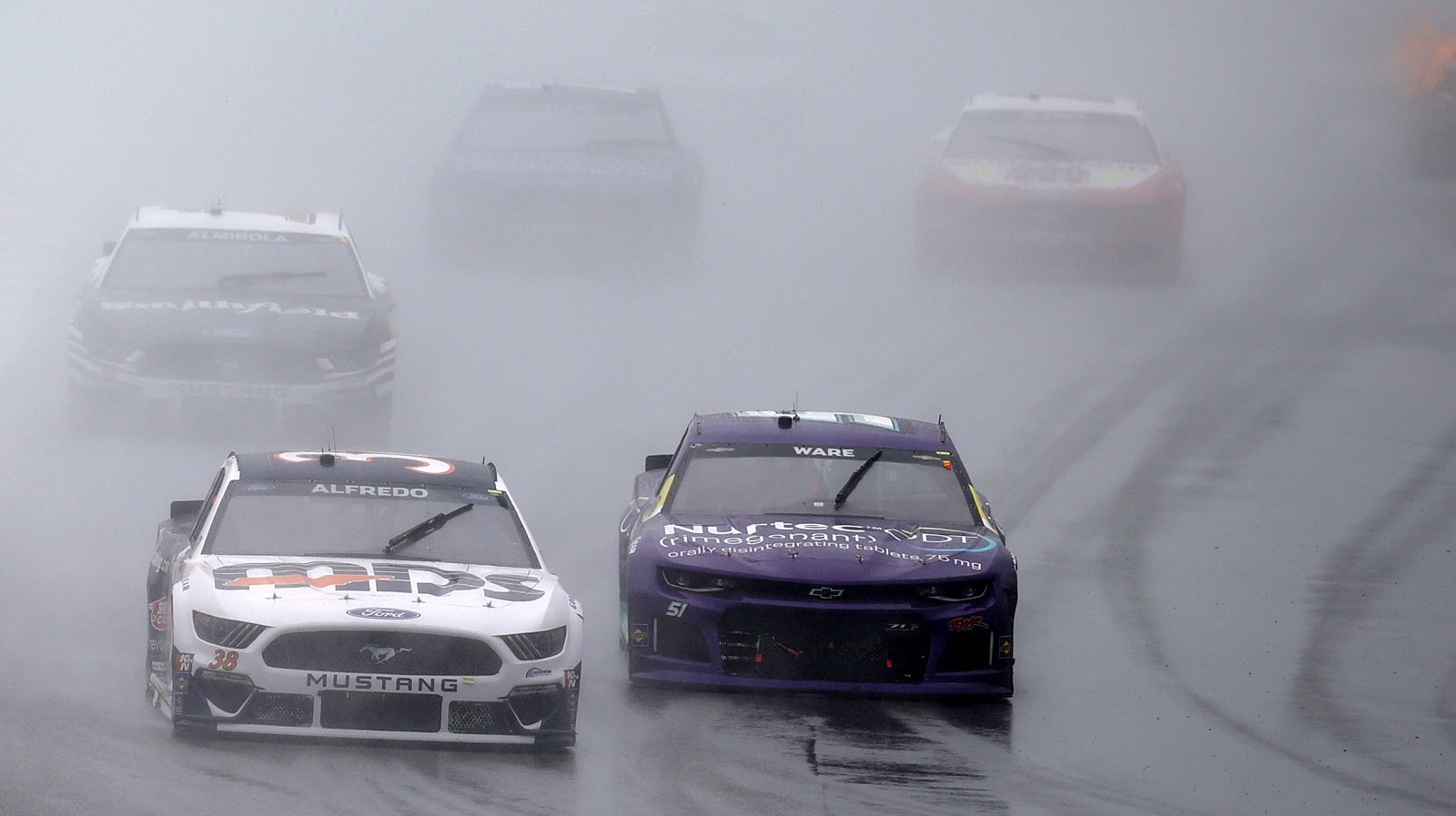 NASCAR Is Tackling the Least of Its Problems, but at Least It's Progress
A report says NASCAR is close to introducing a solution for wet-weather racing on short ovals as soon as next season.
NASCAR finally got around to playing the suspension card, parking Bubba Wallace for this weekend's playoff race at Homestead-Miami. That presumably will put a dent in the dangerous, almost-anything-goes mentality that's been pervasive in the Cup Series for much of the season.
That leaves driver concussions, Next Gen's dismal performance on short tracks and road courses, and team concerns that the current revenue formula is unsustainable as the remaining ongoing issues requiring a resolution sooner rather than later.
On the bright side, NASCAR may have figured out how to hold some races in weather that would otherwise empty the grandstands and send fans home.
NASCAR thinks it can run more races in the rain beginning next season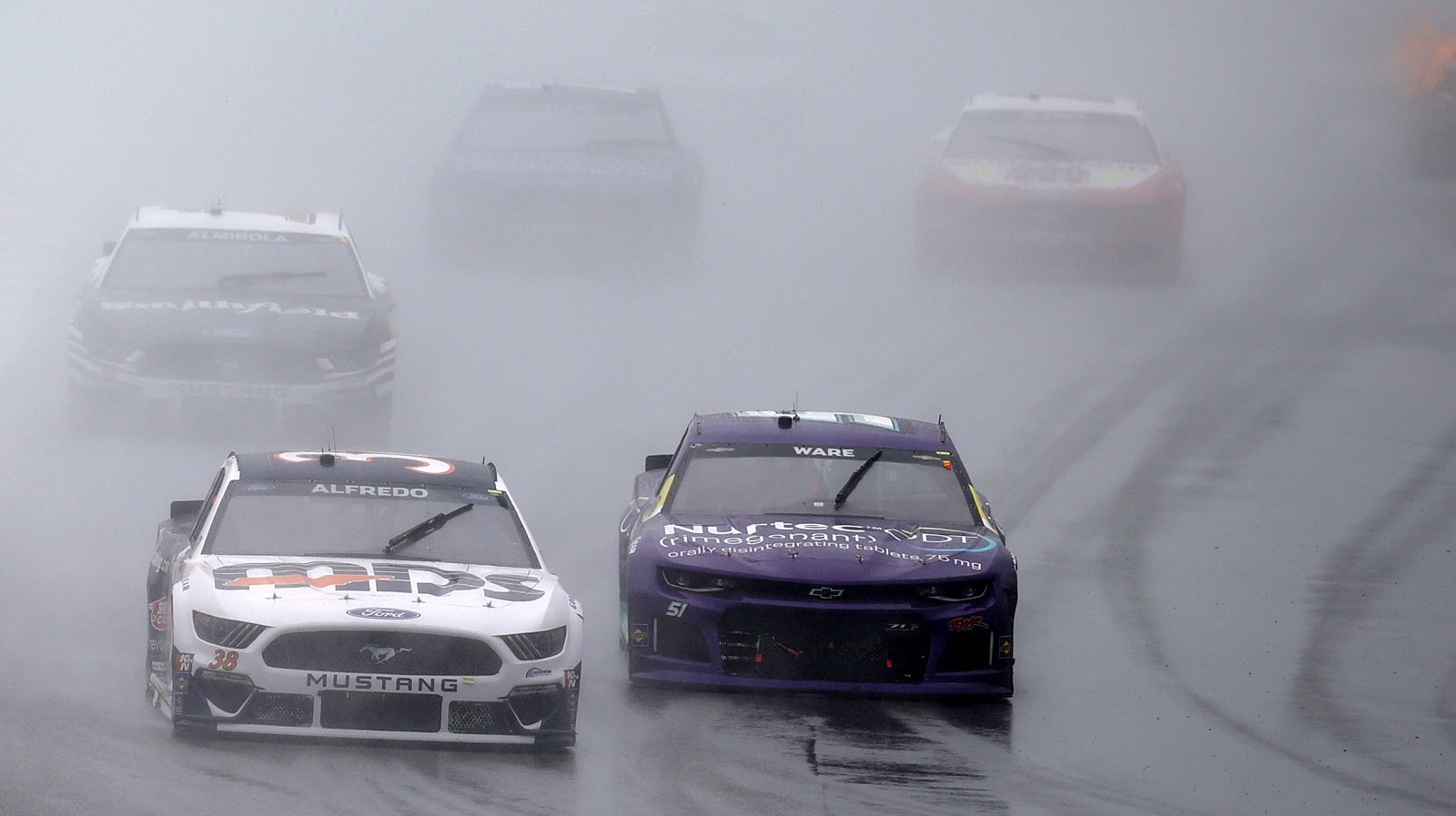 NASCAR will introduce a wet-weather package for some short ovals next season, making it possible to run in the rain or soon afterward on some small tracks, according to Road & Track. The goal is to shorten rain delays and allow races to resume in the absence of standing water or a heavy downpour.
The rules package could be adopted for short tracks like Bristol, Martinsville, and Richmond as well as mile ovals like Phoenix. With their slower racing speeds and square footage that takes less time to reset after rainfall, the small ovals are a logical next step for NASCAR. The sport's national series already compete on road courses under wet conditions.
NASCAR envisions small changes to cars for running in the rain
The key to running in wet weather on any type of track surface or layout is in treaded tires. NASCAR and Goodyear have been working on a solution for ovals for years, but some progress was lost while attention turned to developing the new tire necessary for the Next Gen car that made its debut this season.
The tire manufacturer appears ready to make rain tires suitable for ovals available. The rest is up to NASCAR, and the organization has fleshed out its rules package by setting standards for:
A windshield wiper.
Flaps behind the wheels.
Updated rain lights mounted inside the rear window and below the rear bumper. They will flash in wet conditions and go solid under braking to help trailing drivers in low visibility.
Rain tires will introduce a new strategy element
Road & Track reported the proposed changes are more likely to be applied to wet tracks than actual racing in the rain, but the latter would still be plausible in very limited situations. The publication noted that the wet-weather package could shave 30 to 40 minutes off the time required for jet drying.
If nothing else, the ability to race on wet tracks will introduce a new element of strategy to the occasional race affected by weather. Crew chiefs and drivers will only stick with rain tires as long as they're absolutely necessary. The first team to locate a dry line that it likes could flip back to slicks ahead of the competition and pick up valuable time on ensuing laps.
From the television point of view, anything that cuts a 90-minute delay by a third or more is a win for the networks that rarely have compelling filler material and for fans who don't want a three-hour race to turn into something close to four.
Got a question or observation about racing? Sportscasting's John Moriello does a mailbag column each Friday. Write to him at [email protected].
Have thoughts on this topic? Keep the conversation rolling in our comments section below.