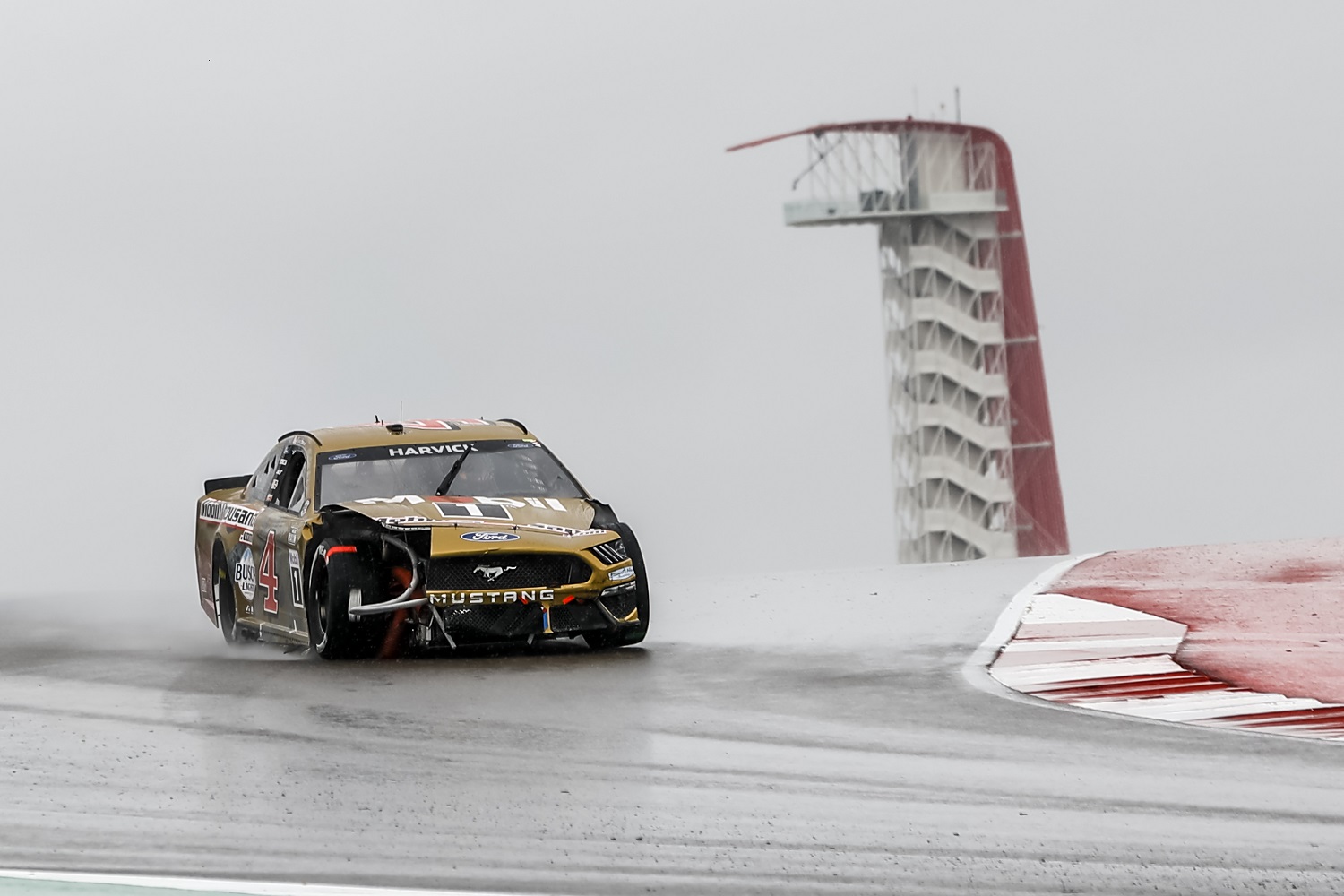 NASCAR's New Safety Rule for Road Courses Like Sonoma Is Too Little, Too Late
The inaugural NASCAR Cup Series race at the Circuit of the Americas was a near-disaster because of the rain. NASCAR's rule change in response was too little, too late.
Adding the Circuit of the Americas to its 2021 Cup Series schedule marked NASCAR's most significant change in tracks in two decades. With a 20-turn layout designed for Formula 1, it's a challenging road course under any conditions. Drivers found out it's an impossible circuit to negotiate in the rain. Kevin Harvick said it was downright dangerous.
NASCAR took too long to stop the race, and now it's taking too long to concede what drivers know: Road courses are only marginally safer than ovals once the precipitation begins falling.
NASCAR's Texas Grand Prix was a mess
The inaugural EchoPark Texas Grand Prix at COTA didn't go the distance on May 23. Instead, NASCAR declared Chase Elliott the winner 14 laps short of the scheduled 68-lap competition.
Drivers were competing in the rain for all but the first handful of laps. The combination of road spray reducing visibility on straightaways and treacherous tracking on turns eventually created havoc.
It began on lap 19 when poor visibility led to Christopher Bell clipping Ryan Blaney, who had slowed down. Harvick slowed down on the same straightaway and hit Bubba Wallace hard enough to end the day for both of them.
Then came an incident on the backstretch with Martin Truex Jr. slamming into Michael McDowell, who had slowed his Ford in traffic on lap 25. Cole Custer clipped Truex's car and skidded into a barrier on the straightaway.
With Custer's car on fire and parts of the track hit hard by the rain, NASCAR red-flagged the race to clean up and to put track dryers to work, by which time everyone had switched to rain tires.
"We don't have any business being out in the rain, period," Harvick said. "All I can say is this is the worst decision that we've ever made in our sport that I've been a part of, and I've never felt more unsafe in my whole racing career, period."
Kurt Busch's near-catastrophe was one close call too many
The rain remained an annoyance throughout, but an incident on lap 54 proved too much for NASCAR officials to ignore. Kurt Busch hydroplaned far off the pavement in turn 12. Austin Cindric also spun, and NASCAR went to the caution flag and then the red flag.
"It was fun for a while there earlier when it was just sprinkling," Busch said, "but once it got too heavy, it was dangerous."
Race officials eventually conceded that resuming racing was impossible, handing Elliott the rain-shortened victory. Scott Miller, NASCAR's VP of competition, had to acknowledge that they left the cars on the track too long. He called it "a learning experience."
NASCAR's new safety rule for road courses like is too little, too late
The wreck-filled race at COTA inspired a new rule that went into effect this weekend.  NASCAR announced it was requiring two blinking lights installed on the rear window of the vehicles during wet-weather starts on road courses.
The rule increases visibility through rain and road spray. However, it only applies at this time to the Xfinity Series, which raced on the road at the Mid-Ohio Sports Car Course this weekend. Weather didn't come into play, so the lights were never activated while AJ Allmendinger was tying the career record for Xfinity road-course wins.
NASCAR chose not to apply the new rule to its Cup Series cars, which were competing on the road course at Sonoma. The Cup Series isn't back on road courses until Road America in July and Watkins Glen in August, by which time NASCAR will presumably institute the new rule for blinking lights.
Still, the measure is too little and too late. NASCAR, which would never run on an oval under conditions like those at COTA, got lucky because no one was seriously injured.
The COTA debacle should have taught NASCAR that using rain tires on road courses isn't viable. Any amount of precipitation requiring lights to add visibility is reason enough to send the field to the pits until the rain subsides and the track is given time to dry to a reasonable extent.
Like Sportscasting on Facebook. Follow us on Twitter @sportscasting19.