Kevin Harvick Admits to Frightening Scenario While Driving Wet Conditions at COTA Made Even Worse by His Health
By this point in the NASCAR Cup Series season last year, Kevin Harvick had already earned ten top-10 finishes and a pair of victories. This year, the 2014 champion has equaled last year's number of top-10 performances with one glaring difference — no wins. 
With NASCAR racing at Circuit of the Americas in Austin, Texas, for the first time, Harvick showed his willingness to do whatever it takes to get his first win of the 2021 season by doing something he hadn't done since 2018 and racing in the Xfinity Series. After the race, the 40-year-old made a surprising admission about the rainy conditions earlier in the day during Cup practice and how his poor vision creates a frightening scenario driving around a track at speeds nearing 180 mph.
Kevin Harvick's strong start to 2021 absent any wins
Kevin Harvick started the 2021 NASCAR Cup Series season strong with three top-10 finishes, including a fourth-place at the season-opening Daytona 500. Not surprisingly, Harvick, who found victory lane nine times last season and finished fifth overall, has been a model of consistency through the first half of the regular season with ten top-10 finishes. 
Despite that success, Harvick has yet to earn his first victory in a season where parity has reigned supreme and included ten different winners in 13 races. He came close at Kansas but settled for a runner-up finish behind Kyle Busch. 
Harvick has been the lone highlight for a Stewart-Haas Racing Team that has struggled this year. While Harvick sits eighth in points, the next closest teammate is Cole Custer in 25th. Chase Briscoe and Aric Almirola sit in 27th and 28th, respectively.
Harvick pulling double-duty with Xfinity and Cup Series at COTA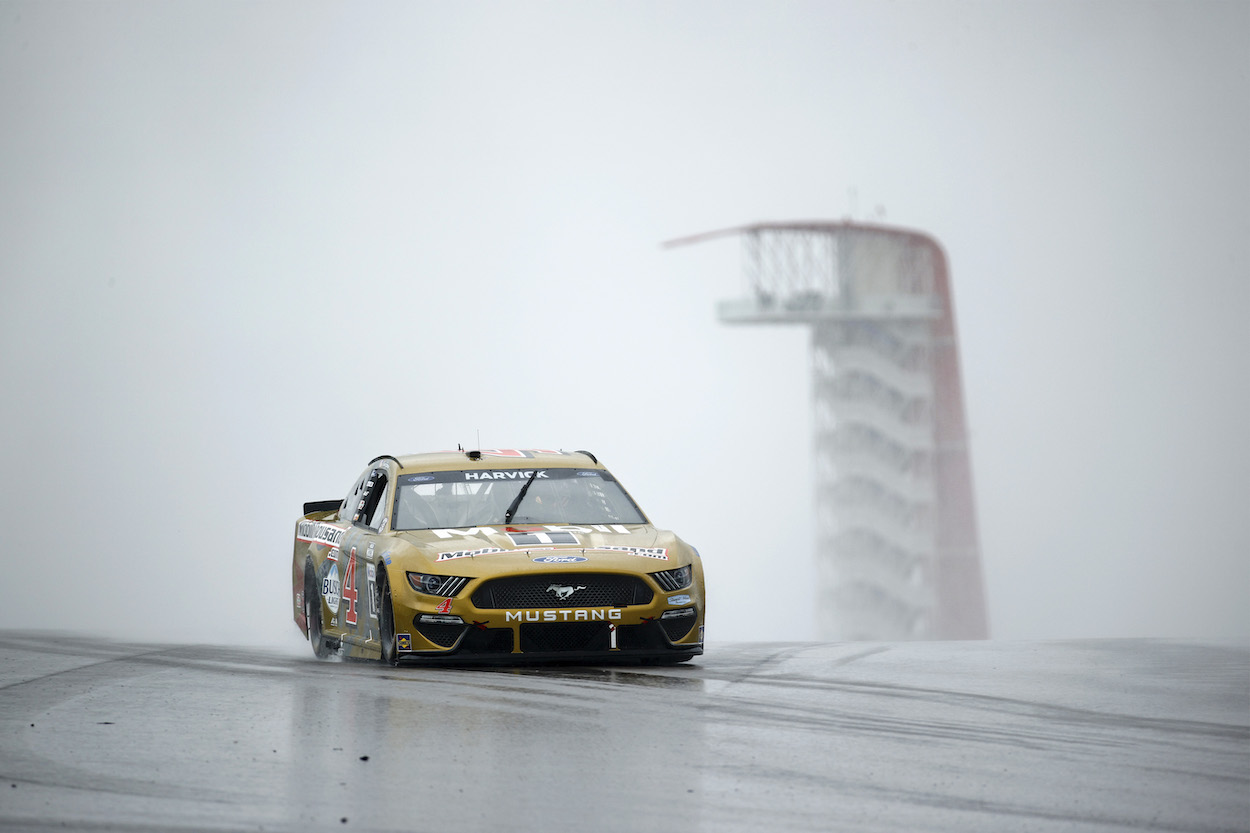 On Saturday, Harvick pulled double-duty at COTA, practicing with the Cup Series in a morning deluge before jumping into a B.J. McLeod car and qualifying and racing in the Xfinity Series in the afternoon.  
While Harvick put in extra work with Xfinity to familiarize himself with the track, he has found success on first-time race tracks in the past, including the second win of his Cup Series career at Chicago back in 2001. At Austin, Harvick, who last raced in the Xfinity Series back in 2018 at Darlington, efficiently navigated the 20-turn layout in dry conditions and finished fourth.
After the race, the 40-year-old admitted the Cup practice, combined with the Xfinity qualifying and race, presented more than a few challenges.
"I got more than I wanted," Harvick said when asked if he got what he needed from the day. "This morning with practice and qualifying, wet and dry and kind of wet, passing, restarts, just a lot of different situations. The first time I set foot in it was yesterday on the race track." 
Admits to frightening scenario driving in rainy conditions at COTA
While the track was dry for the Xfinity Series race in the afternoon, conditions during the morning Cup Series practice session were less than ideal as drivers made their way around the 20 turns in a heavy downpour. Rooster tails were commonplace in several of the straighter portions of the track. It's in those sections that Harvick revealed a frightening scenario plays out each time he drives through them.
"I can't see well anyway," he said. "When I have to try and figure out where you're going by the two tire tracks and you're going down the straightaway, that's new to me."
Conditions for Sunday's Cup Series race at COTA should be interesting for Harvick and the rest of the field with a 70 percent chance of rain in the forecast.   
Like Sportscasting on Facebook. Follow us on Twitter @sportscasting19.