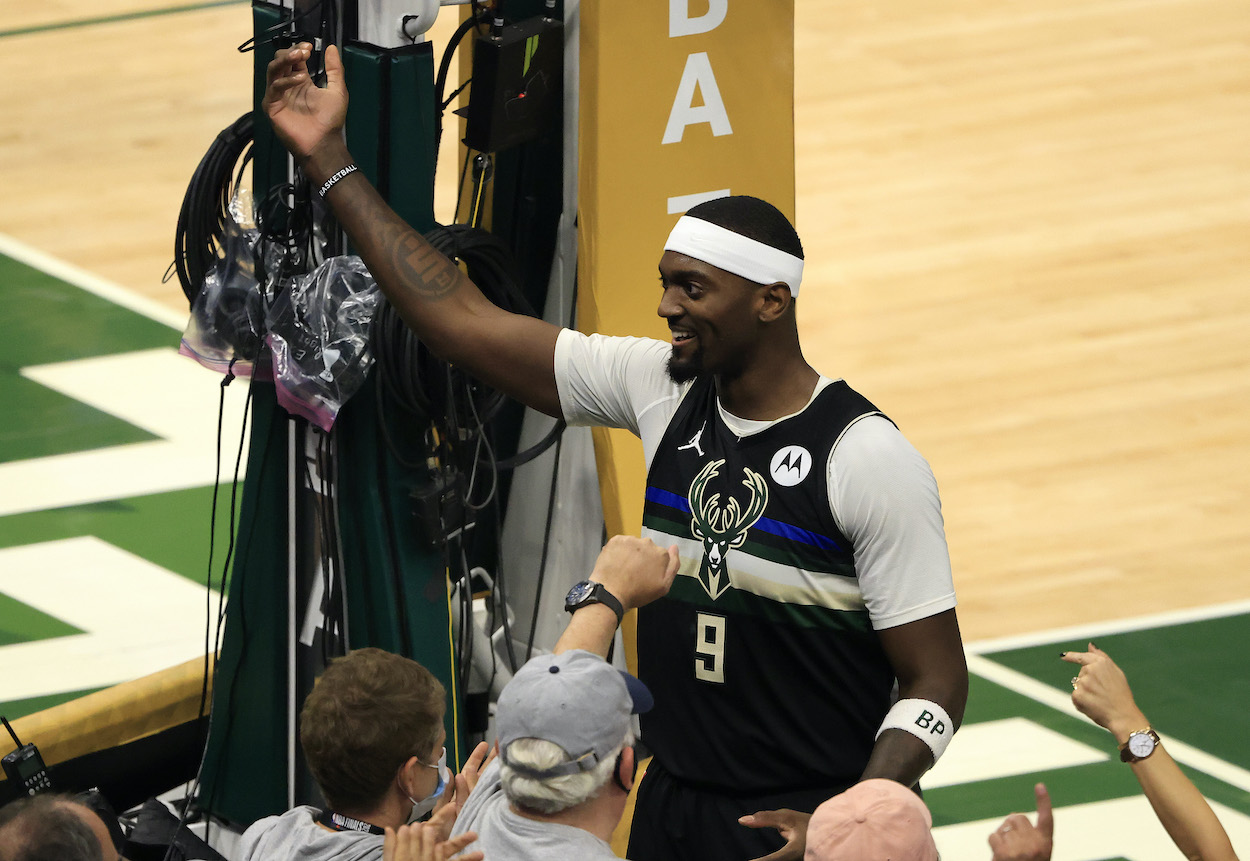 NBA Finals Hero Bobby Portis Once Punched a Teammate in the Face at Practice and Sent Him to the Hospital
Bobby Portis was a huge contributor for the Milwaukee Bucks 2021 NBA title team, but once got suspended for breaking a teammate's face. During his tumultuous time in Chicago, a young Portis punched Nikola Mirotic, sending him to the hospital. In 2021, he became the second 2015 first-round pick to win a title.
As the confetti fell at Fiserv Forum after the Milwaukee Bucks won their first NBA title in 50 years, there was no bigger hero than Bobby Portis. Sure, Giannis Antetokounmpo scored 50, Khris Middleton hit some killer shots, and Jrue Holiday played lockdown defense, but Portis' 16 clutch points off the bench were a major key to Milwaukee's victory. 
Even though the sometimes volatile Portis did pick up a technical after a questionable foul call, the Bucks' offseason signing was a big positive for the team in the last few rounds of the playoffs. It goes to show he's come a long way since his days in Chicago, where he once sent a teammate to the hospital after punching him in the face. 
Bobby Portis was a first-round draft pick of the Chicago Bulls
Portis, a Little Rock, Arkansas native, played college ball just down the road in Fayetteville at the University of Arkansas. In his two seasons as a Razorback, Portis averaged 15.0 points, 1.4 blocks, and 8.9 rebounds per game. 
Those stats caught the eye of the NBA and, at No. 22 in the 2015 NBA draft, the Chicago Bulls made Portis a first-round pick. 
Portis spent parts of four seasons with the Bulls, averaging 9.7 points, 5.8 rebounds, and 1.1 assists in his time in the Windy City. His road in Chicago was rocky, however. At two different points, in 2017 and 2018, the team sent him down to the G League. 
In 2019, the Bulls packaged Portis, Jabari Parker, and a second-round pick to get Otto Porter from the Washington Wizards. After just 28 games in the nation's capital, Portis signed with the Knicks prior to the 2019-20 season. 
After playing well and contributing in New York, Portis signed a two-year, $7.4 million contract with the Bucks ahead of the 2020-21 campaign. This season he averaged 11.4 points per game and shot 47.1% from 3-point range to help the Bucks reach the playoffs and win the title. 
Portis punched Nicola Mirotic in the face in practice 
Getting sent down to the G League showed Portis' issues on the court, but he had issues off the court too – well, still technically on the court, but specifically during practice.
During a 2017 incident, Portis punched teammate Nikola Mirotic in the face, sending him to the hospital with two broken bones in his face and a concussion. The Bulls suspended Portis for eight games for the punch. However, as more news came out about the situation, sources in the organization placed more blame on Mirotic than Portis.
A Chicago Sun-Times report from 2017 explains the confrontation:
To a man, Portis punching a teammate was wrong. There's not one Bulls player disputing that. But there continues to be a lingering sense that Mirotic came into training camp with a feeling of entitlement, and that was not sitting well with many of his younger teammates.

Mirotic and Portis had some history, so when Mirotic made an aggressive move toward him, Portis, 22, obviously had enough.
Although teammates publically condemned Portis' action, off the record was a different story. Teammates thought of Portis as "a guy that has put in all the work this summer, is a better teammate and is just more liked."
Mirotic gave the team an ultimatum that they had to get rid of him or Portis. The Bulls sent the Montenegrin forward to the G League upon his return and traded him to the New Orleans Pelicans less than three months later.
Only one other player from the 2015 first-round has an NBA championship ring 
The 2015 NBA draft included a lot of big college and international stars. Karl-Anthony Towns, D'Angelo Russell, and Jahlil Okafor were the top three picks out of Kentucky, Ohio State, and Duke, respectively. Following those picks, foreign-born prospects Kristaps Porzingis and Mario Hezonja went next.
Pick No. 22, Bobby Portis, faced three players drafted ahead of him in this year's NBA Finals. The 2020-21 Phoenix Suns features 2015 draft picks Frank Kaminsky (No. 9, Charlotte Hornets), Devin Booker (No. 12. Phoenix Suns), and Cameron Payne (No. 14 Oklahoma City Thunder).
Now that Portis has a ring, he joins just one other 2015 first-round draftee with a championship: Kevon Looney (No. 30, Golden State Warriors). He was a member of the 2017 and 2018 Warriors Championship teams.
Delon Wright (No. 20, Toronto Raptors) played for Toronto during its 2018-19 championship season. The team traded him to the Memphis Grizzlies for Marc Gasol during the season and did not give him or the other players who went with him a ring, per Yahoo! Sports.
All stats courtesy of Basketball Reference and Sports Reference