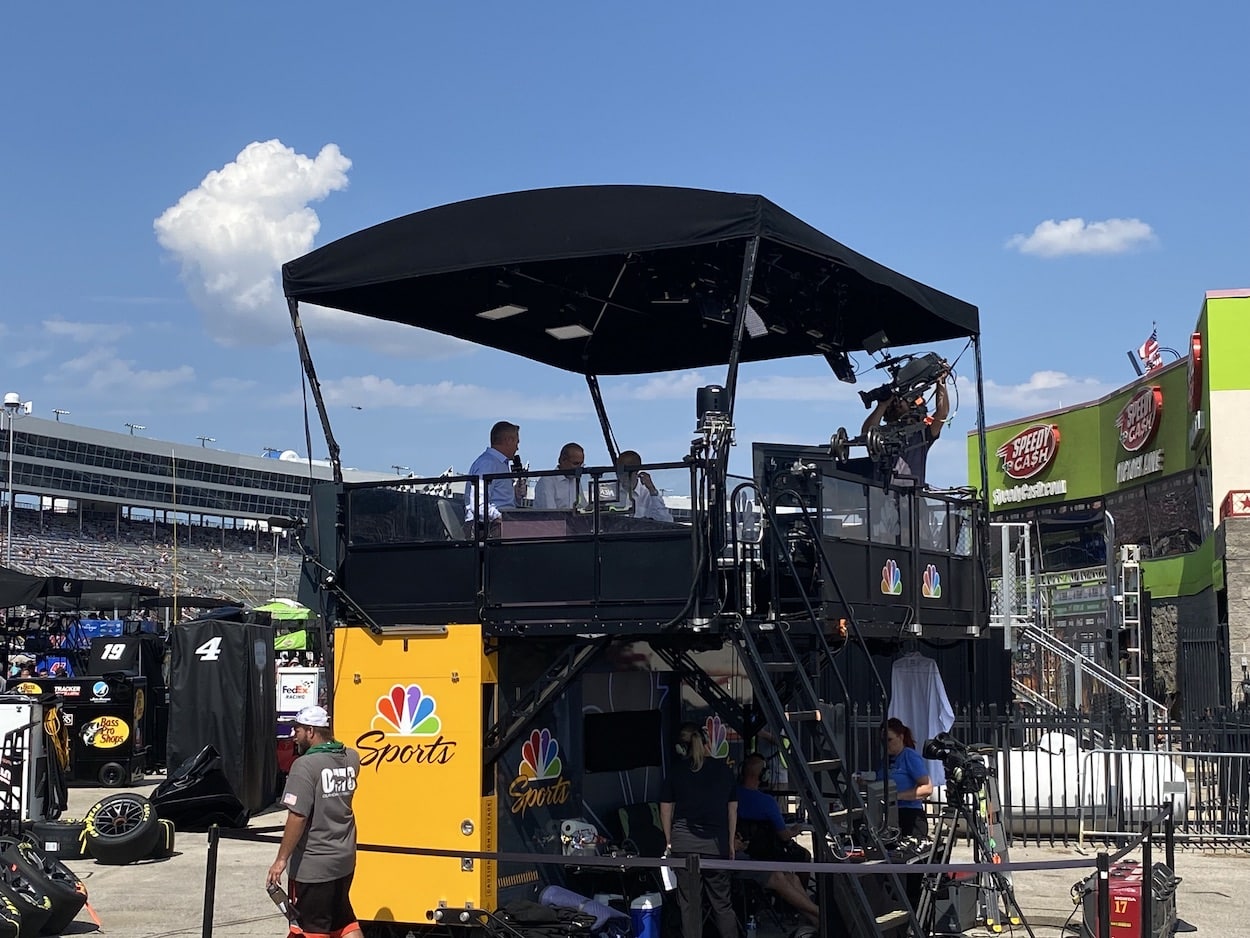 NBC Making a Welcomed Change From Fox's NASCAR Coverage, but Some Fans Still Don't Like It 
NASCAR fans received good news this week that NBC is making a welcomed change from Fox in its post-race coverage. But some fans were still unhappy with the news.
It's that point in the NASCAR season when the television broadcasts for the Xfinity and Cup Series races migrate from Fox over to NBC. And if you've been paying attention to social media this year, many fans have expressed their frustration with the first-half coverage for various reasons and have looked forward to the switch.
This week, NBC announced it would be addressing one of those concerns and taking a different approach than Fox in its post-race coverage. It was welcome news to much of the fan base, although there will still be those unhappy with the change. 
Fans regularly complain about Fox's NASCAR coverage
NASCAR fans have complained about Fox's coverage throughout the 2023 season. It started at the Daytona 500 when fans were not happy with the number of commercials shown in the season-opening race. 
That same complaint continued after Daytona, but there were others added to the list. One of the most common was the network's disconnect between what the cameras showed on television versus what Mike Joy and Clint Bowyer described in the broadcast booth. 
Denny Hamlin talked about it in April on his Actions Detrimental podcast.
"One thing I saw at (Bristol) dirt last week or when I watched it back, the announcers would be talking about some side-by-side battle, and the camera wasn't on it," Hamlin said. "So you didn't know — what are they are talking about? Let me see this battle. 
"I did notice too, as soon as some action would start to heat up on a side-by-side battle, they'd cut to like 12th place. You see the second-place guy working over the first-place guy like right on his ass and about to make a move and they cut to like side-by-side for 12th. It's like, s***, let's keep it in the battle that's about to dictate who's going to be leading this race. Certainly I think from a production standpoint, we could make some improvements."
Another frequent fan complaint during Fox broadcasts was the network's post-race coverage, or lack thereof because it was often short and included interviewing only a couple of drivers before switching to different programming. 
NBC will have at least 30-minute post-race coverage
With the mid-season transition, fans are hopeful that NBC will provide a less-frustrating viewing experience. This week the network got things headed in the right direction when announcing it would address one of the common fan complaints and provide at least 30 minutes of post-race coverage following the races.
That's great news for fans — except there's a catch. That extended post-race coverage will occur on NBC's paid streaming service Peacock. 
Unsurprisingly, there were some fans unhappy with the news.
"Wish they'd put it as part of the broadcast! I'm not paying for peacock," one fan wrote on Twitter. 
"Too bad we will miss it, don't have peacock & not paying for another channel," wrote another. 
Those views were in the minority. While it's unfortunate that some fans won't watch the extended coverage on the streaming service, it's nice to know it's at least available to those who want it. And that's more than what Fox offered.
To stay up to date on the latest happenings in NASCAR, including breaking stories you can't find anywhere else, follow Kyle on YouTube and Twitter.