Never Forget That Britney Spears' Ex-Husband, Kevin Federline, Owns a WWE Victory Over John Cena
A look back on the 2006-2007 feud in WWE featuring 16-time world champion John Cena and Britney Spears' ex-husband Kevin Federline.
Throughout his career, John Cena has matched up against some of the all-time greats in WWE history. The Rock. Shawn Michaels. Triple H. Randy Orton. The Undertaker. Kevin Federline. Wait, what?
That's right, boys and girls. John Cena vs. Kevin Federline, better known at one time as Mr. Britney Spears, was once an actual match on Monday Night Raw. And the worst part about the whole thing is that Federline actually picked up the victory.
Kevin Federline cost John Cena a match for the World Heavyweight Championship
Kevin Federline first appeared in WWE on an episode of Monday Night Raw on October 16, 2006, which was less than a month before Britney Spears filed for divorce. Federline was a guest of Johnny Nitro (now John Morrison) and Melina and was a natural heel. Many felt that he'd corrupted Britney and was nothing more than a gold digger and the live audience at Staples Center in LA that night booed him mercilessly as he promoted his new rap album that was dropping on Halloween.
John Cena hit the ring to (thankfully) interrupt and the two engaged in a somewhat humorous segment that ended with Cena hitting K-Fed with what was then called the FU, later named the AA. The following week in Chicago, Kevin Federline accompanied Johnny Nitro to the ring for his match with Cena, which Cena won. Following the match, Cena chased Federline up the ramp, at which point he ran into Booker T and Big Show, both of whom he was set to face at the upcoming Cyber Sunday pay-per-view.
At the time, John Cena was WWE Champion, Booker T was World Heavyweight Champion, and Big Show was ECW Champion. The three squared off at Cyber Sunday with Booker T's title on the line (as voted by the fans) and Kevin Federline wound up costing John Cena the match, distracting him just before Booker T blasted him with the Big Gold Belt.
Naturally, this led to a one-on-one match between John Cena and Kevin Federline.
Kevin Federline actually defeated John Cena in an official match on 'Monday Night Raw'
On January 1, 2007, John Cena and Kevin Federline went one-on-one to kick off Monday Night Raw in Miami. Divorce papers had been filed and the live crowd peppered K-Fed with "WE WANT BRITNEY" chants as he hit the ring in a boxing robe with Johnny Nitro by his side. He then put on an amateur boxing helmet and a pair of gloves after announcing that the match was now a no-DQ affair.
As expected, the match was horrible. Cena gave Federline a free headlock to start and the two then went into a Masterlock challenge and then a test of strength. Nitro naturally got involved but Cena took him out of the equation. The distraction, however, allowed Federline to get in a low blow but Cena quickly recovered and picked up K-Fed for the FU. However, Umaga, who'd been feuding with Cena over the WWE Championship, then hit the ring and pounded on the champ before laying him out with the title belt. In true heel fashion, Kevin Federline slid over and nonchalantly covered John Cena for the 1-2-3. Yeah, that happened.
Cena was then forced into a 4-on-1 match later in the night against Umaga, Johnny Nitro, Armando Alejandro Estrada, and Jonathan Coachman with Federline at ringside. Cena lost via DQ after bashing Umaga with a steel chair but got in the last word with K-Fed, dropping him with one more FU to close the show, thus ending Kevin Federline's run in WWE.
K-Fed was apparently a joy to work with in WWE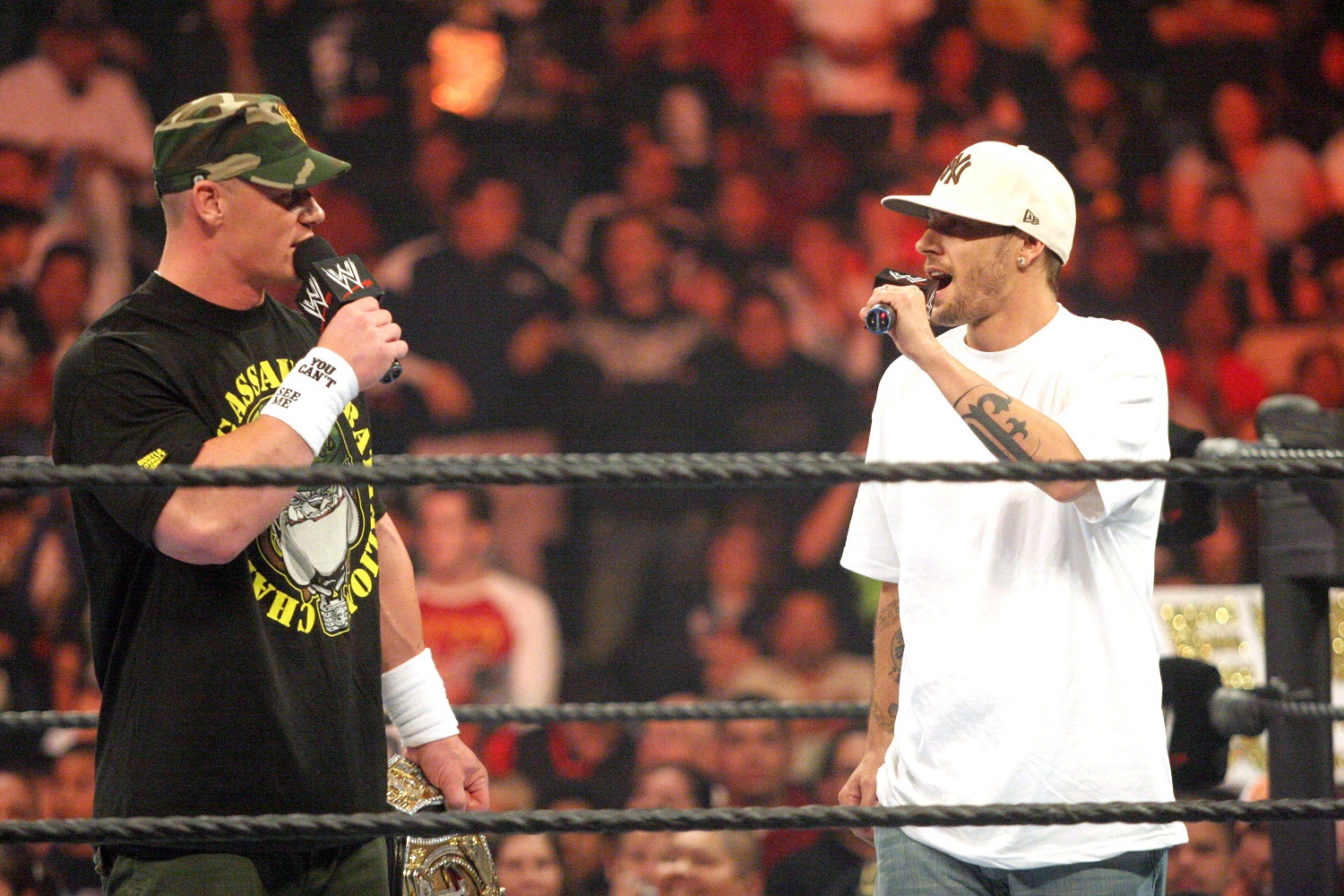 Years later, longtime WWE producer and booker Bruce Prichard discussed Kevin Federline's run with the company on his popular "Something to Wrestle With" podcast and said he was expecting something completely different when he found out K-Fed would be coming in for the angle with John Cena (h/t 411 Mania).
"Kevin Federline was probably one of the celebrities that I had the most fun with. Because he was so cool, so happy to be there, such a big fan. And there was a little — not a little bit, there was probably a lot of fear in him. Because he knew he was out of his league and out of his element, but he was such a big fan, he was so happy to be there.

"I walked into dealing with Kevin ready to hate him, because he came across like a real arrogant d–k, the way that he was portrayed in the media. All the stories about him and Britney. And when he first came to us, he was still married to Britney, and then midway through I think they got divorced and what have you. But I found Kevin, man he was on time. He did everything he was asked to do. And you said, 'Kevin I need you to be here at such and such a time and do this.' 'Yes, sir!' And he did it, he nailed it. So contrary probably to popular belief, he was really a super, super f–king guy to work with."

Bruce Prichard on Kevin Federline
The Monday Night Raw featuring the John Cena vs. Kevin Federline match was the show's highest-rated episode in five months.