New Kyle Larson Revelation Makes It That Much More Important to Return to Victory Lane Soon
Joey Logano is the reigning champion. Kyle Busch is fresh off the victory that makes him the winningest active NASCAR Cup Series driver. Still, Kyle Larson likely is the driver that many following the sport closely rate as the best.
Larson's last victory was a mere five races ago, a fact that should make him immune to criticism and second-guessing until at least Tax Day. Unfortunately, detractors have a new reason not to give him leeway beyond that.
It's been a rough start for Kyle Larson's Cup Series season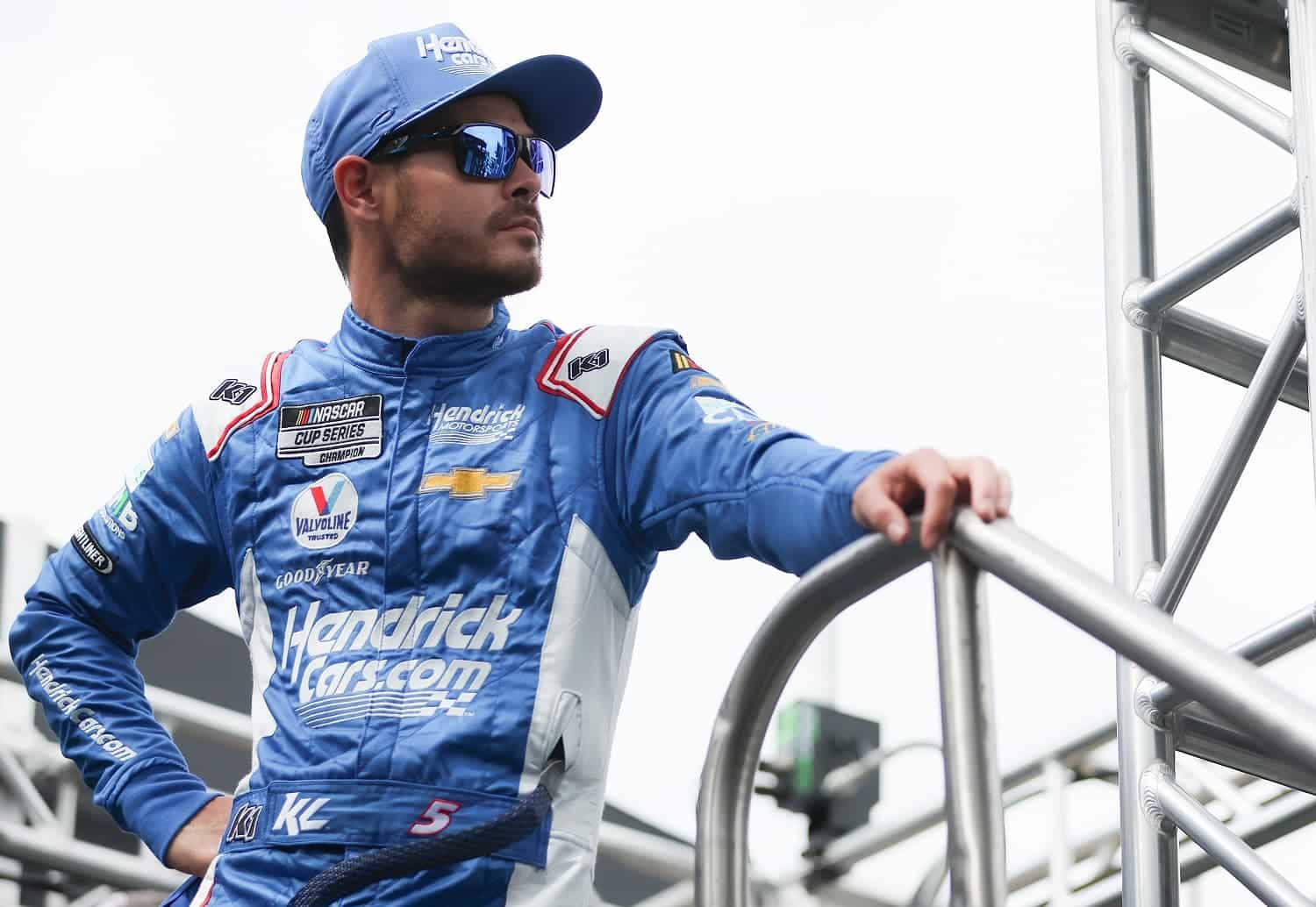 Kyle Larson, 30, wins one of every 16 NASCAR Cup Series races. The ratio is even better – one of every 11 – since 2017. If he keeps that up for even five more years, he coasts into the Hall of Fame upon retiring.
It's more than just his victories. Larson has racing instincts that few can match. His mastery of hugging the wall at Homestead-Miami in the 2022 playoffs, leading 193 of the final 230 laps, spoke to the sort of discipline he can muster. His four straight victories (including the All-Star Race) in mid-2021 were indicative of how he can stay dialed in.
Unfortunately for Larson, the new season is off to a disappointing start. Though he was in the hunt right until a vicious crash at the end, he had to settle for 18th place in the Daytona 500. Electrical problems at Fontana this weekend doomed him to 29th place.
Two races, two incidents out of his control. No one should be sharpening their knives. Yet, you can count on critics coming out if he doesn't win soon, and their rationale will be dubious.
Kyle Larson's Indianapolis 500 deal is for two years, not one
One of the major offseason NASCAR stories wasn't actually a NASCAR story. Rather, Kyle Larson, Hendrick Motorsports owner Rick Hendrick, and Arrow McLaren Racing CEO Zak Brown announced the driver would make an attempt to race in the 2024 Indianapolis 500. That also means Larson will attempt "The Double." After a potential 500 miles at Indianapolis Motor Speedway, the California native will fly to Charlotte to compete in the Cup Series' Coca-Cola 600.
Though it's not original, it's an ambitious endeavor not no be taken lightly. Both race teams will be heavily invested in the effort. Winning either race would be a phenomenal outcome, but a pair of top-10 results would also garner respect for a competitor already highly regarded.
On Monday, The Associated Press revealed the commitment by all parties runs deeper than previously reported. According to reporter Jenna Fryer, the Indy 500 arrangement is for two years and is expected to get off the ground with testing this year to prep Larson for 2024.
The 2020 Cup Series champion could pull some double duty in April
Regardless of credentials, drivers who've never raced in the Indianapolis 500 don't just show up in May and attempt to qualify. Rather, newcomers must go through the Rookie Orientation Program (ROP).
The key piece of the ROP is a sequence on the track in which drivers must show they can sustain a speed of 205 mph over multiple laps, followed by a run ramping up a bit and then a third series of laps above 215 mph. All the while, IndyCar officials focus on how they work through the corners and their consistency on holding racing lines.
Weather permitting, the next ROP takes place in April. If Kyle Larson finds time between NASCAR races to log enough practice in the open-wheel car, it's conceivable he could do his testing this spring to get it out of the way. That would allow him and the McLaren team to map out a schedule leading up to May 2024 without concerns about squeezing a do-or-die ROP into next spring.
The problem, though, is that detractors will go after Larson if he's doing IndyCar prep work without notching at least one Cup Series win along the way. Given that he won 10 times in 2021, even a single win might not be enough to silence critics.
Would it be fair? Probably not, but that's never stopped haters. And if this season or next should turn out to be a disappointment, Larson might be forced to scrap the 2025 Indy attempt.
Got a question or observation about racing? Sportscasting's John Moriello does a mailbag column each Friday. Write to him at [email protected]