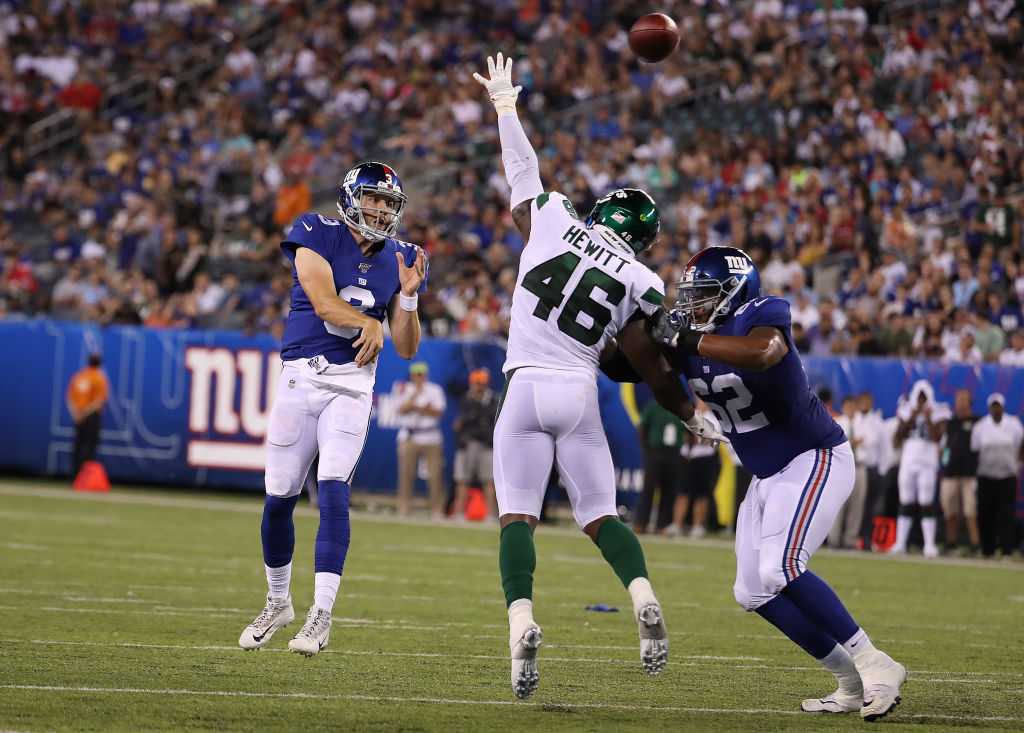 New York Giants Trick-Shot Quarterback Made over Million Dollars for One Pass
New York Giants backup quarterback Alex Tanney, who is best known for his viral trick-shot video, has made over a million dollars for one pass.
This month the New York Giants inked backup quarterback Alex Tanney to a two-year contract extension. The quarterback best known for his viral trick-shot video will receive close to a million dollars in 2020. 
While Tanney's trick shots are impressive, what's even more remarkable is his ability to collect a paycheck while doing next to nothing on the football field. Welcome to life as a backup quarterback in the NFL.
Tanney's record-setting college career
In college at Division III Monmouth College in Illinois, Tanney set numerous school records. After a solid first season as a freshman, Tanney broke the Monmouth record for single-season TD passes with 50 his sophomore year. His junior season Tanney threw for 3,856 yards and 44 TDs and earned the Melberger Award, the equivalent of the Heisman Trophy for Division III. 
After suffering an injury and sitting out the 2010 season, Tanney returned in 2011 and tossed for a career-high 3,867 yards with 38 TDs. That same season he set the NCAA record for all-time all-division career touchdown passes with 157 touchdown passes.
He won three Midwest Conference Offensive Player of the Year Awards in his distinguished college career along with several All-American Awards.
Despite the numerous awards in college, Tanney's biggest claim to fame came in 2011 when he posted a video online featuring a variety of throws to a variety of targets (goal posts, basketball goals, moving cars). The video exploded. As of today the video has been viewed more than 4.4 million times. 
Bouncing around the NFL
Tanney's NFL career started in 2012 when the Kansas City Chiefs signed him to a contract as an undrafted free agent. In September, he was placed on injured reserve with a finger injury.
Since that original stint with the Chiefs, Tanney has been signed to contracts by the Dallas Cowboys, Cleveland Browns, Tampa Bay Buccaneers, Tennesee Titans (twice), Buffalo Bills, Indianapolis Colts, and New York Giants.
He made his NFL regular-season debut for the Titans on January 3, 2016 against the Indianapolis Colts, subbing for an injured Zach Mettenberger in the third quarter and completed 10 of 14 passes for 99 yards. He threw his first and only career touchdown pass to Dorial Green-Beckham.
Time in the Big Apple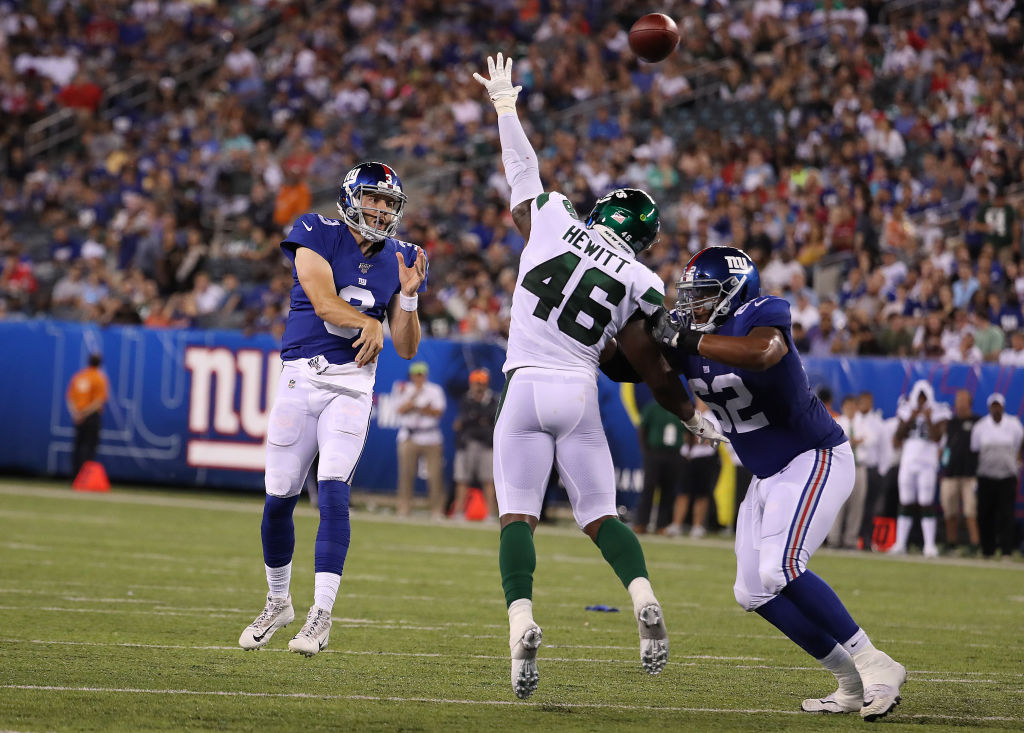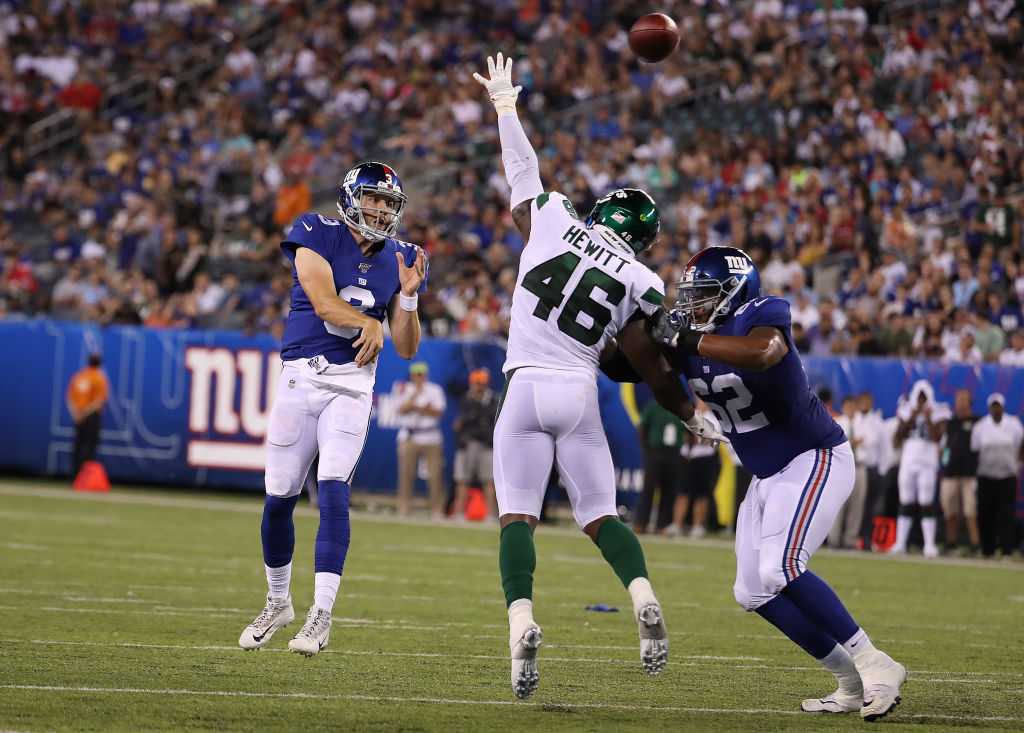 In May 2018, the New York Giants signed Tanney to a multi-year contract. Unlike most of his previous stops where he was either sent to the practice squad or released, Tanney made the 53-man roster to start the 2018-19 season. He didn't play a snap the entire season and still earned $555,000 per Spotrac.
Last year the Giants signed the 32-year-old quarterback to a two-year contract extension that paid him $547,059 in 2019. Although he was demoted to third-string after now-former head coach Pat Shurmur flipped the order to make Daniel Jones the starter and Eli Manning his backup, Tanney did see some action. One play.
In a Week 15 contest against the Miami Dolphins at MetLife Stadium., Tanney completed one pass for one yard. One pass. One completion. One yard. One big payday.
For those counting, Tanney made $1.1 million for the Giants over the last two seasons and threw one pass. Tanney's new deal with the Giants for the 2020 season, where he will serve as Daniel Jones' backup, he will make $950,000.
Tanney might be known for his trick shots, but the history books will show his greatest trick was staying in the league long enough to make millions while sitting on the bench.