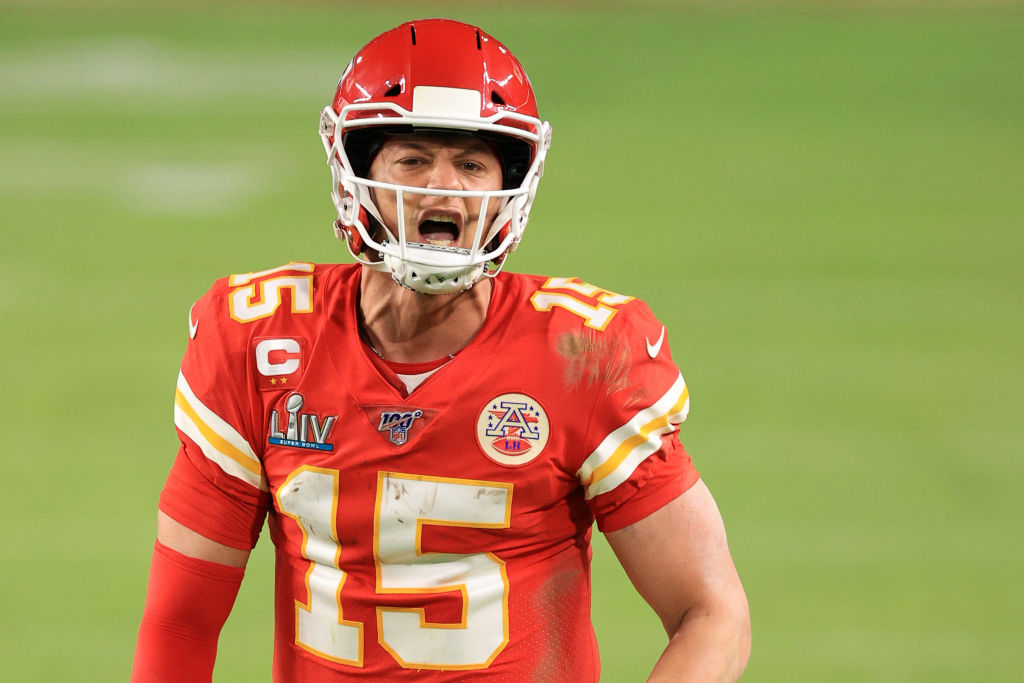 Why the Kansas City Chiefs Are Confident That Patrick Mahomes' Contract Extension Will 'Get Done'
Patrick Mahomes will need a new contract sooner rather than later, but the Kansas City Chiefs front office isn't panicking just yet.
While he's only spent two full seasons under center, Patrick Mahomes has already transformed the Kansas City Chiefs. For decades, the club couldn't win the big game or find a steady quarterback; now, they're a Super Bowl champion. There's still the matter of extending Mahomes' contract, though.
Kansas City general manager Brett Veach, however, doesn't seem too concerned. In fact, he's already gone on the record saying that the deal will "get done."
Patrick Mahomes rise to NFL stardom
When you're the son of a professional athlete, you've already hit the genetic lottery. While Patrick Mahomes could have cashed in his ticket on the baseball diamond, he chose to tough it out on the gridiron.
Mahomes headed to Texas Tech, where he started his football career as the backup quarterback. When sophomore year rolled around, however, he seized the starting job and never looked back. The quarterback posted 4,653 yards and 36 touchdowns in his first full season under center; as a junior, he quit baseball to focus on football and posted even bigger numbers.
When the 2017 NFL draft rolled around, the Kansas City Chiefs identified Mahomes as their franchise quarterback and traded up to get him. He spent a year sitting behind Alex Smith before bursting onto the scene with a dominant 2018 campaign. While 2019 wasn't as statistically impressive, Mahomes shone when the Chiefs needed him the most, leading the club to three straight comeback victories en route to a Super Bowl title.
Patrick Mahomes will eventually need a new contract
On paper, Patrick Mahomes won't be going anywhere soon. The Kansas City Chiefs front office, however, needs to take concrete steps to ensure the unthinkable doesn't occur.
NFL rookie contracts last for four seasons and include a club option for a fifth year. Mahomes is entering the final year of his guaranteed contract; while Kansas City would obviously pick up his option if necessary, free agency is looming in the not too distant future.
Whenever Mahomes signs his extension, it will be massive; the new deal could possibly reach $400 million. While that would be a burden on any franchise, the Chiefs have been balancing their books since drafting the quarterback.
"We were already doing the deal assuming Pat would be an elite-level quarterback. We were already doing our contracts to fit a potentially big contract," general manager Brett Veach told Kevin Clark of The Ringer last August. "When he was a rookie, as a backup, we were already doing our structures to fit. That's how much we believed in Patrick."
The Kansas City Chiefs aren't worried about getting a deal done
While the clock might be ticking on Patrick Mahomes' existing contract, the Kansas City Chiefs don't seem too worried. In January, owner Clark Hunt said the team was waiting for the "right time" to extend Mahomes; while Hunt explained the new contract was obviously a priority, he also noted the right time wouldn't necessarily be this offseason.
Speaking at the NFL Combine, however, Veach explained why the club isn't panicking. At the end of the day, they believe that Mahomes and his team want what's best for both parties.
"I think the cool thing about Pat and his agent is they realize he's gonna make a lot of money, no one operates in the sense of taking the extreme team discount, but Pat is also very cognizant of wanting to be in a place like Kansas City and win a lot of Super Bowls," Veach explained on PFT Live. "There are some things to help the team to make sure there's always talent around him. It'll take time, it'll get done."
The Kansas City Chiefs have already seen what Patrick Mahomes can do. It might take some time to hash out a deal, but there's no way that they'll let him walk.