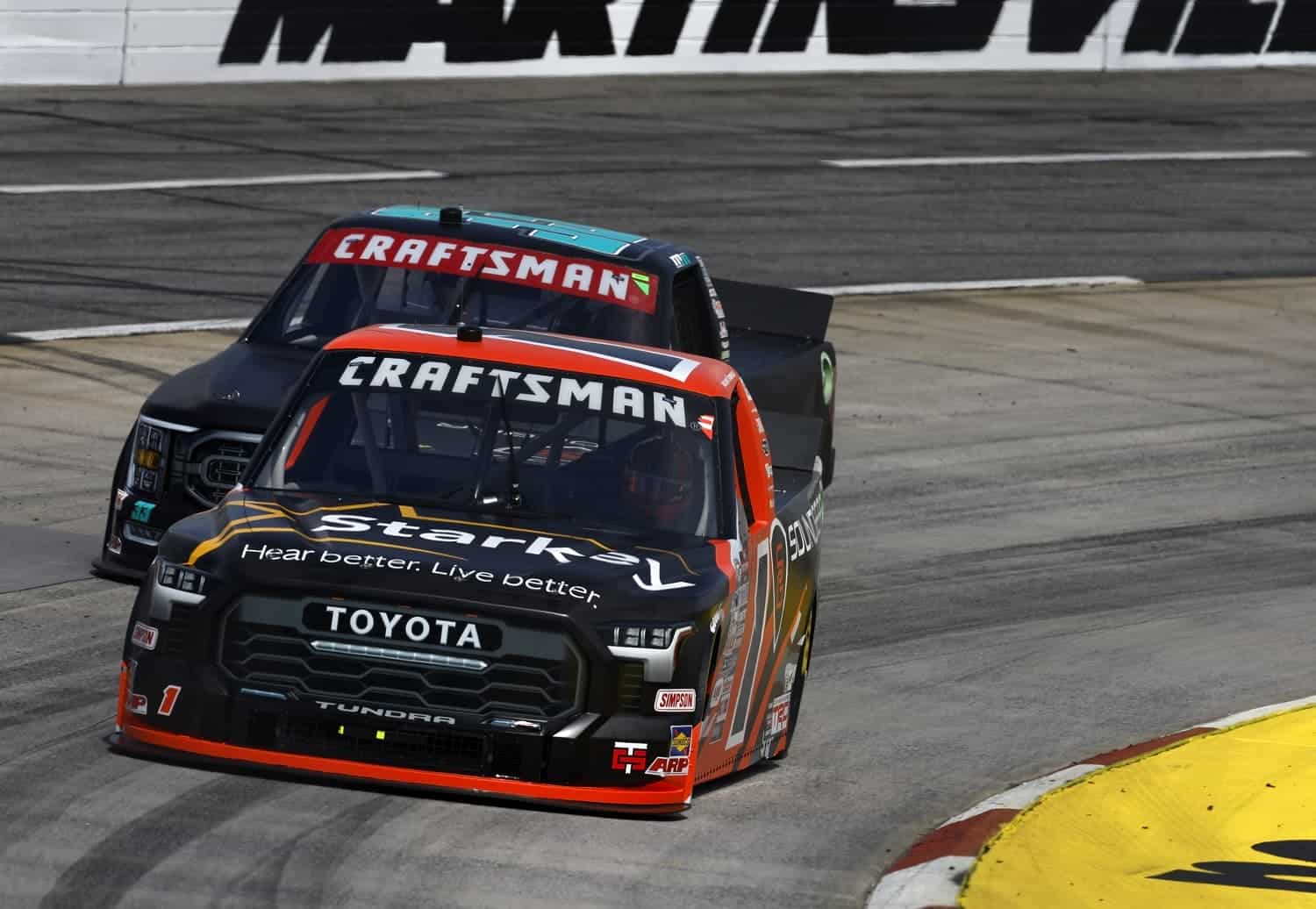 The Next JGR Prodigy Is Making Enemies Before He's Even Reached NASCAR
William Sawalich, who made his truck series debut in April, pulled off a winning move in the ARCA Menards Series that left a rival unhappy.
Though it's Stewart-Haas Racing's turn among the big Cup Series teams to go hunting for a new driver, Joe Gibbs Racing is among the teams always on the lookout for promising candidates. JGR has one such long-term prospect in place, but he hasn't been playing nicely, according to one of his peers.
Of course, that's hardly a negative in NASCAR, so William Sawalich definitely has a future.
Joe Gibbs Racing made offseason changes
By all accounts, Josh Berry will be the next man up at Stewart-Haas Racing in 2024, taking over Kevin Harvick's car when the driver of the No. 4 Ford retires in November. Berry currently drives for JR Motorsports, which means a position will be opening on the prominent Xfinity Series team. Owner Dale Earnhardt Jr. will pluck his replacement from another Xfinity team or the Craftsman Truck Series, and the game of musical driver seats will continue.
Joe Gibbs Racing went through that last offseason as Ty Gibbs replaced Kyle Busch in the Cup Series. JGR subsequently made John Hunter Nemechek and Sammy Smith its full-time Xfinity drivers. That should carry the organization for the short term, but JGR took another step toward securing the future when it signed William Sawalich last year.
Sawalich, 16, made his Craftsman Truck Series debut at Martinsville in April, but he's mostly been learning his craft in the ARCA Menards Series.
William Sawalich won in Michigan on Saturday
Rookie driver William Sawalich has won two of the first four races to take the points lead in the ARCA Menards East Series. On Saturday, he was one of the 17 competitors at Berlin Raceway in Michigan for a race on the national schedule.
Though Jesse Love dominated nearly the entire Berlin ARCA 200, Sawalich executed a late-race move to pass the No. 20 Toyota and deny Love his fourth consecutive victory. Sawalich tapped the left-rear panel on Love's car, moving him ever-so-slightly off his line and setting up the winning pass.
"It was a little bit more dirty than I wanted to," Sawalich said. "It was the last lap and I've had that happen to me before, and he totally had a lap to get me back."
That sort of ending was hardly a surprise for ARCA racing, a training ground for the NASCAR Craftsman Truck Series. Sawalich made his debut there for David Gilliland's team at Martinsville in April, finishing ninth.
Jesse Love wasn't happy with the move by William Sawalich
The move William Sawalich pulled on Saturday to win the ARCA Menards race hardly registered on the scale for contact in racing, but that didn't stop Jesse Love from taking offense despite extending his lead over Frankie Muniz in the national series standings.
Love took no consolation from Sawalich's "more dirty than I wanted" comment.
"I'm glad there is some accountability, but I've been raced by the No. 18 really dirty in a lot of different races throughout my ARCA career," Love said, "so I'm going to ballpark him every chance I get. So, I don't care."
Love, 18, has been driving in the series since 2020 and indicated he's out of patience with newcomers playing rough. He threw out a warning to Joe Gibbs Racing.
"I've been run into by people before and not done anything about it, so they're going to be building a lot of racecars," Love said.
Got a question or observation about racing? Sportscasting's John Moriello does a mailbag column each Friday. Write to him at [email protected].