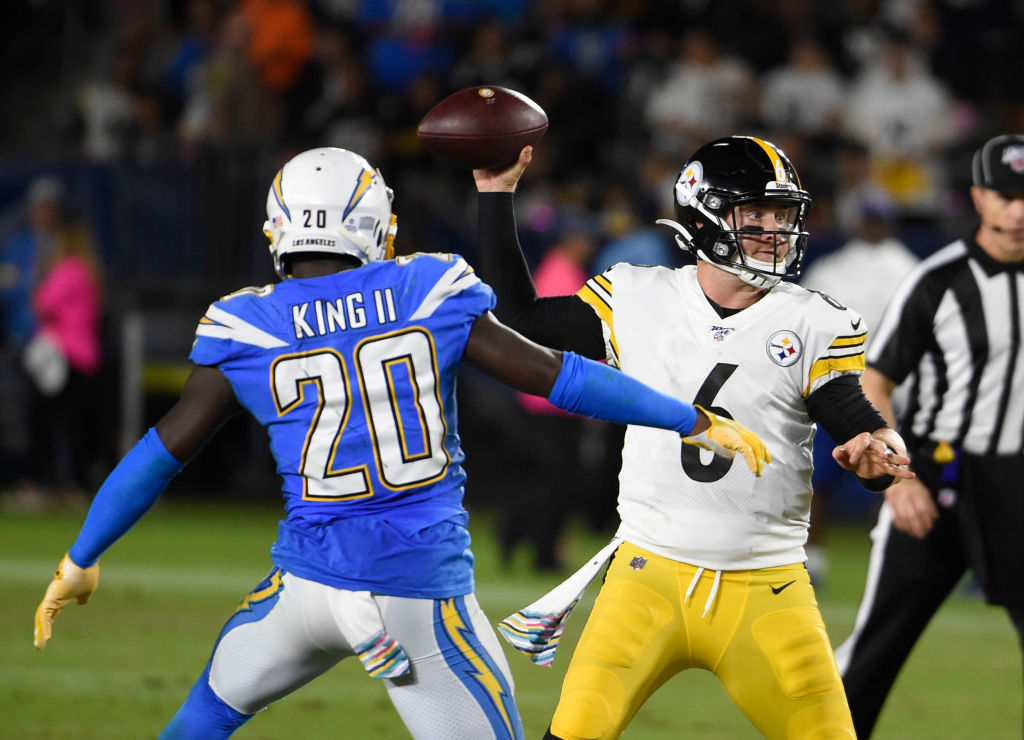 NFL: 1 Reason Why Devlin Hodges Reminds the Pittsburgh Steelers Offensive Line of Ben Roethlisberger
The Pittsburgh Steelers are starting their third-string quarterback. Devlin Hodges, however, is already reminding the offensive line of Ben Roethlisberger.
Life hasn't been for Pittsburgh Steelers quarterbacks this season. Ben Roethlisberger is done for the year with an elbow injury. His backup, Mason Rudolph, suffered a scary concussion several weeks later, forcing third-string QB Devlin Hodges into action.
While it's never ideal to trot out three separate players under center, the Steelers are managing to tread water. In fact, their offensive lineman even noted one similarity between Hodges and Big Ben.
Devlin Hodges's Road to the NFL
As a child, Devlin Hodges had a notable talent off the football field. At age 13, he won the 2009 Junior World Duck Calling Contest; his skill earned him the nickname, "Duck."
On the gridiron, Hodges played four seasons at Samford in the NCAA Division 1 Football Championship subdivision. He earned Southern Conference Offensive Player of the Year honors three times and took home the 2018 Walter Payton Award as the NCAA FCS' top offensive player. During his senior season, Hodges broke the FCS record for most passing yards in a single season, which was held by Steve McNair.
Despite those prolific numbers, no one called Hodges' name at the NFL draft. The quarterback signed with the Pittsburgh Steelers as an undrafted free agent in May 2019 but waived at the end of the summer. He landed on the team's practice squad, before climbing the depth chart as Roethlisberger and Rudolph got hurt.
Making his first Steelers start
After being thrust into the action following Mason Rudolph's injury, Devlin Hodges got his first NFL start on Sunday evening. While the game wasn't a masterpiece, the quarterback guided the Steelers pas the Los Angeles Chargers for a 24-17 win.
While the Steelers did their best to protect Hodges, he looked fairly comfortable under center. He completed 15 out of his 20 passes for 132 yards, throwing one touchdown and one interception. Pittsburgh tried to keep the ball on the ground, but Hodges did what he needed to do to earn the win.
"I liked his effort. We knew we couldn't give him a lot of exposure to that defense, so we did some things in other areas," head coach Mike Tomlin explained after the game.
Hodges' poise under pressure
While Hodges led his team to victory, the players on the field noticed something even more impressive: the rookie displayed a veteran's grace under pressure.
During the game, Hodges and center Maurkice Pouncey botched a snap. The football squirted through the quarterback's legs towards the Steelers' end zone, but the rookie never panicked. Hodges picked up the ball and attempted a pass, saving his team from a possible turnover. The improvisation even reminded Pouncey of Roethlisberger.
"He looked like Ben," Pouncey said. "I told him, 'I appreciate you, man.' I was up there, talking trash, and he hurried-up snapped it. I was like, 'Oh crap.' But he did a hell of a job of getting that ball and throwing it out. I honestly thought in my head, 'That's Ben.' Ben would've done the same thing. It was awesome."
Despite that one play, no one is earmarking Hodges for greatness just yet. If he manages to keep playing with such poise, however, he might be able to help the Steelers tread water and avoid a lost season.