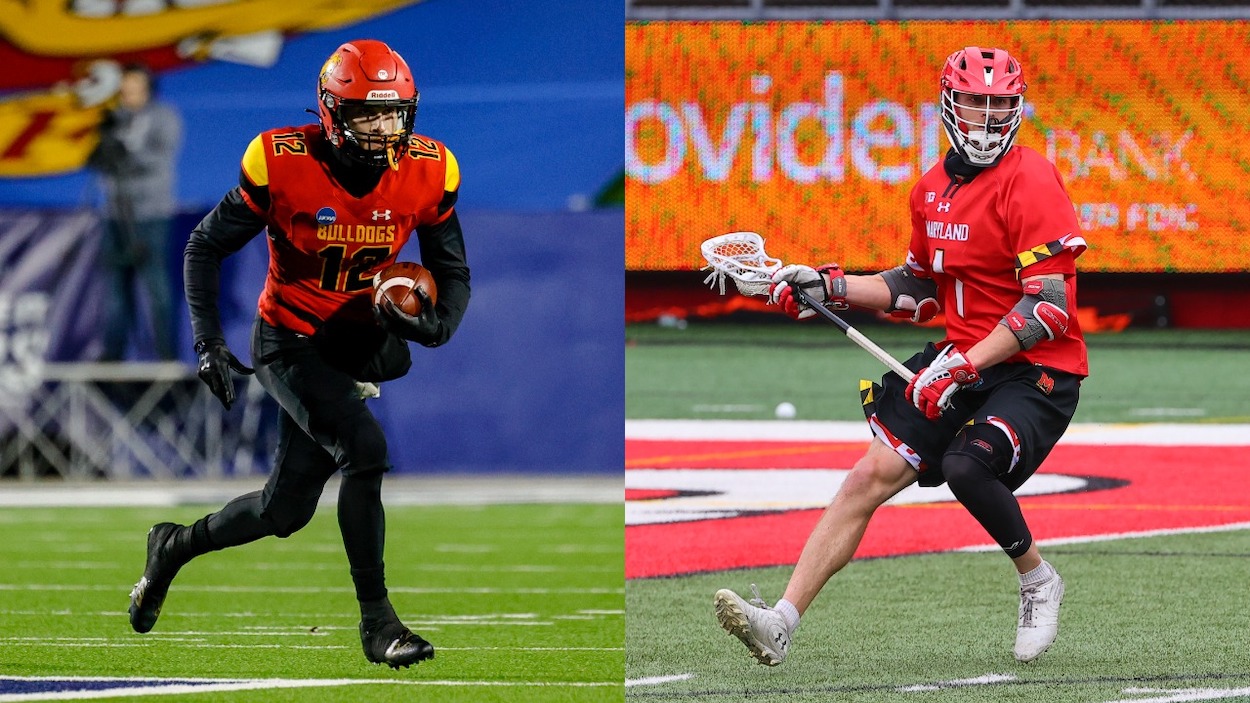 NFL Draft: Jared Bernhardt Is Bill Belichick's Dream Lacrosse-Playing NFL Draft Prospect
2022 NFL Draft prospect Jared Bernhardt has to be a Bill Belichick favorite as a player who starred in the coach's favorite sport of lacrosse before switching to football.
New England Patriots head coach Bill Belichick might go down as the greatest football coach in history. However, the game he's won eight championships in isn't even his favorite sport. That honor goes to the sport he played in college, lacrosse. And, in this year's NFL Draft, there's a prospect named Jared Bernhardt who excels at both, which will surely interest Belichick.
Bill Belichick loves the sport of lacrosse
New England Patriots head coach Bill Belichick grew up around football. His dad was an assistant coach at the Naval Academy, and the future Super Bowl winner played the game through high school. While his football-playing career stopped after the 12th grade, he continued to play lacrosse in college at Wesleyan University.
Belichick loves lacrosse, a sport invented by the Native Americans and predominantly popular in pockets of the East Coast. He even helped coach his sons' youth lacrosse teams while still finding time to win six Super Bowls with the Pats.
In 2019, the coach took in a Premier Lacrosse League game at Gillette Stadium. There, he explained his history with lacrosse to NBC Sports.
"I loved playing lacrosse," Belichick told NBC's Paul Bermeister. "I grew up in Annapolis, [Maryland], played it there. Played it in prep school at Andover and played four years at Wesleyan. I love lacrosse. It's a fun sport to play"
Belichick also posited that several of his Patriots players like Devin McCourty, Patrick Chung, Tedy Bruschi, and Rodney Harrison would have made good lacrosse players.
As for Tom Brady, Belichick admitted he'd probably only be able to play goalie due to the running requirements of his favorite sport.
Jared Bernhardt is a 2022 NFL Draft prospect with a lacrosse background
While Bill Belichick doesn't believe his former quarterback could excel at lacrosse, there have been lacrosse players who've played (and even dominated) the NFL.
Both Jim Thorpe and Jim Brown played lacrosse in college before becoming NFL Hall of Famers. In more recent times, Chris Hogan — who played for Belichick and the Patriots from 2016-18 — played lacrosse for four years at Penn State before transferring to Monmouth College and playing football for a year before making the NFL.
Hogan's path is similar to 2022 NFL Draft prospect Jared Bernhardt's.
Bernhardt grew up in a football and lacrosse family. His father played both sports at Hofstra University, and his two older brothers played professionally in Major League Lacrosse and the Premier Lacrosse League, per UMTerps.com.
The Florida native followed his brothers to the Maryland lacrosse team and played five seasons for the Terps. In his last year, he set the prestigious lacrosse school's all-time career goals record (156) and won lacrosse's version of the Heisman Trophy, the Tewaaraton Award.
After his college lacrosse career finished, Bernhardt enrolled at Division II Ferris State to play QB on the football team. The 6-foot-1, 195-pound attackman-turned-signal-caller led his Bulldogs to a DII national championship in his one year on campus.
In the final game, Bernhardt ran 14 times for 148 yards and three touchdowns, per NCAA.com, in a 58-17 win over Valdosta State.
Now, the well-rounded athlete is looking to make the NFL as a wide receiver and kick returner and has become a late-round sleeper candidate in this year's NFL draft.
College QBs who became standout NFL WRs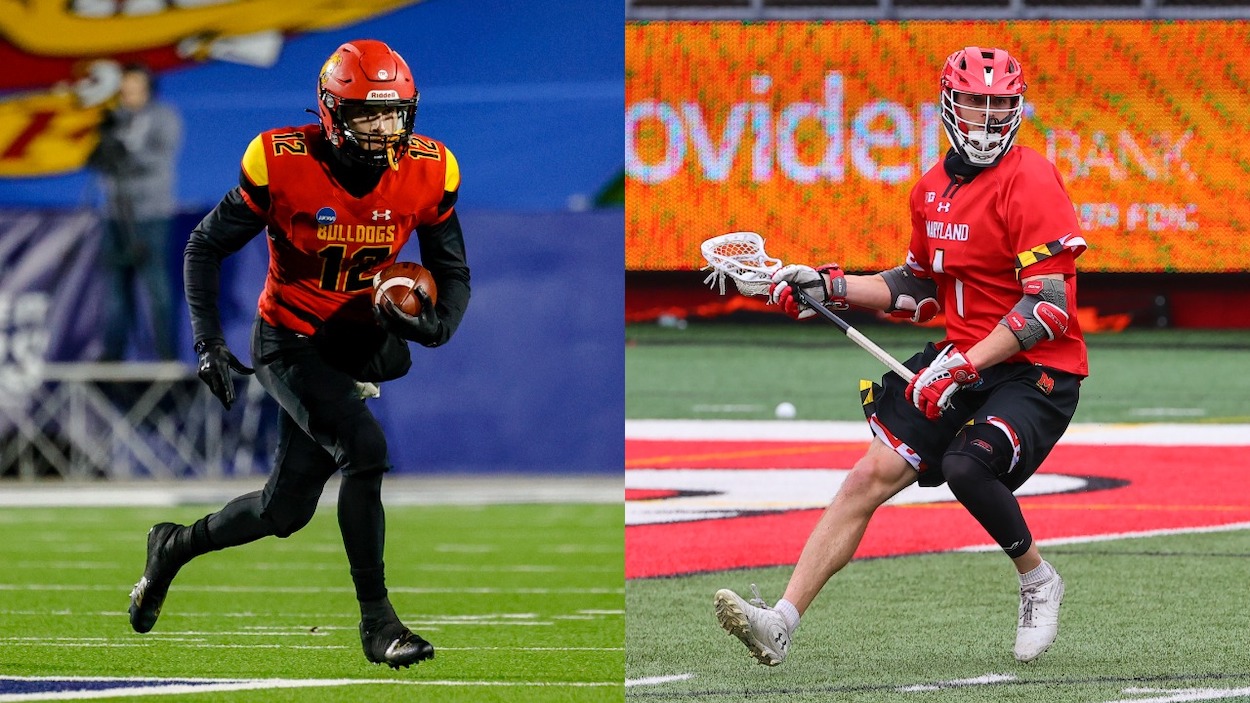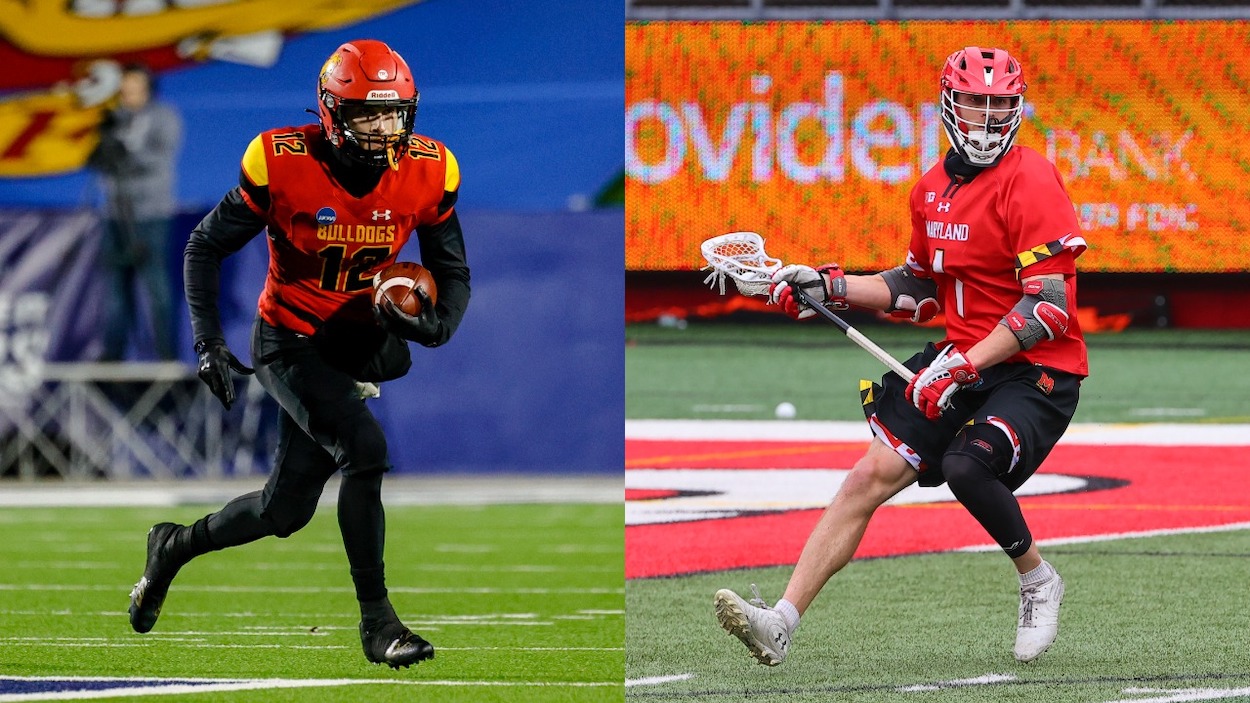 While going from lacrosse superstar to NFL player is somewhat rare, college quarterbacks converting to kick returners and wide receivers ahead of the NFL draft isn't that unusual.
Players like Hines Ward (Georgia), Randall Cobb (Kentucky), Josh Cribbs (Kent State), Brad Smith (Missouri), and Antwaan Randle El (Indiana) all played QB in college before going on to have successful and relatively long NFL careers at KR or WR.
Additionally, one of the most successful players to ever make this transition is someone Bill Belichick is very familiar with.
Julian Edelman played QB at Kent State from 2006-08. In 31 games, he threw for 4,997 yards with 30 TDs and 31 INTs. Although those aren't exactly Tom Brady-caliber numbers, he also showed off his athleticism, rushing for 2,483 yards and scoring 2 TDs on the ground.
The 5-foot-10, 198-pound California native showed enough promise as an athlete that Belichick took a shot on him in the seventh round of the 2009 NFL Draft. That gamble paid off big time.
Edelman played for Belichick and the Patriots for 11 seasons, racking up 620 receptions for 6,822 yards and 36 TDs. He also helped New England win three Lombardi Trophies and took home the Super Bowl MVP Award in 2019.
If Belichick sees Jared Bernhardt as a lacrosse-playing Julian Edelman, there's no telling how high he could draft the player.
All stats courtesy of Pro Football Reference and Sports Reference