Julian Edelman Reveals Just How Close He Was to Joining Eli Manning on the Giants: 'Almost a Giant, Always a Patriot'
NFL wide receiver Julian Edelman is synonymous with the New England Patriots. The player played his entire 11-year career there. That almost wasn't the case, though. On Monday, he told Eli Manning — who would have been his quarterback — that he legitimately considered signing with the New York Giants in 2013. While Edelman says he seriously considered it, he ultimately made the right decision.
Julian Edelman went from small college quarterback to star NFL wide receiver
Julian Edelman grew up in the Bay Area of California. His hometown of Woodside isn't far from where future teammate Tom Brady grew up in San Mateo, CA, albeit about a decade earlier.
Edelman was an all-county quarterback in high school, leading his Woodside Wildcats to a 13-0 record during his senior season, per Patriots.com. After two years of community college at the College of San Mateo, the 5-foot-10 signal-caller moved to Ohio to play his college ball at Kent State.
As the QB for the Golden Flashes, he passed for 4,997 yards and 30 touchdowns. He also ran for 2,664 yards and 22 scores. Despite the solid production, Edelman was under 6-foot and under 200-pounds, which is not ideal for an NFL QB.
As Edelman told Peyton and Eli Manning on the Week 11 ManningCast, he was OK not playing QB at the next level. He simply wanted to play in the NFL and was willing to do whatever it took.
When the New England Patriots came to scout him, they sent all different offensive position coaches to see if he was a fit. The San Francisco 49ers even sent their defensive coaches.
The Patriots ultimately drafted Edelman in the seventh round (No. 232 overall) of the 2009 NFL Draft. It was a smart decision.
Edelman played his first few seasons with slot receiver extraordinaire Wes Welker. Then, he eventually replaced his fellow diminutive route-runner.
Edelman retired in 2020 with 6,822 receiving yards and 36 receiving touchdowns.
He even got to show off his QB skills from time to time. In the regular season, he was 6-of-6 passing for 128 yards and a TD. In the playoffs, he was 1-of-2 for 51 yards and a TD.
As a free agent in 2013, Edelman thought about joining the New York Giants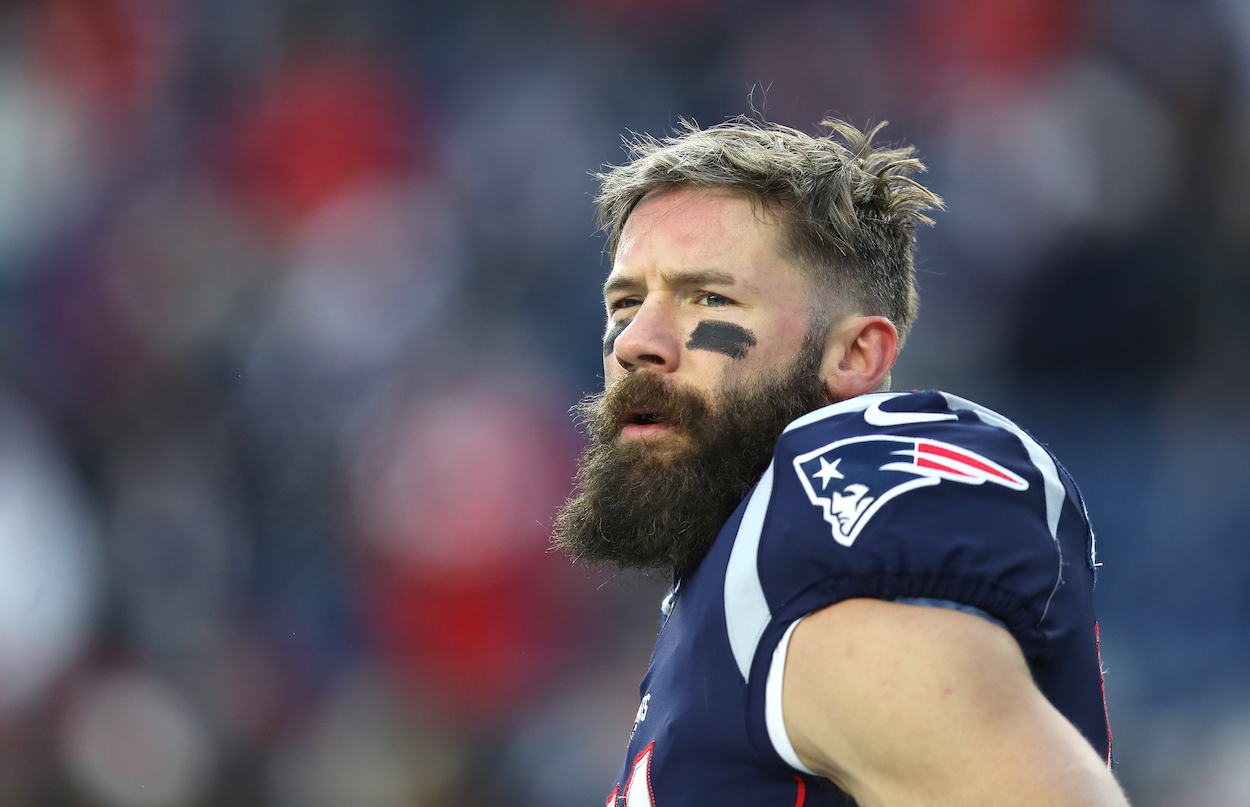 During the Monday night ManningCast, former New York Giants QB Eli Manning asked Julian Edelman about a report that the slot receiver was close to signing with his team almost a decade ago.
Edelman confirmed that the Giants were a legitimate option during his 2013 free-agent season:
It was pretty close. I went and visited up there — or down there — in Jersey, and met with [head coach Tom] Coughlin. Had nothing but respect for the organization and the Mara family and everything the Giants stood about. A very classy organization, but I looked at my choices of going back with the Pats and Welker — thank you, Peyton, for taking Welker off our hands, giving me more opportunity. And the rest is history. And you guys were saying, 'Once a Giant, always a Giant.' Almost a Giant, always a Patriot.

Julian Edelman on the New York Giants
Edelman would have joined not only Eli but a wide receiving core that included Victor Cruz, Hakeem Nicks, and, a year later, Odell Beckham Jr.
However, the lure of Brady, Belichick, and the Patriot Way proved too much. That offseason, Edelman signed a one-year, $765,000 contract to return to Foxborough. A year later, he signed a four-year, $17 million contract that would pave the way for him to finish his career in New England.
With hindsight being 20/20, it certainly seems like Edelman made the right decision.
Staying with the New England Patriots was the right decision
Deciding to stay with the New England Patriots over going with the New York Giants in 2013 was an intelligent decision for Julian Edelman.
Whether he knew it at the time or just got lucky, there were red flags in New York in 2013, just a season removed from Eli Manning and the team beating Edelman's Patriots for the second time in the Super Bowl.
From 2013 on, the Giants would only make the playoffs one time in the next seven years. Eli would have the worst season of his career in 2013. He threw 18 TDs and a whopping 27 INTs. The following season his QBR would pop back up to 62.5, but it would never again crest 60 (where he lived for the first half of his career).
Meanwhile, in Massachusetts, Edelman's QB seemed to be aging in reverse. The Patriots won the Super Bowl in 2014, then again in 2016, then again in 2018.
In that 2018 Super Bowl, a 13-3 victory over the Los Angeles Rams, Edelman caught 10 balls for 141 yards and took home the game's MVP award.
While things may have been different if Edelman went to New York, it's hard to imagine his career would have worked on as well as it did in New England.
All stats courtesy of Pro Football Reference