NFL Fantasy Football Forecast Week 16: Busts, Breakouts, Sleepers, and More
As the Fantasy Football playoffs heat up, putting the right lineup together can make or break your season. It's do-or-die time, and we can help.
Thinking of starting Dallas Cowboys quarterback Dak Prescott in this week's key matchup with the Philadelphia Eagles? You might want to look at the other QBs on your roster. It's a critical week when it comes to your fantasy team this week, so we're here to try and provide that push that just might get you to your Super Bowl.
Sportscasting's NFL Week 16 Fantasy Football Forecast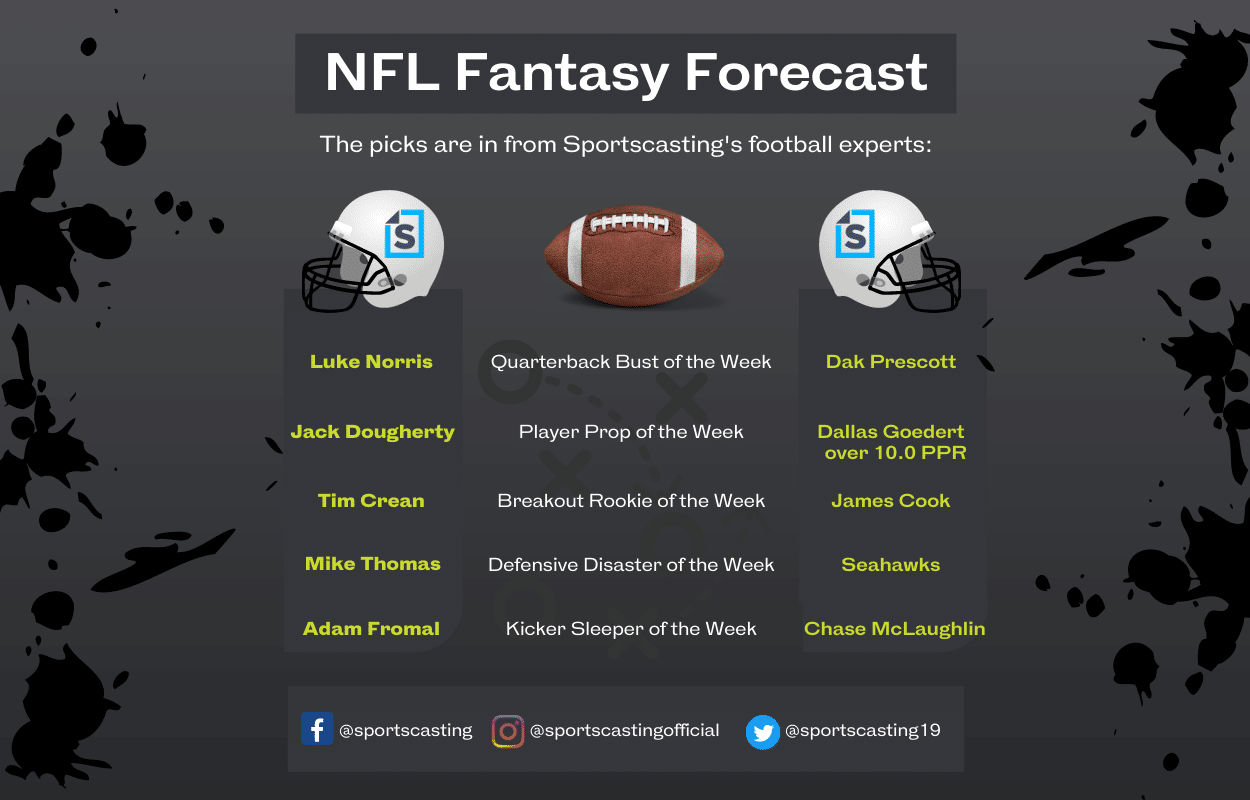 Quarterback Bust of the Week: Dak Prescott
Luke Norris: Well, I guess I have to end my streak. For the last few weeks, I've simply chosen the QB unfortunate enough to have to face the San Francisco 49ers. But as that's Taylor Heinicke this week, I won't go that route. I mean, let's get real. If you're banking on Taylor Heinicke to keep you moving in your fantasy league playoffs, you're in trouble already. 
So with that in mind, I'm going to roll with Prescott here. While the Cowboys' QB typically plays better at home, he's thrown seven interceptions in his last four games and is facing an Eagles defense with more picks (15) than any team in the NFL. Philly has also given up the fewest passing yards in the league (172.4 per game) and also has the most sacks (55). 
However, the Eagles' rush defense isn't great, ranking 19th in yards allowed. So Dak could be handing the ball off to Ezekiel Elliott and Tony Pollard quite a bit.
Player Prop of the Week: Dallas Goedert over 10.0 PPR points
Jack Dougherty: Dallas Goedert is set to return to the lineup this week after missing the last five games with a shoulder injury, and I think he'll be a focal point of the Philadelphia Eagles' offense right away.
It looks as if Gardner Minshew is going to start under center in place of Jalen Hurts, which is why Goedert's fantasy projection is so low. But that actually might be positive news for the star tight end. In Minshew's start against the New York Jets last season, he connected with Goedert six times for 105 yards and two touchdowns. I'm expecting these two to hook up for a handful of completions and a score against a banged-up Dallas Cowboys secondary.
Start Goedert with confidence in your playoff matchup.
Breakout Rookie of the Week: James Cook
Tim Crean: As the fantasy football season winds down, it's time to revisit some rookies who didn't break out earlier in the season. In Week 16, it's my Week 12 pick, Buffalo Bills running back James Cook. 
Cook has been slowly working his way back into the Bills RB rotation after fumbling his first career touch in Week 1. Last week, he got five carries, three targets, and his second touchdown. This week, the Bills play the Chicago Bears, so there's a good chance Devin Singletary gets some rest for the stretch run. 
Look for Cook to get more action than usual in this game, and if he does, the former Georgia RB is always a moment away from breaking a big play. 
Defensive Disaster of the Week: Seattle Seahawks
Mike Thomas: Something was off with the Kansas City Chiefs last week. They struggled as a two-touchdown favorite against the Houston Texans and needed overtime to pull out a victory.
With home-field advantage throughout the playoffs and a first-round bye still within reach, the Chiefs need to get things right as the postseason approaches. There's no better way to do that than face the Seattle Seahawks at home.
The Seahawks have surrendered better than 25 points per game. After Kansas City's less-than-stellar outing last week, look for Patrick Mahomes & Co. to light up the Seattle defense.
Kicker Sleeper of the Week: Chase McLaughlin
Adam Fromal: With most leagues in the fantasy playoffs, you have to trust the numbers. And they all stack up favorably for Indianapolis Colts kicker Chase McLaughlin. 
A favorable matchup? Check. The Los Angeles Chargers rank just 21st against opposing fantasy kickers. Available in your league? Check (probably). McLaughlin is rostered in just 4.7% of ESPN leagues. 
Success so far this season? Check. The 26-year-old ranks ninth in scoring this season and is coming off a 21-point outing against the Minnesota Vikings following Indy's Week 14 bye. 
Favorable weather? Check. Well, a partial check. With polar vortexes swirling around the country and snow affecting plenty of games, Indianapolis is forecasted for a below-freezing Monday night but is at least set to have a clear night sky.