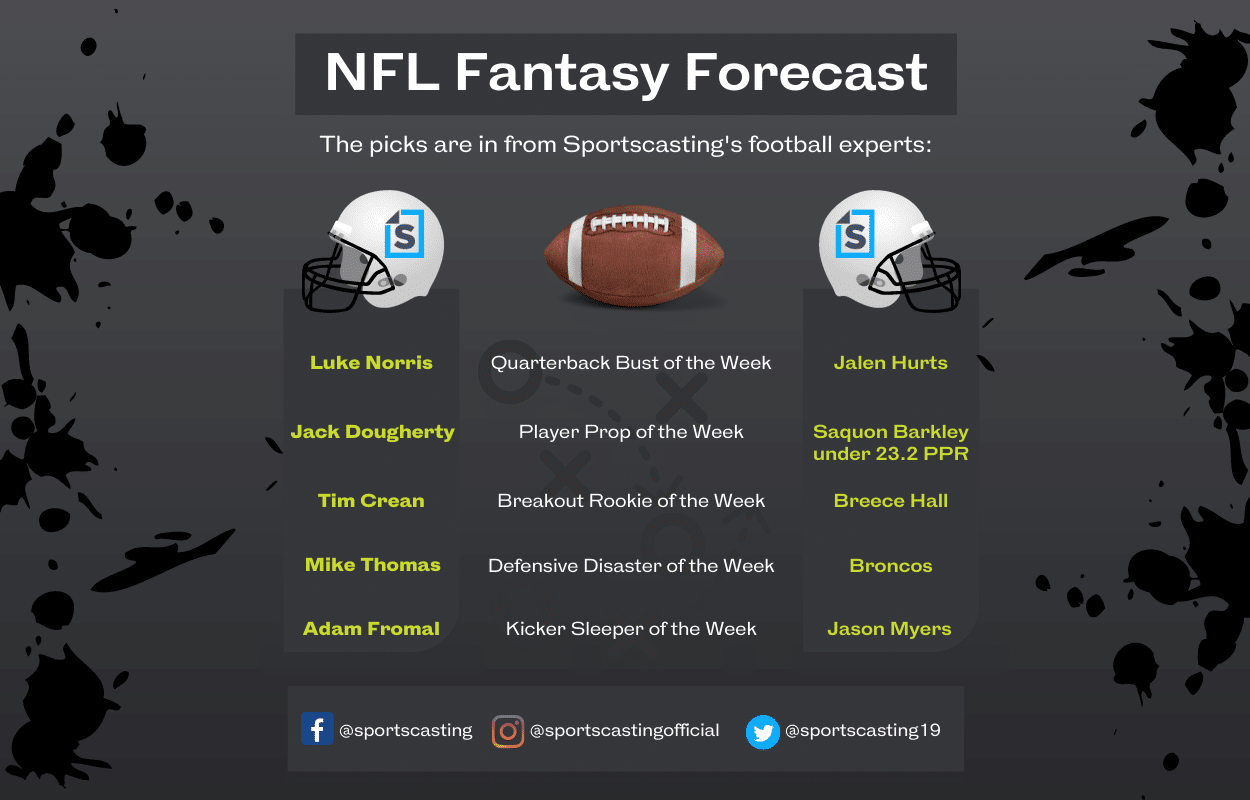 NFL Fantasy Forecast Week 6: Busts, Breakouts, Sleepers, and More
Sportscasting's fantasy football predictions for Week 6.
As we turn the page to Week 6 of the fantasy football season, the playoff picture is starting to materialize in all of your leagues. Weekly matchups become more and more crucial as the year goes on, and only the savviest owners will survive the stretch of bye weeks starting this week.
So, with roster-tinkering starting to ramp up, Sportscasting's NFL experts are here to help you navigate the toughest section of the fantasy football schedule. Here are our fantasy predictions for Week 6.
Sportscasting's Week 6 NFL Fantasy Football Forecast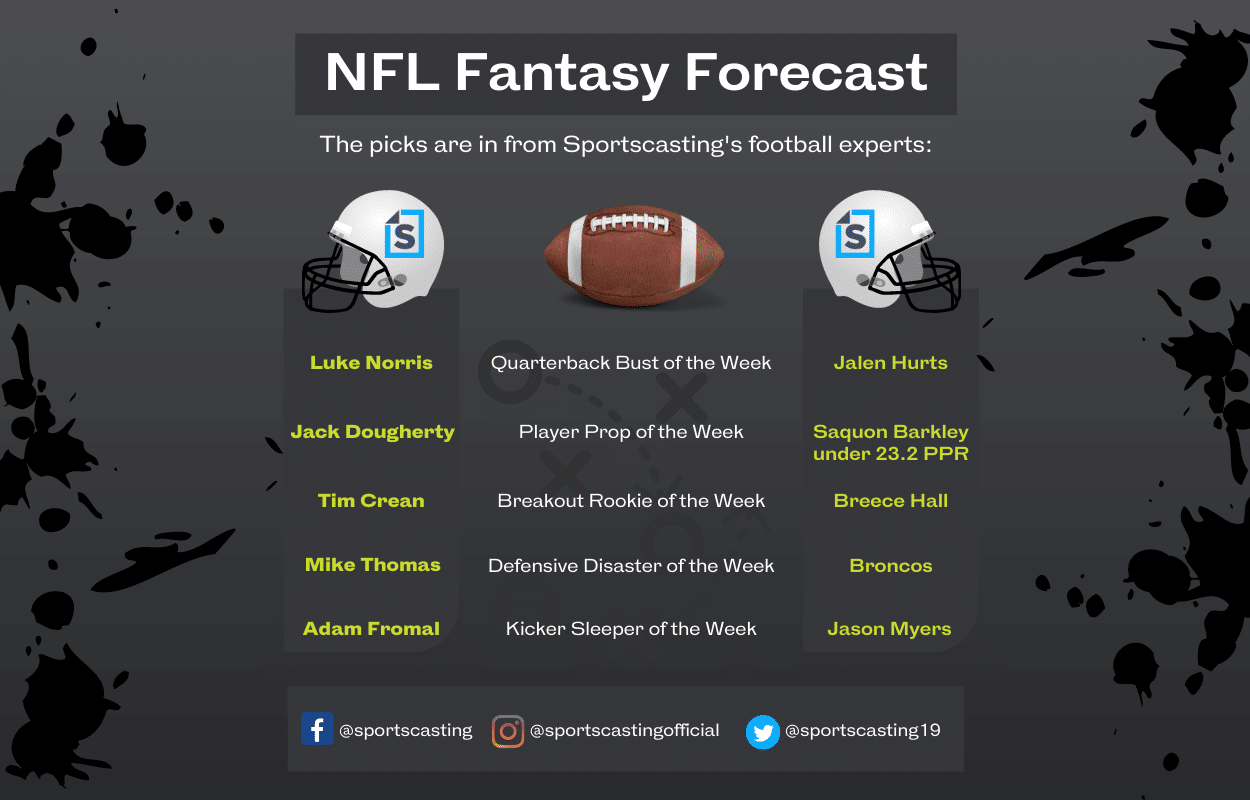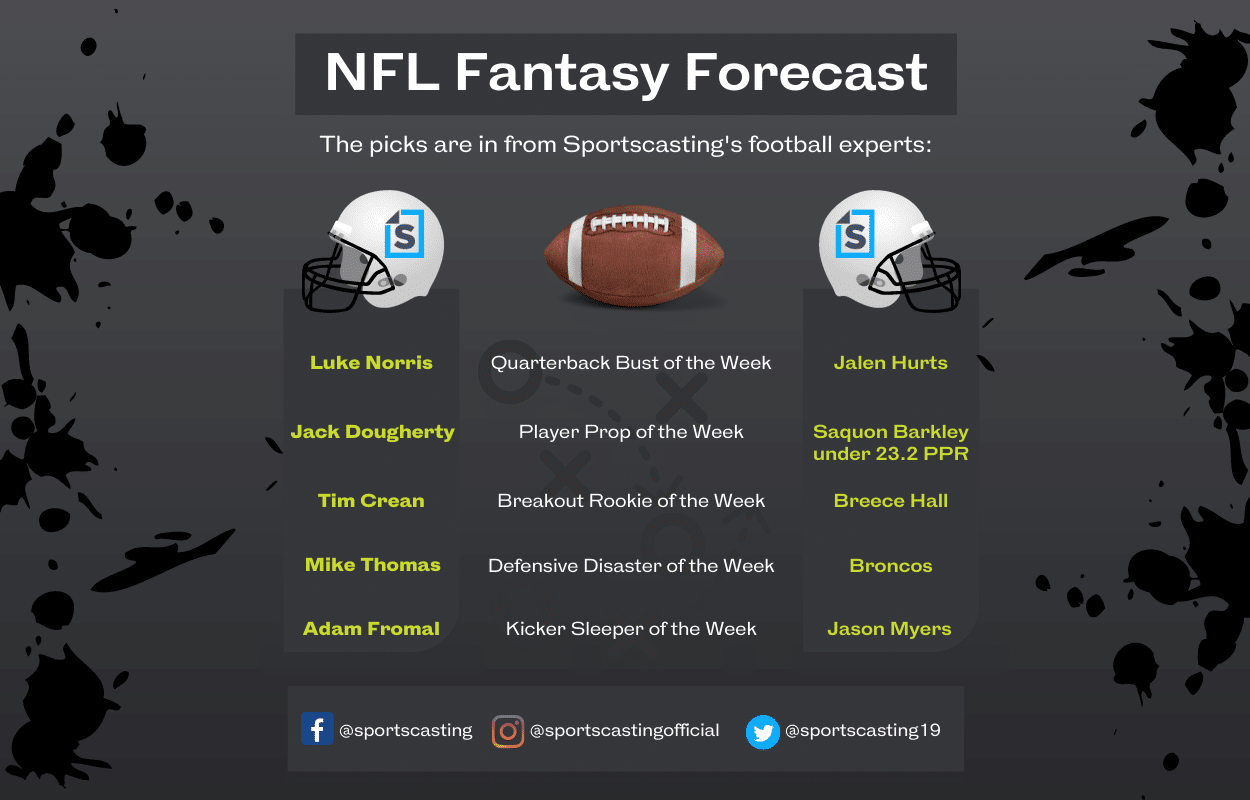 Quarterback Bust of the Week: Jalen Hurts
Luke Norris: This is certainly my boldest prediction yet. Typically, over the last few weeks, I'll check to see which quarterback has the task of facing the Buffalo Bills' defense and put that unfortunate soul near the top of the list of those I'm considering. But as that's Patrick Mahomes this week, I can't do that, can I?
Nor can I go with the guy facing the San Francisco 49ers' defense this week, as that's Marcus Mariota. And if you're riding that train this year, you dug your own grave during your draft. 
So, for a second straight week, I'll go with the guy facing the Dallas Cowboys. Last week, that was Matthew Stafford, and I'm still feeling good about that assessment as the Dallas defense pressured him 20 times and recorded five sacks. 
This week, it's Jalen Hurts. Now, it's difficult to sit the third-year star given the season he's had thus far for the undefeated Philadelphia Eagles. But he's only faced one top-10 defense, that being the Jacksonville Jaguars. And that was Hurts' worst game of the year as he threw for a season-low 204 yards with no touchdowns and an interception, although he did rush for a score.
He now squares off with a Cowboys' defense that ranks second in sacks with 20 and is allowing just 14.4 points per game, good for third in the NFL. So it'll be very interesting to see how Hurts fares in this key NFC East showdown on Sunday night.
Player Prop of the Week: Saquon Barkley UNDER 23.2 PPR points
Jack Dougherty: If you took a chance on Saquon Barkley in the early rounds of your fantasy football draft, you must be feeling pretty good about yourself through five weeks. The New York Giants running back is averaging 21.1 PPR points per game this season, and he's currently the third-highest-scoring RB in fantasy.
So, why on earth am I fading him this week?
Well, for one, Barkley has gone over this projection only once in five games. He was also limited in practice Wednesday due to the shoulder injury he sustained in last Sunday's win against the Green Bay Packers. It's looking like Barkley won't be 100% healthy in Week 6, which I think will lead to fewer touches in the game.
The Baltimore Ravens have been a middle-of-the-pack defense against running backs this year, but head coach John Harbaugh is going to draw up his entire game plan around slowing down Barkley. You're still starting Saquon in all formats, but I'd temper my expectations this week.
Breakout Rookie of the Week: Breece Hall
Tim Crean: New York Jets second-round rookie running back Breece Hall was relatively quiet the first four weeks of the season. He put up 291 all-purpose yards in those four games. In Week 5, Hall exploded for 97 rushing and 100 receiving yards. 
The Jets offense is now much different from the beginning of the season now that Zach Wilson is back under center and Joe Flacco has returned to the bench. That means what we've seen in the last two Gang Green games (which includes 275 all-purpose yards for Hall) is more in line with what we'll see going forward. 
Also, the Jets play the Green Bay Packers this week. The Packers defense has struggled at times stopping RBs this season. Dalvin Cook had 108 total yards in Week 1, David Montgomery had 15o total yards in Week 2, and Saquon Barkley put up 106 yards in Week 5. 
Look for the Jets rookie runner to put up three digits worth of yards on Sunday, too.
Defensive Disaster of the Week: Denver Broncos
Mike Thomas: Whether injured wide receiver Keenan Allen returns to the lineup or not, look for the Chargers to continue to put some serious points on the board. The Broncos defense looked good last week, but not too many defenses don't shine when they play the Indianapolis Colts this year.
The Broncos defense kept Denver in the game last Thursday, but that was against a Matt Ryan-led offense that has struggled all year. The Chargers put up 30 points last week against the Cleveland Browns and had 34 the week before against the Houston Texans.
Justin Herbert and Austin Ekeler have the LA offense cruising. Look for that to continue Monday night against the Broncos.
Kicker Sleeper of the Week: Jason Meyers
Adam Fromal: Jason Myers hasn't been perfect to start the 2022 season, missing one extra point against the New Orleans Saints last time out and failing to connect on a 39-yarder in the third quarter of a Week 4 victory over the Detroit Lions.
He's still tied with Brandon McManus and Riley Patterson as the No. 12 kicker this season and has a cushy Sunday afternoon matchup against the Arizona Cardinals this time around. Even though the Cardinals have ceded the 24th-most points to opposing kickers, he's rostered in just 16.8% of ESPN leagues. 
Geno Smith has the Seattle Seahawks offense humming, but Arizona, currently 22nd in scoring defense, is due for some positive defensive regression after finishing the 2021 campaign just outside the top 10 in that category. Expect the West Virginia product to march his offense down the field but sputter out in field-goal range frequently enough for Myers to get on the board with at least three successful kicks through the uprights.