NFL Flameout Fires Brutal Shot at Bafflingly Bad Lions QB Jared Goff: 'Myself and Kaepernick Can Go On Field This Second and Do Better'
Think the Detroit Lions regret placing their season in the hands of Jared Goff?
At this point, it's obvious the former Los Angeles Rams quarterback doesn't have what it takes to play the position at an adequate level. In fact, if he didn't have such an expensive contract, it's fair to wonder whether the No. 1 pick from the 2016 NFL Draft would maintain his spot atop the depth chart.
Goff's consistently underwhelming outings have raised serious doubts about his pro football future. Ironically, a player who went from throwing passes to catching them for a living took to social media to fire a brutal shot at Detroit's starting signal-caller.
But even though Goff certainly deserves criticism for his incredibly disappointing first nine games as a Lion, Terrelle Pryor's assessment of the situation seems a bit strange considering how his NFL career turned out.
The Jared Goff experiment has led to dismal results for the lowly Lions
By essentially playing himself out of a job in LA, Jared Goff went from leading the huddle for a title contender to playing for one of the worst-run franchises in the NFL. Unfortunately for the 27-year-old California native, relocating to Detroit has led to dreary days at the office.
Coming off a season in which he completed a career-high 67% of his passes while posting a decent QBR of 58.5, Goff has undoubtedly been the worst starting quarterback in the league. With eight touchdowns passes, six interceptions, and a paltry 6.3 yards-per-attempt average, the sixth-year signal-caller unsurprisingly ranks dead-last in QBR among full-time starters with a stunningly bad mark of 27.3.
Obviously, the Goff experiment has not paid off for a Detroit team desperate for some semblance of direction. At this point, Dan Campbell's squad looks poised to land the No. 1 overall pick in the 2022 NFL Draft largely because of awful play from the most important position in sports.
And with 2019 undrafted free agent David Blough as the only other quarterback on the active roster, the Lions don't exactly have a suitable replacement for Goff. Even though the two-time Pro Bowler seems ideally suited to sit on the bench, he doesn't appear in danger of getting moved down the depth chart anytime soon.
Terrelle Pryor fires massive shot at Detroit's disappointing QB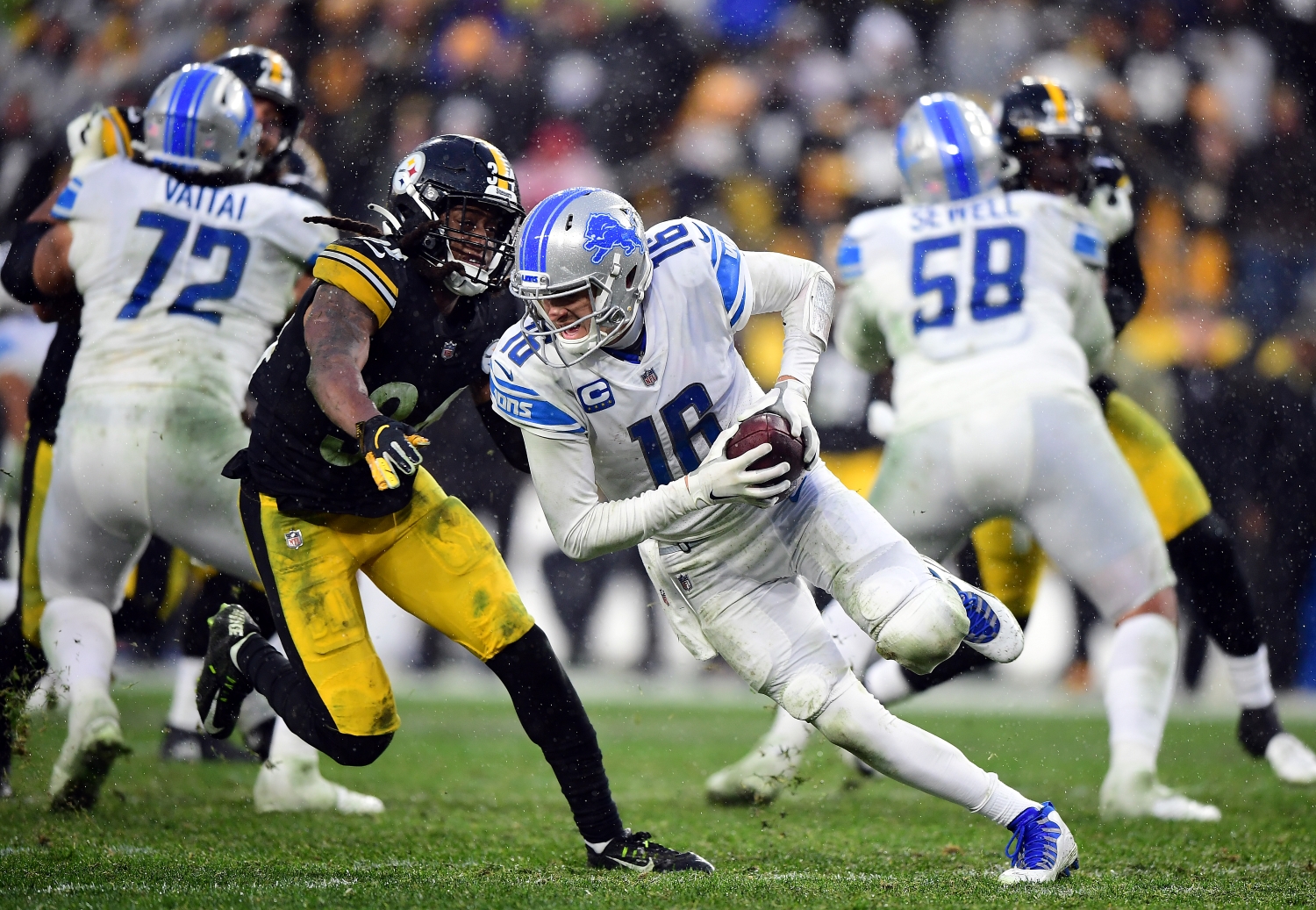 It's completely understandable for Lions fans to feel upset about having to watch Goff fail on a weekly basis. After all, it doesn't take a trained scouting eye to see he doesn't possess the qualities needed to succeed. But one person who boasts professional experience playing the position couldn't contain his frustration over the veteran's latest abysmal performance.
Terrelle Pryor, the former Ohio State star who played in the league from 2011-19, fired a brutal shot at Goff in a since-deleted social media post shared by TMZ.
"Jared Goff is terrible (Charles Barkley voice)," Pryor wrote on Instagram. "Myself and Kaepernick can go on field this second and do better."
Not only did the 32-year-old NFL flameout invoke Sir Charles in his public blasting of Goff, but he also managed to insert Colin Kaepernick's name into the equation. Clearly, Pryor believes both he and the quarterback-turned-activist have the skills needed to surpass the incredibly low bar set by the Lions' highest-paid player.
Goff getting called out by someone who never came close to living up to expectations as a professional passer seems harsh, but the truth hurts. And in his case, he simply hasn't delivered since he arrived in Detroit.
Moreover, the Kaepernick reference should raise some eyebrows. The former San Francisco 49ers star has spent four full seasons out of the league and doesn't appear on track to don a helmet and shoulder pads again. Yet Pryor obviously doesn't think such a long layoff would prevent a 34-year-old, less-explosive version of Kaepernick from playing at a higher level than Goff, who has started 78 games since 2016.
While it may be easy to criticize the Rams castoff based on his horrific game film, the controversial social media post ignores one key element.
The NFL flameout sure thinks highly of himself for someone who had to switch positions at the pro level
Doesn't it seem a bit ironic for Pryor to call out Goff for playing poorly when he couldn't cut it as an NFL quarterback himself?
An electrifying athlete who put up big-time numbers in college, the 2010 Rose Bowl MVP entered the league as a third-round supplemental draft pick by the then-Oakland Raiders. While he didn't enter the most ideal situation, the 6-foot-4, 228-pound Pennsylvania native quickly proved he did not have the skill set needed at the pro level.
Pryor's "career" as an NFL quarterback included a 3-7 record as a starter, a 56.3% completion rate, and an ugly 9:12 touchdown-to-interception ratio. His shortcomings as a passer led to a position switch — a move that surprisingly went much better than expected. In his first and only season as a full-time starting wideout, Pryor recorded 77 catches for 1,007 yards and four touchdowns for a 1-15 Cleveland Browns team.
However, the uber-athletic quarterback-turned-receiver couldn't replicate his magical 2016 campaign. Injuries played a factor in Pryor's downfall, as he struggled to stay healthy and produce in various stops.
Considering he hasn't suited up in an NFL game since 2018, it's fair to say he has a rather inflated opinion of his abilities. So, as much as Terrelle Pryor may think he has what it takes to be the Detroit Lions' starting quarterback, it's obvious general managers and coaches don't agree.
As for Colin Kaepernick?
At least his resume actually includes some legitimate accomplishments.
All statistics courtesy of Pro Football Reference.