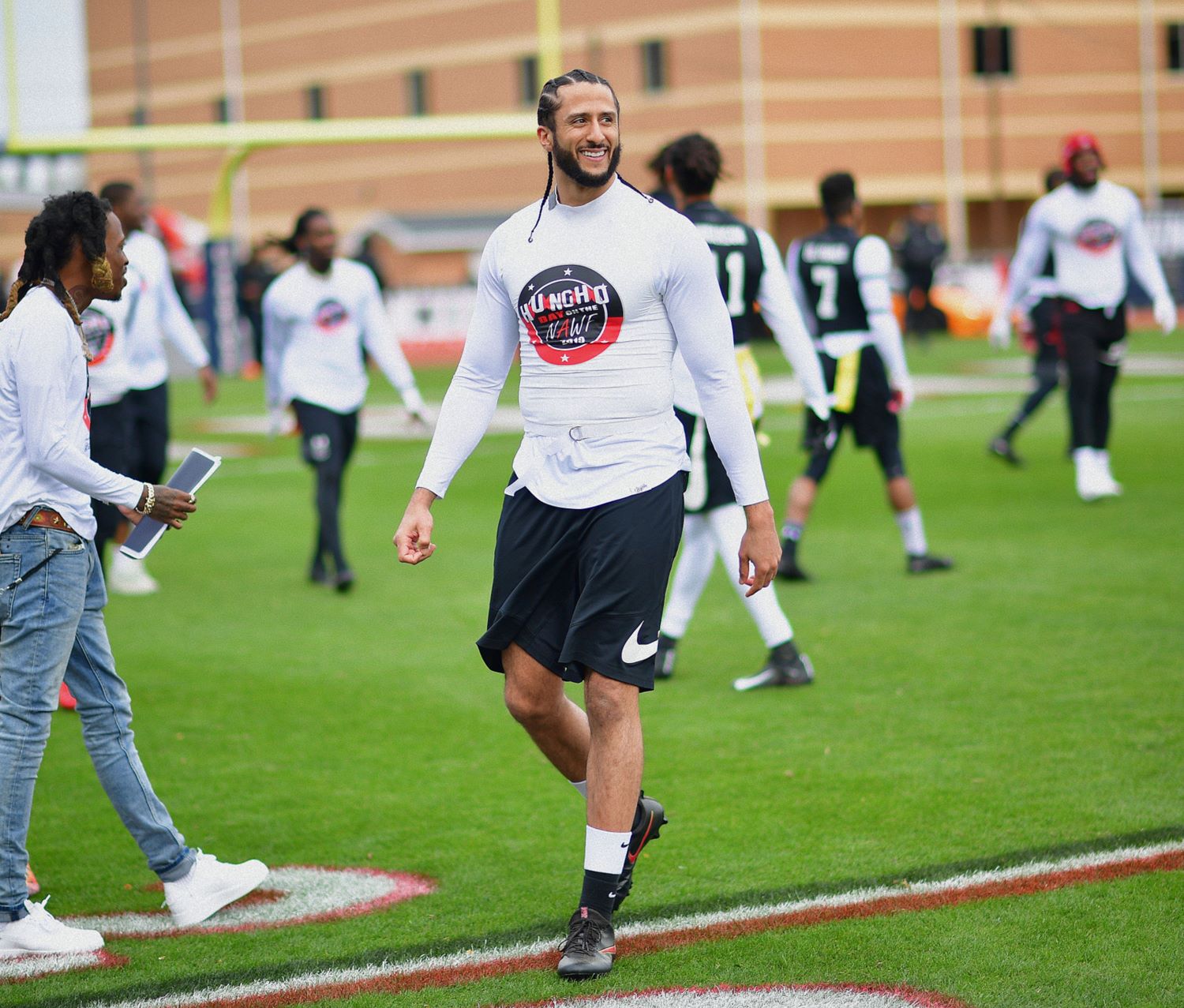 Colin Kaepernick Just Added 'Hall of Fame Quarterback' to His Football Resume
Colin Kaepernick will be inducted into the University of Nevada Athletics Hall of Fame. But will an NFL team give him another chance?
Colin Kaepernick may never get enshrined in Canton, but that doesn't mean he won't be able to call himself a Hall of Famer. The former San Francisco 49ers star just added an impressive honor to his football resume even though he hasn't played in an NFL game since January 2017.
But will NFL fans ever get a chance to see Kaepernick throw another touchdown pass? Or will the quarterback-turned-activist continue to be ignored by teams despite his track record of production?
Colin Kaepernick was a star at Nevada
Long before he became known for taking a knee, Colin Kaepernick became a legend at the University of Nevada. The Wisconsin native also excelled on the baseball diamond in high school. However, the Wolf Pack offered the multi-sport star a football scholarship, which swayed Kaepernick to take his talents to Nevada.
That decision turned out to be an excellent one for both the team and the talented quarterback. As a true freshman, the future NFL star completed 53.8% of his passes for 2,175 yards, 19 touchdowns, and just three interceptions. He followed up with a sensational sophomore season that included 1,130 yards and 17 touchdowns on the ground.
Kaepernick continued to torch defenses with his ability to both throw and run. In his junior season, he threw for 2,052 yards, ran for 1,183 more, and accounted for 37 total touchdowns.
That set the stage for a senior season that included career-highs in several categories. Kaepernick finished eighth in the Heisman voting after throwing for 3,022 yards and 21 TD. He also posted 1,206 rushing yards and 20 TD, which certainly helped boost his NFL draft stock.
Kaepernick is now a Hall of Famer
Following his standout four-year career at Nevada, Colin Kaepernick got selected 36th overall in the 2011 NFL draft. His dual-threat skillset gave defenses nightmares early in his career. The 6-foot-4, 230-pound QB nearly led the 49ers to a Super Bowl title in just his second year in the league.
Of course, Kaepernick never played another NFL down after the 2016 season. Though his football future remains a mystery, the former college superstar just received a major honor for his past accomplishments.
On Friday, Nevada Athletics formally announced its six-person Hall of Fame class for 2020. Kaepernick and two of his former teammates, Vai Taua and Dontay Moch, will be inducted alongside three former Wolf Pack basketball players.
"The 2020 Hall of Fame class represents some of the best of the best in Wolf Pack history," said athletics director Doug Knuth. "This is an incredible collection of accomplished student-athletes and we can't wait for the opportunity to welcome them back to campus and celebrate their careers."
Though Kaepernick just added "Hall of Famer" to his football resume, one question still remains: Will he ever play for another NFL team?
Will an NFL team give the former 49ers star another shot?
Considering he threw his last official pass on New Year's Day 2017, Colin Kaepernick could very well have lost some of the elite athleticism that made him such a dynamic threat. Still, if you take a quick glance at the quarterback depth charts around the NFL, it seems unfathomable that a team has yet to sign the former 49ers star.
Could that change at some point?
In a season in which players continue to test positive for COVID-19, it would make sense for NFL teams to add reinforcements, particularly at quarterback.
After all, the New England Patriots witnessed what life without Cam Newton is like after the 31-year-old tested positive for the coronavirus. Let's just say Brian Hoyer and Jarrett Stidham inspired zero confidence based on their performances against the Kansas City Chiefs.
Perhaps the Patriots—who have shown a willingness to take chances on talented players with perceived baggage—could explore bringing Kaepernick in to be Newton's backup. At the very least, he could run the same offense as New England's incumbent starter given his similar skillset.
Ultimately, it only takes one NFL team to give Colin Kaepernick an opportunity. Let's see if a franchise takes a leap of faith on a quarterback who just became a Hall of Famer.
All statistics courtesy of Sports Reference.