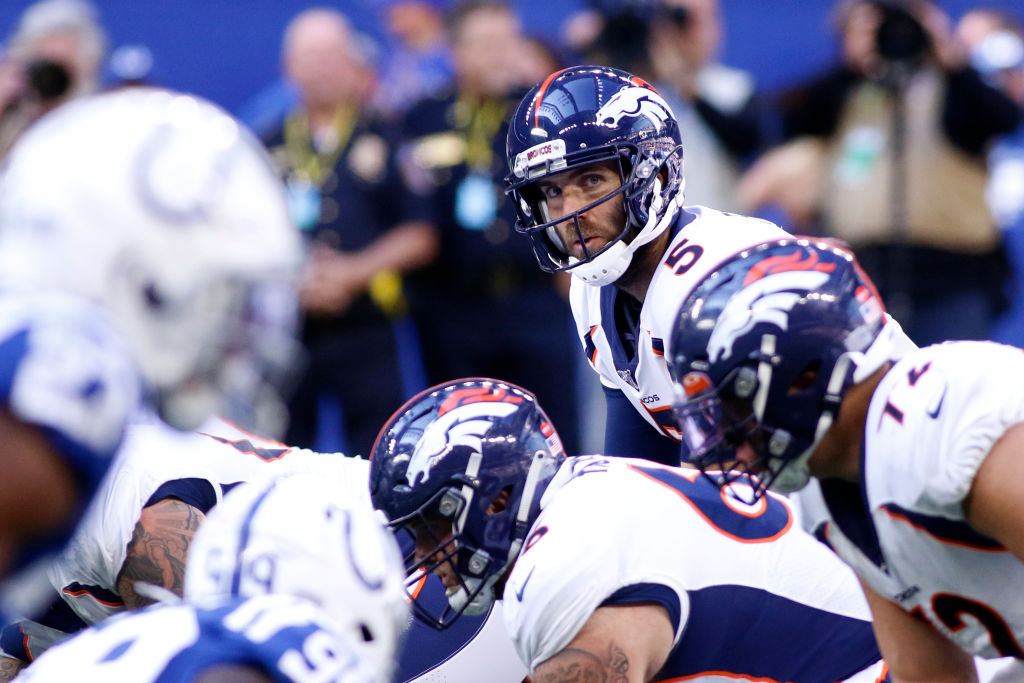 NFL: Joe Flacco's Firey Press Conference Highlights the Denver Broncos' Internal Issues
NFL quarterbacks are normally reserved leaders. So when someone like Joe Flacco speaks out, you know the Denver Broncos are in trouble.
Normally, postgame press conferences are dull affairs. The coach and a few key players are paraded out to the podium, make a few bland statements, then go about the rest of their day. Something different happened after the Denver Broncos' recent loss to the Indianapolis Colts, however. Quarterback Joe Flacco wasn't happy about his team's playcalling and made his feelings publically known.
While it's a bit surprising to see a quarterback so publically fired-up, that's not where the story ends. Flacco's comments point at a more significant problem brewing under the surface in Denver.
Playing to lose the game
On Sunday, the Broncos were holding onto a narrow lead over the Indianapolis Colts. With just under four minutes remaining in the game, Joe Flacco and the Denver offense started a drive from their own 38-yard line. All they had to do was hold onto the ball.
They gained a first down, but then things stalled. Facing a third-and-5 coming out of the two-minute warning, Denver ran the ball up the middle. Phillip Lindsay was tackled for no gain; the Broncos punted and watched Indianapolis march down the field and kick the winning field goal.
The loss dropped Denver from 2-5 to 2-6, but the result felt much worse than that. It was a gut punch, snatching defeat from the jaws of victory.
Joe Flacco speaks up
After the game, quarterback Joe Flacco was unsurprisingly upset. While he didn't name any names, he clearly took a shot at head coach Vic Fangio or offensive coordinator Rich Scangarello.
"Well, c'mon, I just look at it like we're now a 2-6 football team, and we're like afraid to go for it in a two-minute drill, you know?" the quarterback said. "Getting in field goal range isn't that tough, you're just putting your defense in these bad situations and I just felt like what do we have to lose? Why can't we be aggressive in some of these situations? That's kind of how I feel a lot about the game today."
When reporters asked Flacco if he voiced his displeasure during the game, the quarterback suggested that he had tried with little success. "Of course you talk on the sideline about what's happening, but there's only so much you can do. As players you've got to go out and execute what's given to you," he explained.
Losing the Denver Broncos' locker room
At this point in the season, it's clear that the Denver Broncos aren't going anywhere. Flacco's comments do reveal a troubling trend, however: the coaching staff seems to be losing the locker room.
Last week, receiver Emmanuel Sanders told the media that the Broncos needed to call better plays; he was promptly traded to the 49ers. Flacco, however, isn't going to get shipped out of town. If anything, he's supposed to be a locker room leader, bridging the gap between the players and the coaching staff.
Fangio and Scangarello are both relatively new to their roles; the former is a longtime defensive coordinator, while the latter has never been a coordinator at the pro level before. Some bumps and bruises are to be expected. Losing the locker room, however, would be a deal-breaker. Even if the Broncos don't start winning games, they have to stop the rot and get the players back on their side. It's a lot easier to adjust your playcalling than to rebuild both your roster and a damaged culture.