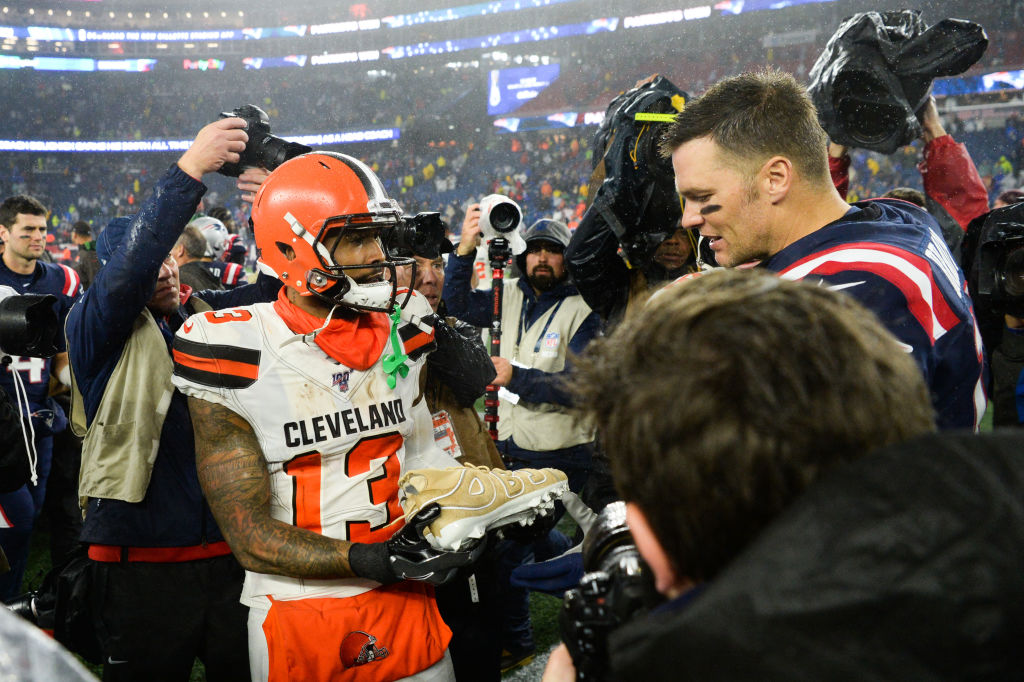 NFL: Odell Beckham Jr. Gave Tom Brady A Crazy Pair of Cleats This Weekend
Cleveland Browns receiver Odell Beckham Jr. is known for his custom Nike cleats. On Sunday, he gave a special pair to Patriots QB Tom Brady.
Despite its reputation as the "No Fun League," the NFL actually has loosened up a bit in recent years. Ever since 2017, the league has relaxed the restrictions on player footwear. Everyone is allowed to wear whatever cleats they want, provided that they fit within a few basic parameters. Cleveland Browns receiver Odell Beckham Jr. has certainly been appreciative of the change.
Ever since he entered the league, Beckham has had a reputation as a player willing to stand out. He did just that on Sunday when he presented Tom Brady with a truly unique pair of cleats.
Odell Beckham Jr.'s NFL career
After bursting onto the scene at LSU, Beckham made the jump to the pros. The New York Giants selected him with the 12th pick of the 2014 NFL draft, and he immediately slotted into the starting lineup.
Despite an injury-plagued start to his rookie year, OBJ announced himself to the world with a famous, one-handed catch on Sunday Night Football. He would finish his first professional season with 91 receptions, 1,305 yards, and 12 touchdowns, earning Offensive Rookie of the Year honors.
Even as the Giants changed coaches, Beckham kept posting strong numbers. He missed most of the 2017 season with an injury but returned to action the next year. He was shipped to Cleveland in a trade during the 2019 offseason and is currently catching Baker Mayfield's passes with the Browns. Things in the Midwest, however, might already be on the rocks.
OBJ's taste in cleats
While Odell Beckham Jr. has earned a well-deserved reputation as a talented receiver, he's also became known for his personal style. While his hair is probably the most iconic part of his image, the receiver is no stranger to donning some fancy footwear.
Throughout his time in the NFL, OBJ has trotted out plenty of pairs of custom Nike cleats. He's worn shoes adorned with Burbury plaid and Rolling Stones' tongue for games in London; he's donned shoes shouting out Kanye West and Drake. But many of the receiver's cleats also honor more significant causes.
Beckham has won Kirby cleats to promote breast cancer awareness and put The Simpsons and Dora the Explorer on two pairs of Make-a-Wish Foundation shoes. He even wore Nikes painted like Craig Sager's famous suits after the legendary broadcaster died in 2016.
Honoring Tom Brady's status as the GOAT
For all of Beckham's skills and style, he also recognizes greatness in his opponents. On Sunday, he wanted to pay tribute to Tom Brady after the Patriots topped his Browns.
After the game, OBJ and Brady met on the field, where the receiver handed over a special pair of cleats. They were made of goat hair, which the OBJ felt was a fitting tribute to Brady's status as the greatest of all-time.
"That was pretty cool. That was very, very nice of him. Pretty unique," Brady said during his weekly appearance on "The Greg Hill Show. "I've never had anyone do that for me. That was very thoughtful. I certainly appreciate it."
While the exchange—like some of OBJ's previous behavior—may rub football purists the wrong way, the receiver has always been confident in his own style. Sometimes there's nothing wrong with game recognizing game; this was just the receiver's unique riff on that.