The Night Giannis Antetokounmpo's Father Passed Away He Found Solace Where Else? 'I Went to the Gym'
As Giannis Antetokounmpo grew up before the eyes of the NBA, everyone was quick to learn two things about the young Milwaukee Bucks forward: One, he worked hard, and two, nothing was more important than family.
So when Antetokounmpo's father, Charles, died in 2017, Giannis combined the two things he knows best. He went and worked out his grief at the Bucks' practice facility.
Family is always priority No. 1 for Giannis
Antetokounmpo has two sons — Maverick and Liam Charles. Liam's name is, in part, dedicated to his father. He's the first to say his time is either spent at work (which is quite often) or at home with his family.
Even through all the fame and accolades, Antetokounmpo remains close with his brothers. His older brother Thanasis is a teammate of his with Milwaukee. Younger brother Kostas became an NBA champion as a member of the 2018 Los Angeles Lakers. He also has brothers Alex and Francis.
According to a 60 Minutes interview on CBS News, when Giannis was drafted in 2013, his mind went straight to his family: "I was so excited. I was like you guys gotta go get my brother. Thanasis came, gave me a hug. We started crying. We just knew our life changed at that moment. From now on, our family gonna have a better future."
On the biggest night of his life, Giannis only thought of what it meant for his family.
When his father died, Antetokounmpo went to work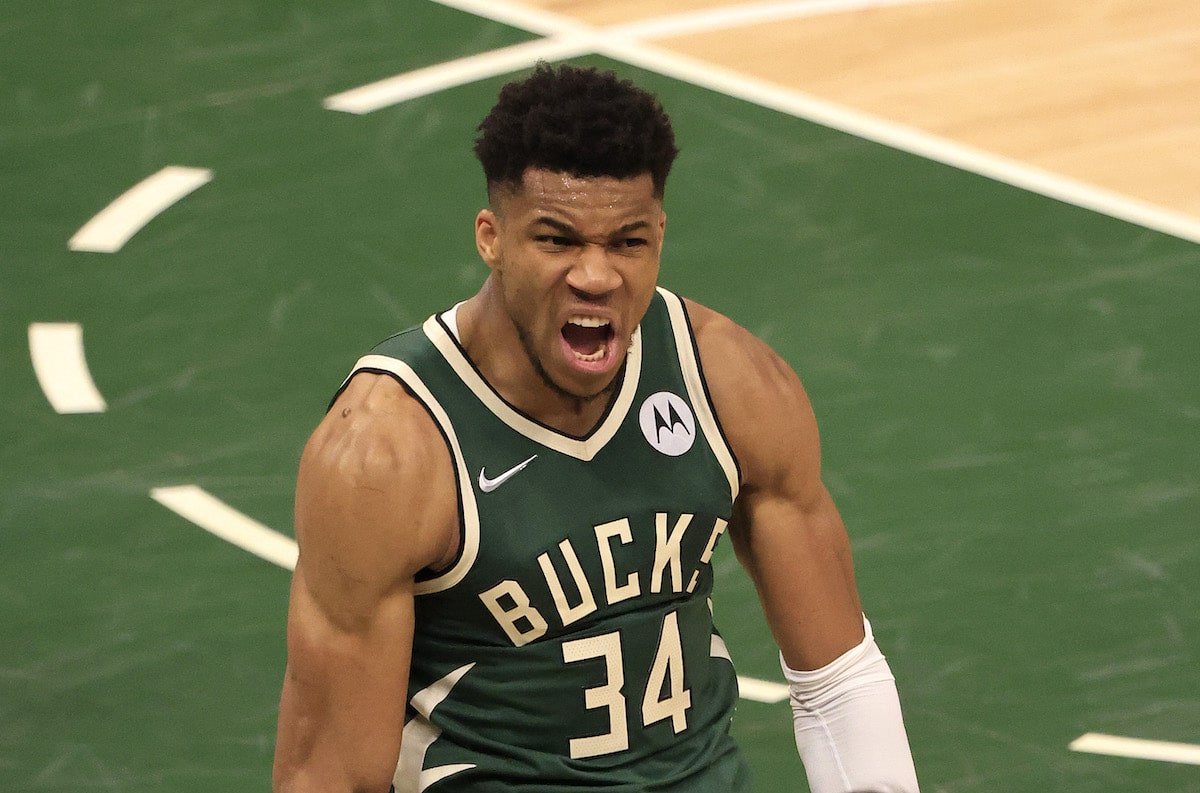 Charles died unexpectedly of a heart attack at age 54 in September 2017. Giannis and his father were close, and the budding NBA superstar was already well aware of what his parents had to go through for him to even dream of an NBA career.
The Greek Freak explained to Zach Baron of GQ how he felt when his father died. As told by Baron:
"I went to the gym," Giannis said. "He was there with me." He said the lesson from his parents was: stay in motion. Never stop. "I try to not feel pain," Giannis said, "because I feel like whenever my parents felt pain, they never showed it."

One of the first things Giannis did after the buzzer sounded (after the NBA Finals) was find a quiet place in a very loud arena to sit and talk to his father: " 'Man, we've come a long way. I wish you were here to see this. Please watch me.' You know?"

Giannis Antetokounmpo on his ongoing relationship with his father, Charles
Life is about family and work for Antetokounmpo. So he dealt with the loss of his father the only way he knew how.
The dedication to both basketball and family has turned the two-time MVP into a uniquely humble superstar
As he told Baron, the first thing Giannis did after he reached the peak of his basketball career wasn't grabbing the Larry O'Brien Trophy or finding out whether he won Finals MVP (he did).
He found his family and celebrated with them. He found a place to talk to his dad.
As he explained to Baron: "I went to my family. I hugged my mom, I hugged my brothers, I hugged my wife-to-be, I hugged my son, then I sat down and thought about my dad, right?"
Family and work. Antetokounmpo had finished that year's work in the best way possible.
And then he went straight to his family.