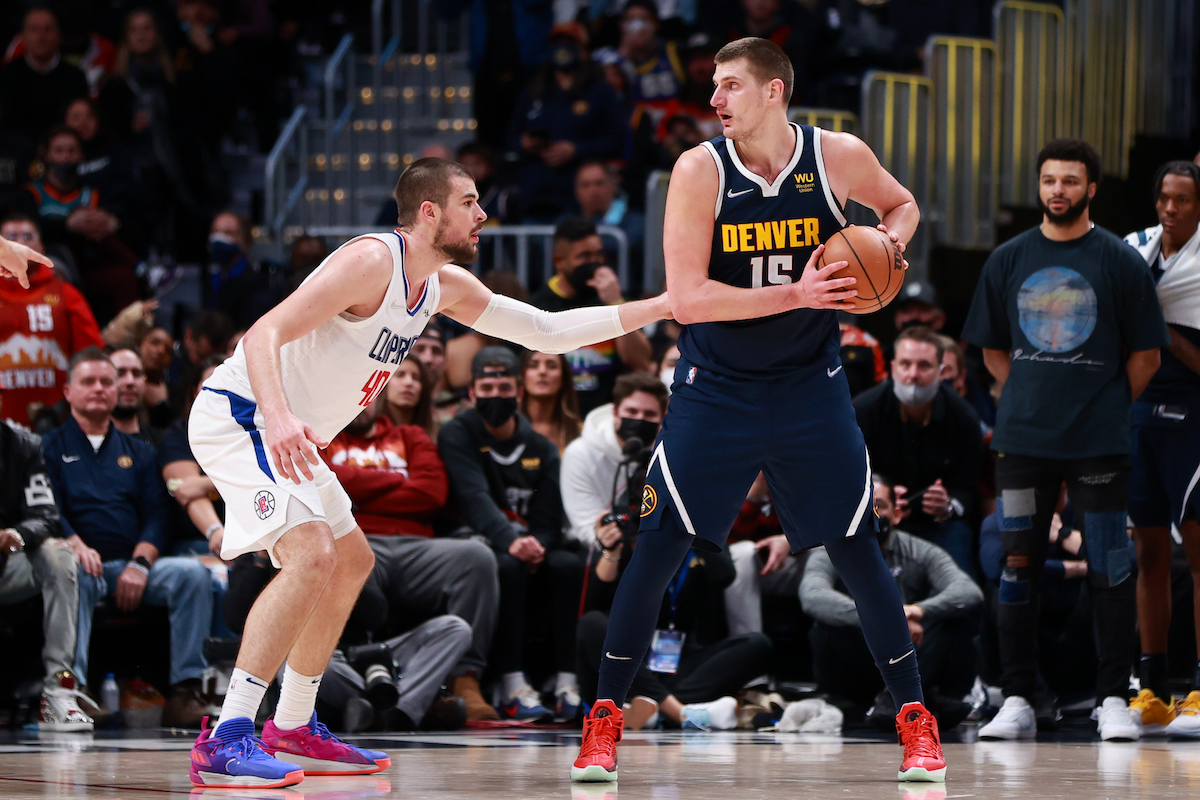 Nikola Jokic Best Games: Nuggets Star's Top 5 of 2021-22's 1st Half
Nikola Jokic is providing a pretty decent follow-up to his MVP-winning efforts in 2020-21, but which games have stood out as his marquee performances for the Denver Nuggets in 2021-22?
Nikola Jokic is making some MVP noise yet again for the Denver Nuggets, following up his 2020-21 heroics with a season that's arguably been even better from an individual standpoint.
Modern-day centers simply aren't supposed to average a whopping 26.0 points, 13.8 rebounds, 7.9 assists, 1.3 steals, and 0.7 blocks. They're certainly not supposed to do so while shooting 57.0% from the field, 37.2% from three-point range, and 80.8% from the stripe.
And yet, Jokic is because that's just what Jokic does.
Even as the Nuggets deal with what feels like an endless stream of injury woes, their best player has taken it upon himself to thrive night in and night out and keep them in the hunt for home-court advantage in the first round of the Western Conference playoffs.
But which games from the season's opening half stand out as his best individual performances? We're measuring that objectively by taking his game score in each contest, multiplying it by an opponent difficulty modifier (determined by the average game score against that franchise throughout the 2021-22 season), and adding his individual plus/minus to get to the final adjusted score.
5. Oct. 20 against the Phoenix Suns: 50.78 adjusted score
Game Result: 110-98 victory
Individual Line: 27 points, 13 rebounds, 2 assists, 2 steals, 0 blocks
Score: 20.7 game score, 1.1 opponent difficulty modifier, 28 plus/minus
This is how to start a season off with a bang.
Up against the Phoenix Suns, who represented the Western Conference in the NBA Finals during the previous season? On the road and facing a hostile crowd at Footprint Center? Operating without Jamal Murray, who continues to recover from his torn ACL?
None of that mattered to Jokic and the Nuggets, who pulled away in the fourth quarter behind eight points from the star big man. Even that might not have been possible were it not for the momentum boost provided by the Serbian sensation's buzzer-beating three over a Chris Paul contest to close Denver's halftime deficit to a reasonable seven points.
This was vintage Jokic in a continuation of his MVP-winning 2020-21 as he went coast-to-coast off defensive rebounds, peppered in mid-range jumpers and threes, and thrived on the interior regardless of which assignment Phoenix set up against him.
4. Dec. 13 against the Washington Wizards: 54.05
Game Result: 113-107 victory
Individual Line: 28 points, 19 rebounds, 9 assists, 3 steals, 1 block
Score: 33.5 game score, 0.987 opponent difficulty modifier, 21 plus/minus
Few plays better sum up Jokic than him calmly gathering the rock amid a sea of defensive attention, looking off another opponent, and firing a no-look dart to Monte Morris in the corner for a four-point opportunity. His cool mastery of half-court sets and transition play routinely pays off, especially when he's already been aggressive both on the boards and the glass, and such was the case this time around.
Morris, Aaron Gordon, and Jeff Green joined Jokic in double figures during the victory over the Washington Wizards, but the reigning MVP was still the clear-cut best player on the court. He might've submitted yet another triple-double and topped 20 rebounds had he played more than a minute in the fourth quarter before he was ejected for arguing with the referees.
But that didn't exactly matter. A spirited Washington comeback attempt without him on the floor came up short, and Jokic had another stellar all-around performance under his belt in just over 30 minutes of action.
3. Feb. 6 against the Brooklyn Nets: 58.99
Game Result: 124-104 victory
Individual Line: 27 points, 12 rebounds, 10 assists, 2 steals, 1 block
Score: 32.2 game score, 0.993 opponent difficulty modifier, 27 plus/minus
The Brooklyn Nets weren't exactly at full strength for this affair. Kyrie Irving logged one of his infrequent appearances, but James Harden and Kevin Durant were inactive, leaving Patty Mills, Blake Griffin, James Johnson, and Kessler Edwards operating alongside the ball-handling savant.
Given how effective Jokic was, that might have been irrelevant. He couldn't miss from inside the arc, going 12-of-15 with two of his three misses coming from three-point territory. He also committed just two turnovers despite his heavy involvement in the proceedings and didn't even need 30 minutes of action to record his 71st career triple-double.
Though his soft touch and passes that always find the shooting pocket usually take center stage, this was also a telling performance for Jokic because his defense helped keep Brooklyn in check even if he finished with just two steals and a block. Increasingly vocal this season and great at anticipating action despite sometimes struggling at the point of attack, he spearheaded a unit that held the Nets to a 41.4% clip from the field.
2. Dec. 11 against the San Antonio Spurs: 62.89
Game Result: 127-112 victory
Individual Line: 35 points, 17 rebounds, 8 assists, 1 steal, 2 blocks
Score: 31.9 game score, 0.968 opponent difficulty modifier, 32 plus/minus
Single-game plus/minus isn't always the most telling metric since it relies so heavily on teammates and is subject to all sorts of luck-based factors, but it remains quite difficult to break past 30. For perspective, the 2021-22 season has seen 18,745 individual lines heading into the All-Star break, and just 133 have featured a plus/minus in the 30s or higher. That's 0.71%.
Even with injuries taking their toll on so many members of the Nuggets — seriously, Aaron Gordon, Monte Morris, Jeff Green, and Davon Reed started this game — Jokic got there at the San Antonio Spurs' expense in mid-December. Knocking down four triples, dominating on the glass, and leaving little doubt about his ongoing MVP candidacy, he excelled in virtually every area.
The signature play? With 9:25 left in the third quarter, Jokic executed a perfect interior give-and-go, threw down a dunk that gave Denver an 83-56 lead, did a pull-up while hanging on the rim for emphasis, and received a non-unsportsmanlike technical foul.
Consider the message sent.
1. Jan. 19 against the Los Angeles Clippers: 64.58
Game Result: 130-128 victory
Individual Line: 49 points, 14 rebounds, 10 assists, 3 steals, 1 block
Score: 48.2 game score, 1.029 opponent difficulty modifier, 15 plus/minus
Among a season filled with individual masterpieces, this was Nikola Jokic's "Mona Lisa."
Though Ivica Zubac had a stellar showing of his own, the Denver center rained in jumpers and dazzled in the paint, seemingly willing his team to victory in a back-and-forth, nailbiting contest. In overtime alone, he dropped 11 points, five rebounds, and an assist while knocking down four of his five field-goal attempts and three of his four tries from the charity stripe.
In typical Jokic fashion, he didn't let his overwhelming success as a scorer keep him from making the right play in the right moment. Submitting one of the season's signature moments, he recorded his 10th assist of the night with a mind-blowing one-handed feed from the right wing to the left corner for the Aaron Gordon game-winner with 1.7 seconds remaining. It was a pass few players could see, much less execute, yet it looked shockingly routine.
"I knew the ball was going to come to me because Jok makes the right play, the right pass, even in pressure situations," Gordon explained afterward, per ESPN. "He put it on time and on target. All I had to do was catch and shoot."
All stats, unless otherwise indicated, courtesy of Basketball Reference.