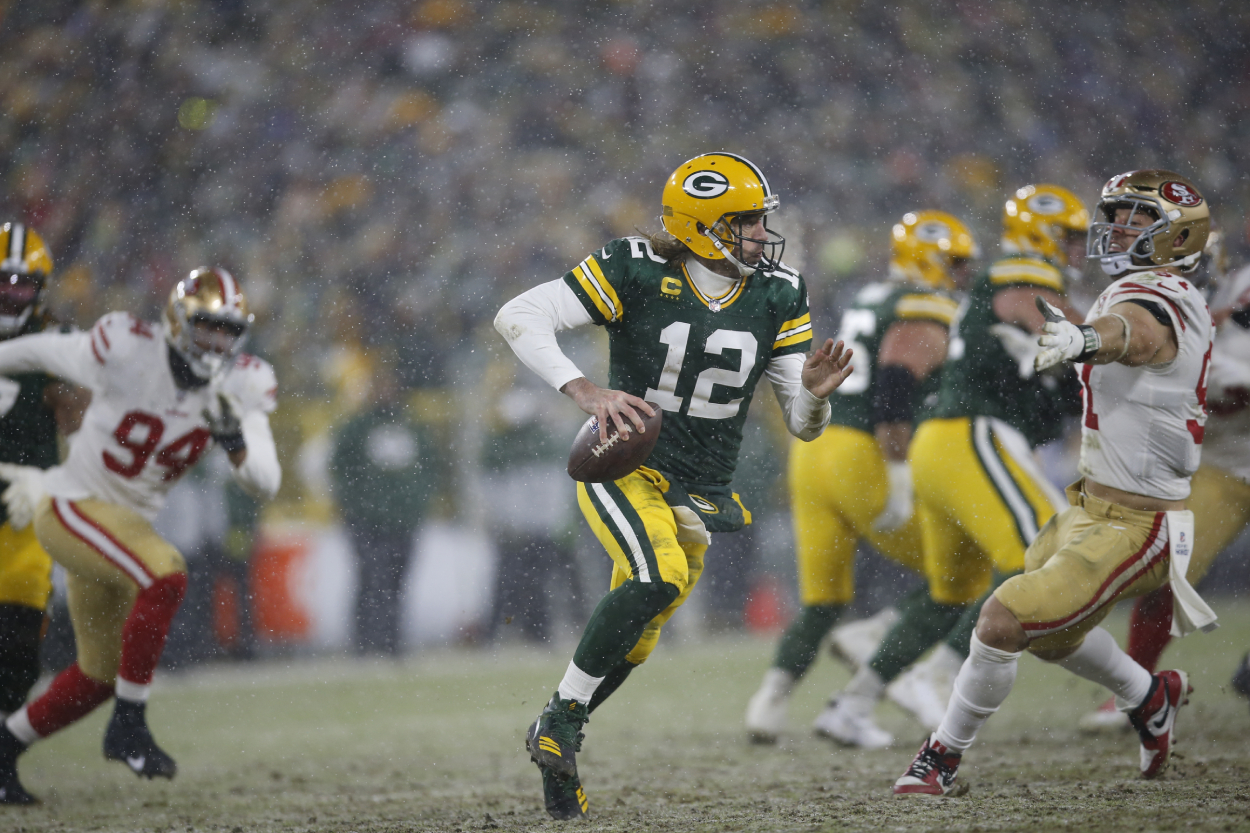 No, the Packers' London Announcement Isn't a Hint About Aaron Rodgers' Future
Don't read too deep into the Green Bay Packers' announcement of their London game this year.
For the first time, the Green Bay Packers are playing in London. On Monday, the NFL announced the team will make its overseas debut at Tottenham Hotspur Stadium in 2022. The Packers are the only NFL team that hasn't played in the NFL International Series, which got underway in 2007.
The Packers will likely have a new look this year as the team battles salary-cap issues and free-agent decisions. Their biggest decision of the offseason revolves around quarterback Aaron Rodgers, coming off his second straight MVP. Don't be fooled by the way the Packers announced London's calling. It has nothing to do with Rodgers' status.
Aaron Rodgers is the first of many tough decisions the Packers need to make
Rodgers will be 39 during the 2022 season, but age shouldn't matter for a guy coming off consecutive MVP seasons. The quarterback's future in Green Bay is in serious question after he remained out of camp a year ago and was at odds with the team. He hasn't publicly decided whether he wants to return to Green Bay, play elsewhere, or retire.
The Packers are more than $40 million over the salary cap and would like to know their status with their star QB sooner rather than later. NFL Network's Ian Rapoport reported Monday that Rodgers is their top priority, and Rapoport's sources have told him that the Packers are working on a deal if Rodgers decides to return to the team.
Rodgers recently said he had a "positive" meeting with the team. Packers GM Brian Gutekunst said he believes the team will field a competitive squad even if they have to make Rodgers the highest-paid player in 2022.
Rodgers isn't the only big-player decision Gutekunst has to make. All-Pro wide receiver Davante Adams just completed the final year of his deal, and the team has to weigh its options with him.
Right now, the Packers appear to be a mess, but the quicker Rodgers makes his decision, the better for both sides.
"I am looking forward to making the decision and moving forward. I think it's best for me, it's best for the team, and it's best for all parties involved to get this behind us," Rodgers said, per CBS Sports. "There's conversations to be had and a few more things to contemplate, but it won't be long. I'm not going to hold anyone hostage in this."
The Packers' London announcement isn't a hint about Aaron Rodgers' future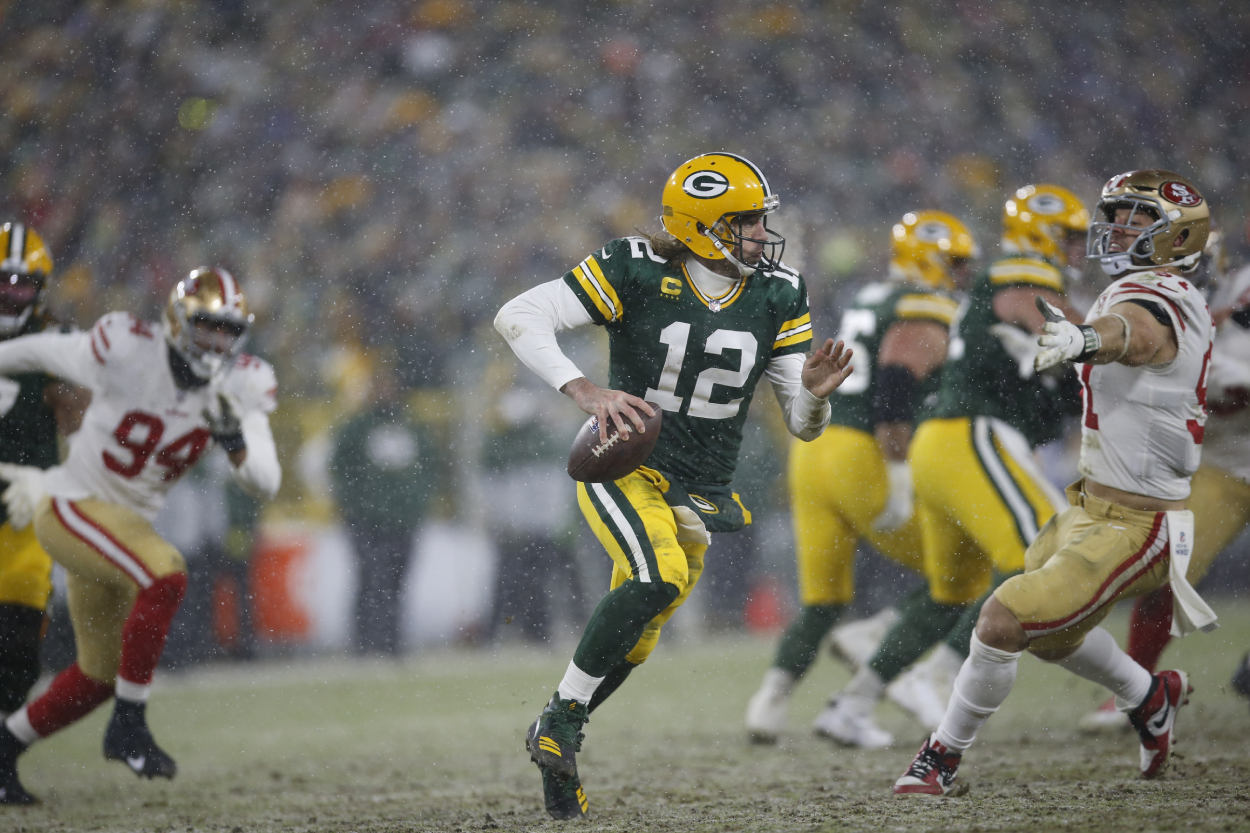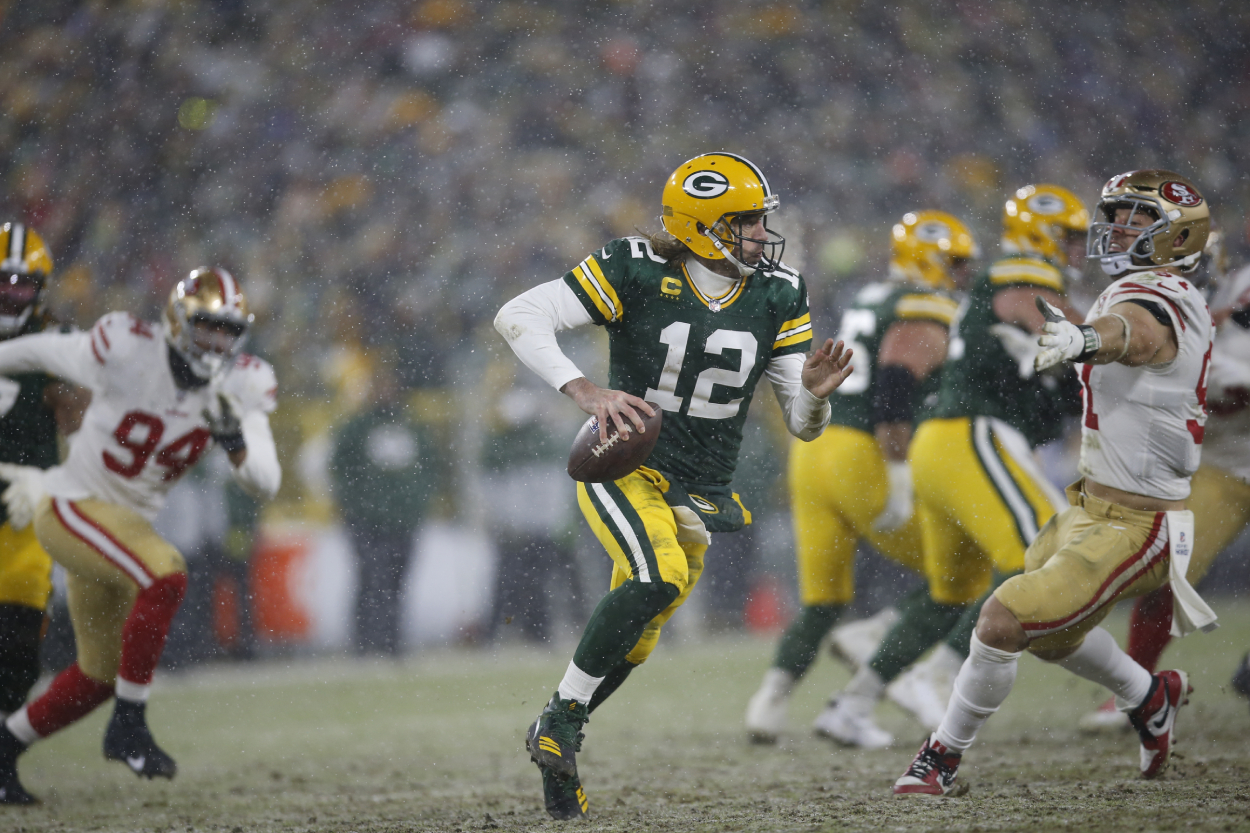 When the Packers announced their London game, it made many people wonder if the way they presented it had anything to do with Rodgers' future in Green Bay. The Packers put out a photo of four players and head coach Matt LaFleur mimicking The Beatles' iconic photo of Abbey Road.
In the Packers photo, Rodgers is noticeably absent. The photo featured left tackle David Bakhtiari, cornerback Jaire Alexander, running back Aaron Jones, and pass rusher Rashan Gary walking behind LaFleur. It was classic photoshop work, showing the players walking just as Paul McCartney, John Lennon, George Harrison, and Ringo Starr did on Abbey Road.
The picture drew immediate reaction. Many folks believed Rodgers' absence was a sign he wasn't returning. Adams wasn't included in the photo either. As much as folks try to dig deep for a storyline, there just isn't one here.
It's two big stars who don't yet have a 2022 home as of yet. That's it. The Packers just didn't include two guys who aren't committed to playing for them just yet.
Packers react to playing in London next year
Packers players made some noise on social media when they heard the news about playing a home game next year in London. One of the strangest reactions came from safety Adrian Amos.
"Noooooooooooooooooooooooo!!!!," he posted on Twitter. That's a no with 24 'O's and four exclamation points for good measure.
He quickly followed that up with another tweet.
"I meant yessss! 24hr flight can't wait! body goina feel great! Let's gooo #championshipmindset," he wrote.
He's a bit off on the geography, but he seemed to change his mind rather quickly.
"We're very excited," Packers President/CEO Mark Murphy said, per Packers.com. "This is something I've heard from so many of our fans over the years, particularly those in Europe and particularly in London, 'When are you gonna come? When are you gonna come?' We're really excited to be playing in London."
It's sure to be a good time for the Packers and their fans, with or without Rodgers.