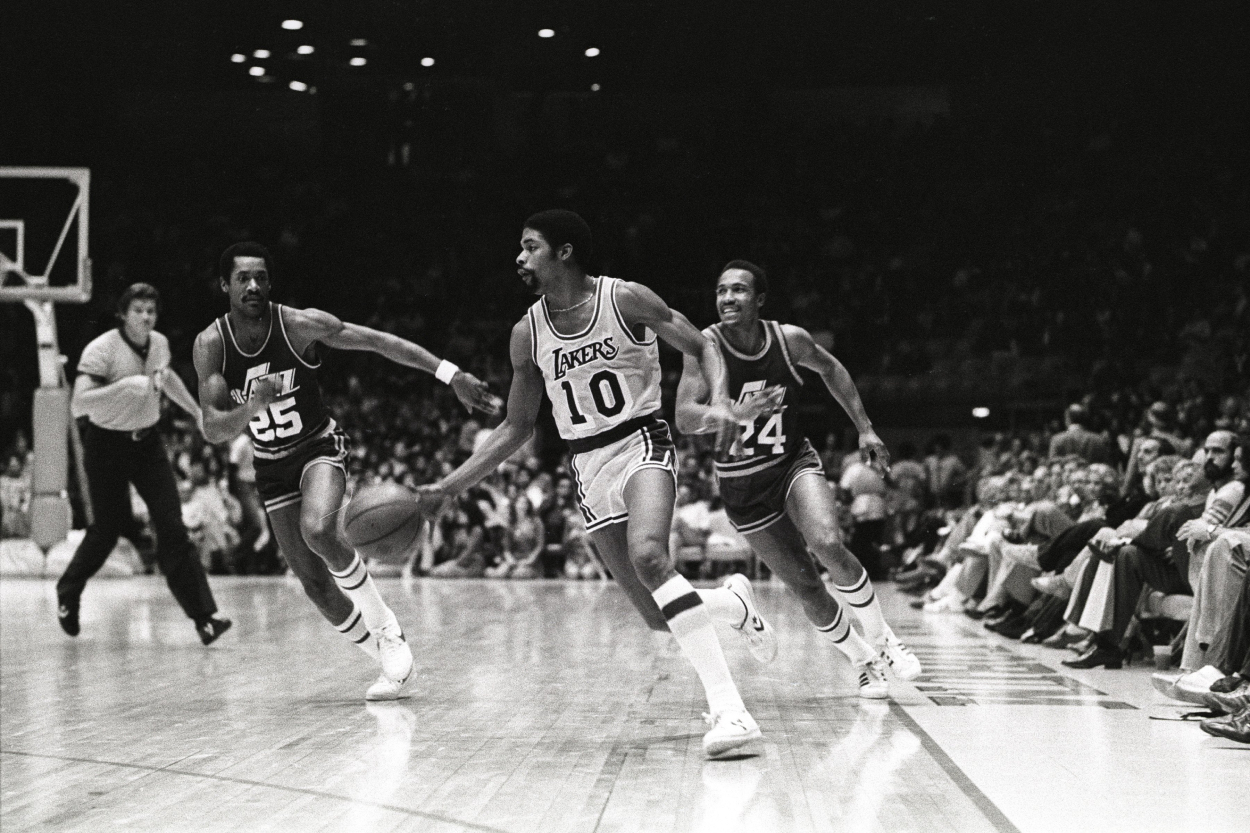 Norm Nixon, Cedric Maxwell Insist There Was No Intimidation When Magic Johnson, Larry Bird Came on Board
Norm Nixon and Cedric Maxwell talked about having Magic Johnson and Larry Bird join their respective teams.
Norm Nixon was in his second year in the NBA and put up 17.1 points and 9.0 assists as the point guard of the Los Angeles Lakers. In the offseason, the Lakers selected Magic Johnson with the first pick in the 1979 NBA Draft.
Cedric Maxwell had just averaged a career-high 19.0 points and hauled down 9.9 rebounds in his second year with the Boston Celtics. Then Larry Bird came along.
Nixon and Maxwell recently got together to talk about the good old days of the Celtics and Lakers in the early '80s. Both touched on the subject of having legends come in just as Nixon and Maxwell were hitting their strides. Surprisingly, neither was intimidated nor bothered by the presence of the future Hall of Famers.
Norm Nixon was not upset when the Lakers drafted Magic Johnson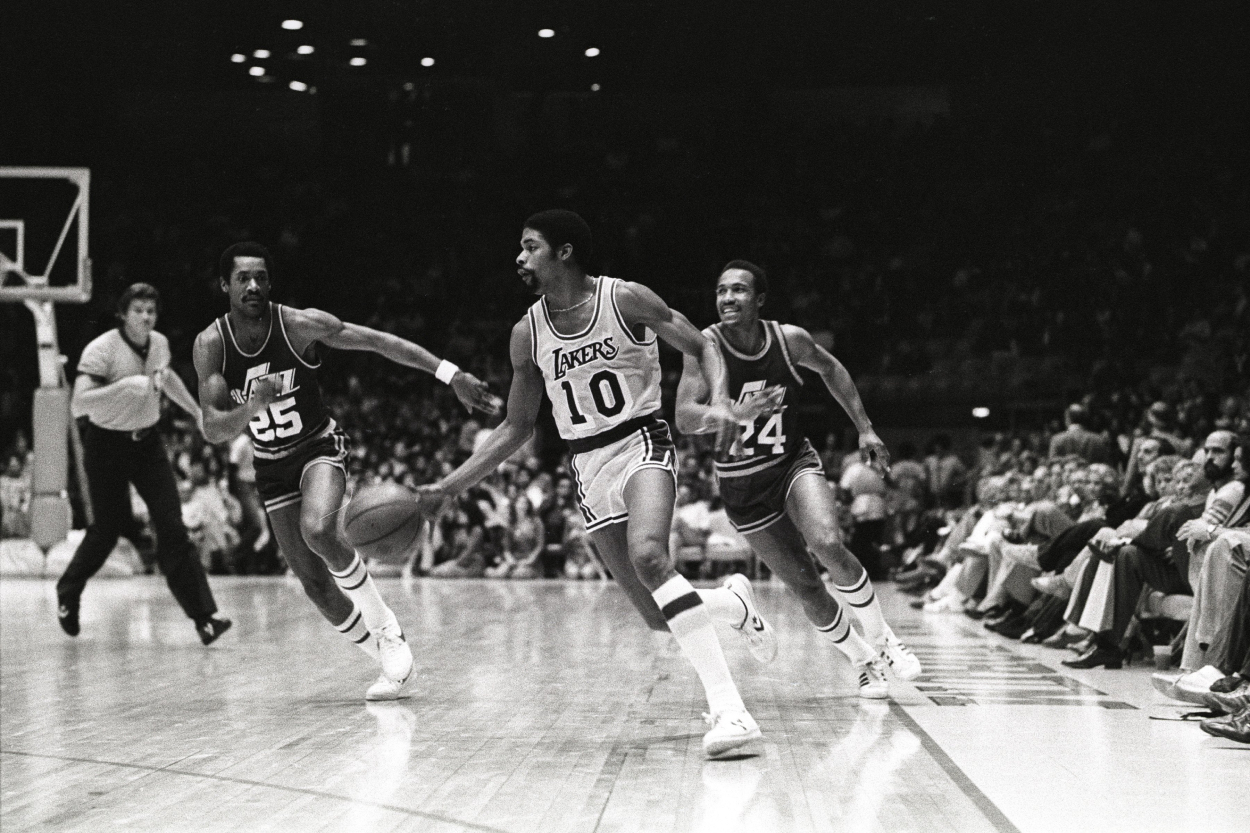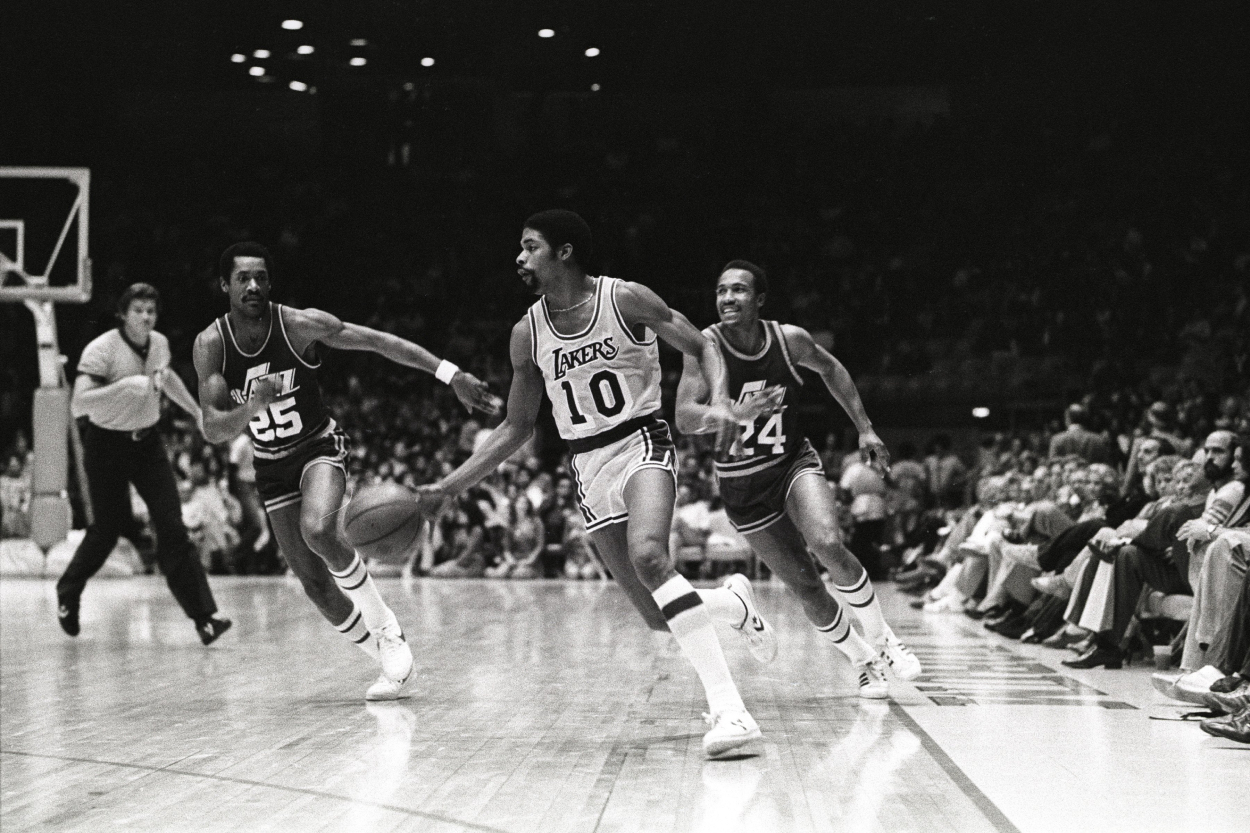 Nixon made an immediate impact as a rookie during the 1977-78 season, putting up 13.7 points and 6.8 assists. He was even better the following season. That year, he shot a career-high 54.2% from the floor en route to his 17.1 points-per-game average. Despite the big numbers as the Lakers point guard, LA grabbed Johnson with the first pick in 1979.
Johnson wowed on center stage in his collegiate showdown against Larry Bird in the '79 NCAA title game. He proved worthy of being the No. 1 pick, and the Lakers made it happen despite having a stellar floor leader in Nixon.
"When they drafted Magic, I wasn't intimidated or worried about Magic," Nixon said recently on The Cedric Maxwell Podcast. "I wanted to win, and I wasn't worried about my job.
"With Magic coming in, they were going to figure out a way for us to play together. I wasn't worried about him coming in and taking my job. That wasn't even in my mentality.
"Max knows that I put in the work, so I wasn't concerned about Magic coming in to take my job. It was like, how are we going to play together?"
Cedric Maxwell was in the same position as Norm Nixon with Larry Bird coming in
Like Nixon, Maxwell had one heck of a season before a legend came to town. After a solid rookie year in which he put up 7.3 points and 5.3 rebounds in 16.8 minutes, Maxwell came into his own. In his sophomore season with the Celtics, he averaged a double-double while playing in 80 games.
Bird had actually been drafted the previous year but elected to remain in college. He signed a deal right before the 1979 NBA Draft and joined the Celtics for the 1979-80 season. He earned Rookie of the Year honors.
"Here is the kinship that I believe we had," Maxwell said to Nixon. "I had Larry Bird come in after I had averaged 19 points a game and 10 rebounds. You had Magic, and you were already established as a player. I know you and I know me, and we ain't bowing down to nobody.
"I know the thing that you saw, because you're smart just like me, was like this dude can help me and I can help him get to where we need to go."
Nixon said he was 'happy' Magic Johnson came along
Not only did Nixon say he wasn't intimidated nor bothered by Johnson coming in, but he also said he was happy to have him on board.
"I was happy to find a guy who could help take some of the heat off me so I could do what I needed to do on the court," Nixon said.
He said he wasn't even all that familiar with Johnson when Magic came into the league.
"We didn't watch college basketball, man," Nixon said. "We might've watched that championship game. If you weren't Kareem, you weren't coming in and turning the team around. You'll come in and be a great piece to an established team, but if you take Kareem away from our team, we would've won nothing.
"It wasn't like Kareem comes in and your team was winning 15 games and all of a sudden you're gonna win 50 games. Guys just didn't have that impact. There are very few guys like a Kareem or a Moses Malone that walked onto a team and immediately you could chalk up 30 more wins.
"I wasn't like oh this guy's going to turn our team around and make us a championship team. He's a great piece to come in and complement all the great pieces we already have so we can win a championship."