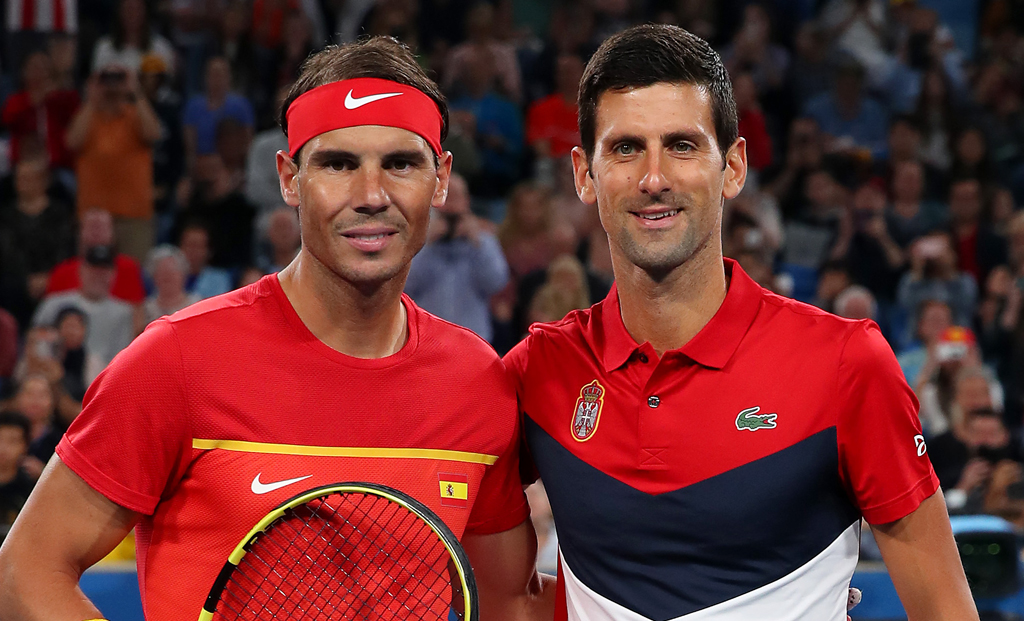 Novak Djokovic and Rafael Nadal Want No Part of This Risky Bet
Novak Djokovic and Rafael Nadal have substantial concerns about playing in the U.S. Open this summer.
The decision to play in one of the jewels of the pro tennis tour is turning into an open-and-shut case for superstars like Novak Djokovic and Rafael Nadal. That's because the measures being considered in order to conduct the U.S. Open this summer are drastic but would still subject the world's best players to risks.
A questionable plan to double down
New York City is the hardest-hit metropolitan area during the current pandemic, with more than 17,000 deaths attributed to COVID-19 in just the five boroughs. It would have been unthinkable two months ago for the United States Tennis Association to follow through with its plan to keep the U.S. Open there late this summer.
But with the number of daily deaths confirmed to be related to COVID-19 down to single digits this week after hitting a high of 590 on April 7, the USTA is considering not one but two major tournaments at its Billie Jean King National Tennis Center in Queens.
The plan would move the Western & Southern Open out of Cincinnati and into Queens from Aug. 17-23, followed a week later by the start of the U.S. Open. The thinking is that foreign players like Rafael Nadal, Novak Djokovic, and Roger Federer could remain in a single location for the duration.
On paper, that sounds similar to the NBA plan to hunker down at Disney World in Orlando, Florida, for an abbreviated eight-game finish to the regular season and then the playoffs.
However, Disney World is for all practical purposes a city in of itself; as long as food is trucked in and the power is still on, guests could live and work there indefinitely. The same is not true of the tennis venue. Players and support staff would be dependent upon hotels, restaurants, and other amenities off the tennis center's grounds.
The health risk, the travel logistics, and the cost – players have already gone three months with no prize money to cover day-to-day expenses, let alone travel – have competitors questioning the wisdom of the proposal.
Novak Djokovic and Rafael Nadal are reluctant at best
Money is at the heart of the USTA decision to try to salvage the U.S. Open. Unlike Wimbledon, scrapped for the first time since World War II, the U.S. Open does not have insurance covering a cancellation. Television revenue alone would allow the tournament to tun a profit even without the estimated 850,000 fans who would attend over two weeks.
Novak Djokovic, ranked No. 1 in the world on the men's tennis tour, says playing the tournament, one of the sport's four grand-slam events, would be impossible because of restrictions that he termed extreme.
"The rules that they told us that we would have to respect to be there, to play at all, they are extreme," Djokovic told Serbia's Prva TV. "We would not have access to Manhattan, we would have to sleep in hotels at the airport, to be tested twice or three times per week. Also, we could bring one person to the club which is really impossible. I mean, you need your coach, then a fitness trainer, then a physiotherapist."
His comment follows Rafael Nadal's disclosure this week that he is inclined to skip the U.S. Open.
"If you asked me today if I want to travel to New York to play, I will say, 'No, I will not,'" Nadal said. "In a couple of months I don't know how the situation will improve."
Is the U.S. Open still a 'major' under these conditions?
Major League Baseball owners are at odds with the players' union about how to restart spring training and then conduct a meaningful regular-season schedule. One proposal calls for a season as short as 48 games per team. However, critics are questioning the legitimacy of anointing a World Series champion after such a short schedule.
Tennis' U.S. Open could face some of the same questions. With players sidelined since early March and the official schedule unlikely to resume before late next month, fitness is going to be an issue.
The New York Times reported there has been discussion of changing men's matches to a maximum of three sets instead of five. Smaller doubles fields have also been suggested.
Most importantly, though, a watered-down field would be a turnoff to sports fans at a time when the start of football and the resumption of the NBA has captured their attention. Without Novak Djokovic, Rafael Nadal, and potentially other stars, the U.S. Open isn't really a major event.