Odell Beckham Jr. Leaving the Browns at the Trade Deadline Might Be Best for Both Parties According to Nate Burleson: 'He's Not the Same Receiver He was When He was With the Giants'
When the Cleveland Browns traded for Odell Beckham Jr. in 2019, the organization had high hopes. The idea was that pairing Beckham, a perennial 1,000-yard receiver with young QB Baker Mayfield, Pro Bowl wideout Jarvis Landry, and promising running back Nick Chubb would help create a terrifying NFL offense.
Three seasons into this experiment, it hasn't worked out like the Browns fans or front office had hoped. Beckham isn't the receiver he was in New York, and the Cleveland offense hasn't developed like many thought. Now, with the team in last place in the AFC North, at least one pundit thinks it's time to end the Odell Beckham Jr. Era in Cleveland.
Odell Beckham Jr. hasn't worked out as expected in Cleveland
Odell Beckham Jr. burst on the scene in his rookie season out of LSU. The No. 12 overall pick of the New York Giants in the 2014 NFL Draft made 91 receptions for 1,305 yards and 12 touchdowns. He even led the league in receiving yards per game with 108.8 while hauling in 70.0% of the balls thrown his way.
During a Week 12 Sunday Night Football game against the Dallas Cowboys that season, Beckham made the catch that cemented his reputation as one of the hottest and most promising pass-catchers in the game. His backward-leaping one-handed 43-yard touchdown catch is still one of the most famous in NFL history.
Over five seasons in New York, Beckham recorded 1,000-plus yards in every season he played at least 12 games, and the team signed him to a massive five-year, $95 million.
However, after several years of off-field issues, on-field sideline bust-ups, and 16 missed games in two seasons, the Giants sent the talented but high-maintenance receiver to Cleveland for a haul that included 2019 first- and third-round picks and Jabrill Peppers.
Paying that price, the Browns expected the impact playmaker that the Giants had for five seasons. That's not what they got.
Beckham has played in 29 games in two-plus seasons for the Browns. He's recorded 114 catches for 1,586 yards and seven touchdowns. For comparison, in his first 27 games with the Giants, he had 187 receptions for 2,755 yards and 25 touchdowns.
Suffice to say, the Cleveland Browns brain trust was hoping for more when they gave up a king's ransom for Beckham in 2019.
Nate Burleson thinks its time for the receiver and the Browns to part ways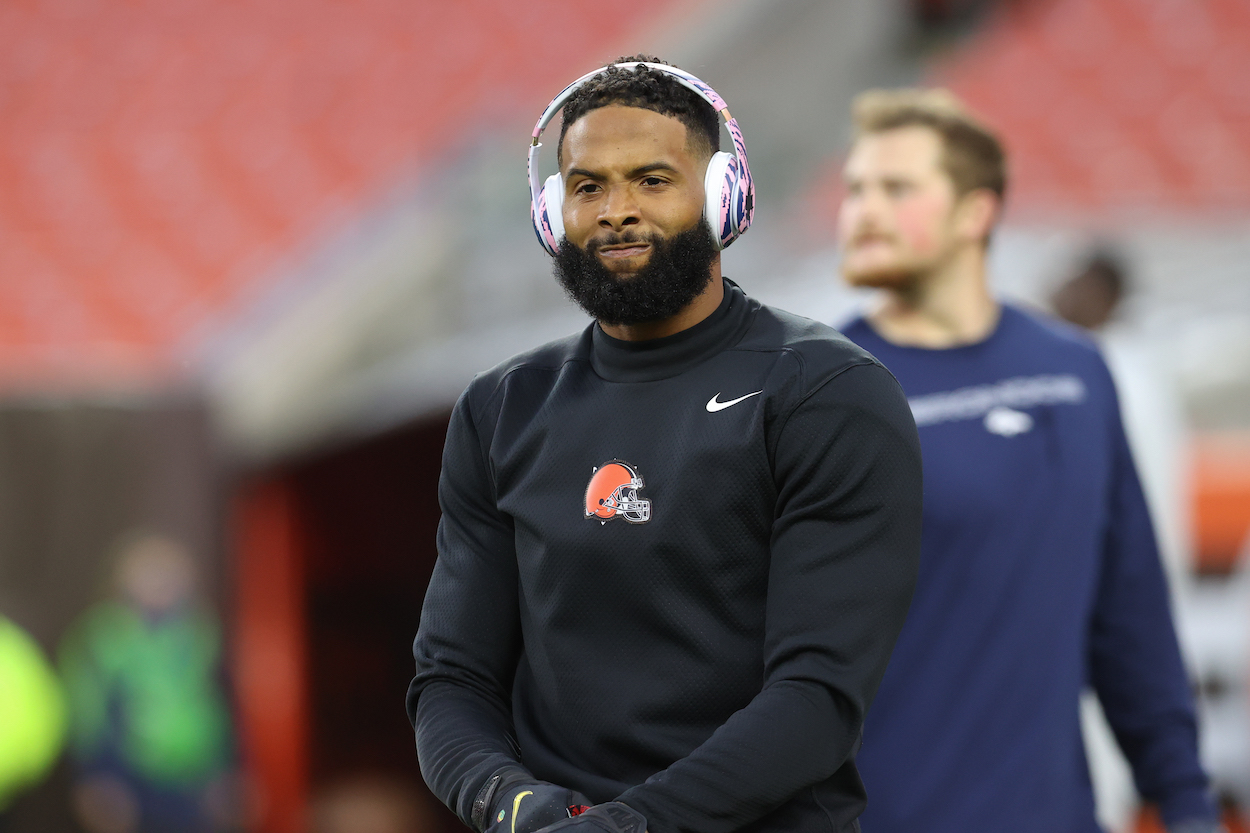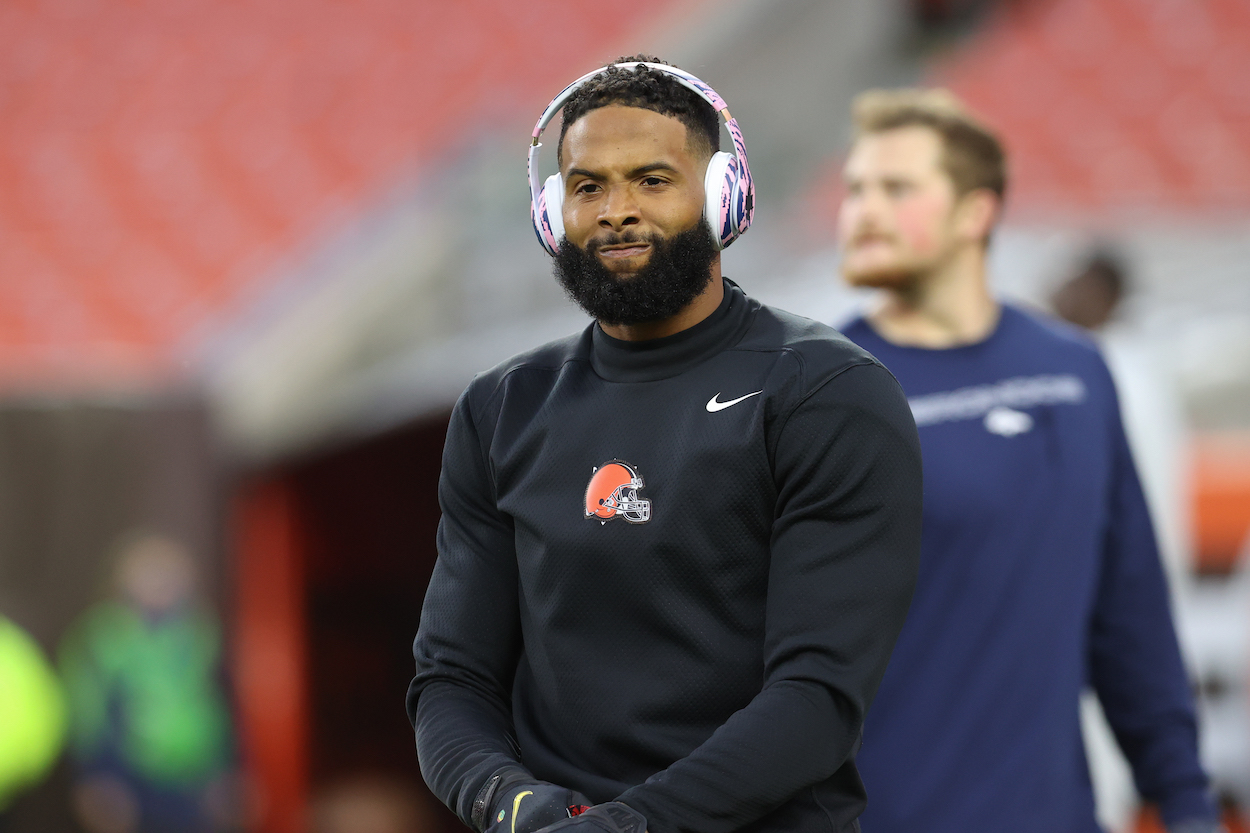 At 4-4, currently in last place in the AFC North, with a banged-up franchise quarterback, the Cleveland Browns need to make some sort of change.
Ahead of the team's latest loss — Sunday's 15-10 snooze-fest vs. the Pittsburgh Steelers — NFL Today co-host and former NFL receiver Nate Burleson explained that it is probably time for Odell Beckham Jr. to go in Cleveland.
Right now, he's the most targeted receiver for the Browns. … He hasn't had a 100-yard game. He hasn't gotten in the end zone. I'm not saying this as a shot to Odell. I'm just saying it's not always good player goes to a good team, and it's a good fit. Maybe this just isn't working. He's not the same receiver he was when he was with the Giants. He can go somewhere else and play better for another team.

Nate Burleson on Odell Beckham Jr.
Whether it's the coaching, the partnership with his college teammate Jarvis Landry, the emergence of running backs Nick Chubb and Kareem Hunt, his connection with quarterback Baker Mayfield, or just a little bit of all of it, the fact is Beckham isn't working out well in Cleveland.
The 2021 playoffs are slipping further away and the front office needs to start thinking about 2022 and beyond. That should make trading Beckham before the Tuesday, Nov. 2 trade deadline a top priority.
But who's buying?
What teams could trade for Beckham Jr.?
While Beckham has two additional years and $30 million left on his $90 extension after this season, that money is not guaranteed. So, even if a team does take the rest of his $15 million cap hit this year, it doesn't mean they're stuck for the next two years if it doesn't work out.
With that flexibility, if a team can get Beckham for the right price, draft pick-wise, it could be a good deal, especially if he gets his groove back away from the Cleveland Browns.
Who could most benefit from dealing for Beckham?
While a few teams in the AFC could probably use him, it makes the most sense for the Browns to trade him to an NFC franchise to help preserve the small playoff chances the team still has.
In the NFC, three teams make the most sense above all others. The New Orleans Saints and Carolina Panthers both need a No. 1 receiver and are right on the borderline of playoff contention.
Beckham could be that big-play threat if he regains his NY form and be a huge help to either Trevor Siemain or Sam Darnold. In these cases, Beckham would be the man, but that may not be best for him right now.
The team that would be the best fit is the Green Bay Packers. The team hasn't had a true No. 2 WR step up across from Davante Adams, and Beckham could be that. The Packers also should be going all-in during what could be Rodgers' last season in Wisconsin.
Beckham to the Packers would give both the player and the team a real chance of making the Super Bowl, which would be the biggest win-win of all.
All stats courtesy of Pro Football Reference
RELATED: Baker Mayfield Lashes Out in Cryptic Instagram Post After Injury News: 'People Seem to Forget How I Got Here… Nothing Was Given'