Odell Beckham Jr. Received a Stern Warning About Joining the Packers From a Good Friend With Ulterior Motives: 'Look, Bro, Don't Go to Green Bay'
Before Odell Beckham Jr. made the earth-shattering decision to sign with the Los Angeles Rams, he was seriously considering teaming up with Aaron Rodgers on the Green Bay Packers. The star wide receiver was deciding between the two NFC contenders all week, but he was eventually swayed to join Matthew Stafford in the City of Angels.
It's possible Beckham landed on that decision partly due to a conversation he shared with fellow LSU alum and good friend Justin Jefferson. Jefferson's Minnesota Vikings still have to play the Packers twice this season, so he understandably begged Beckham to find a job elsewhere.
Odell Beckham Jr. chose the Rams over the Packers in free agency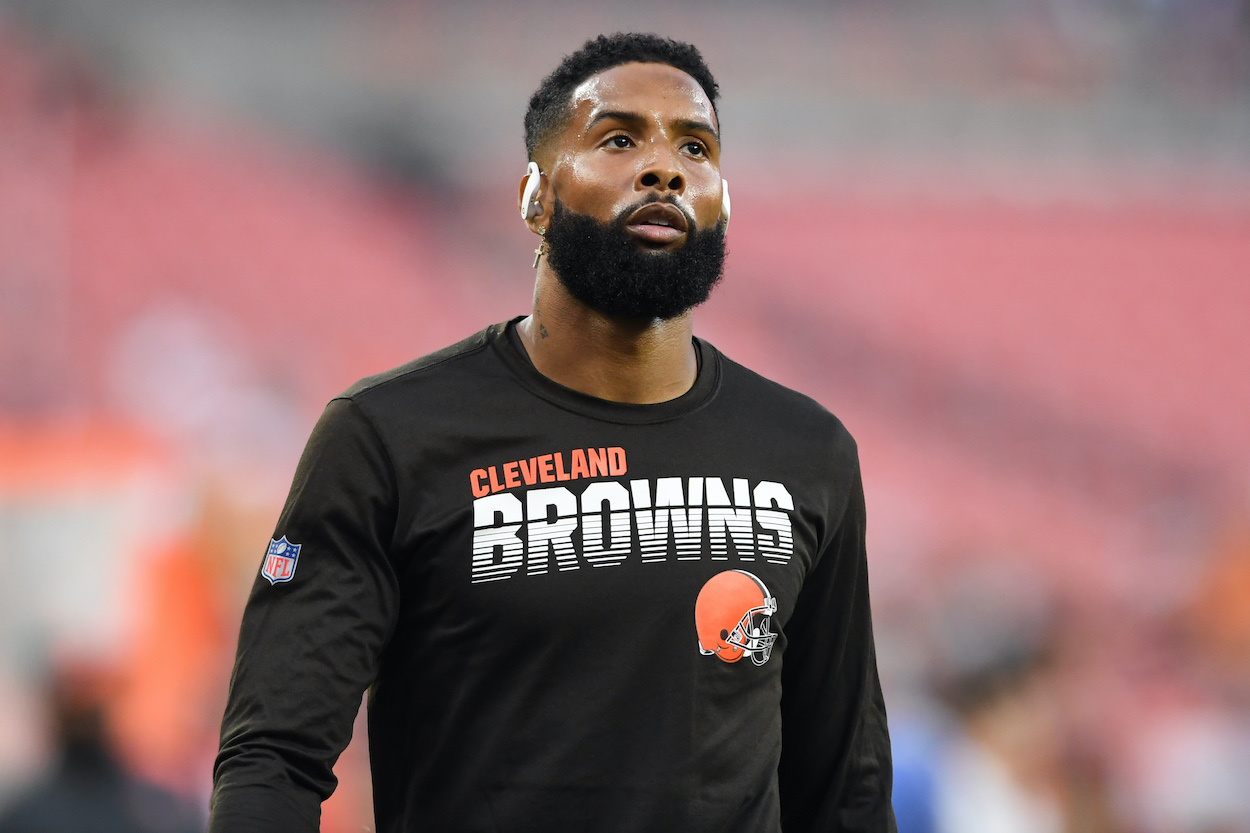 When Beckham cleared waivers and became a free agent earlier this week, he had his pick which contender he wanted to join for the rest of the season. The New England Patriots, Seattle Seahawks, and New Orleans Saints seemed to be near the top of his list in the beginning, but his decision eventually came down to the Rams and Packers.
The idea of Beckham catching passes from Rodgers sure was an alluring one, but the former Cleveland Browns wideout decided instead to join the Rams on a $1.25 million contract that includes up to $3 million in incentives. With Robert Woods now out for the season with a torn ACL, Beckham should immediately step in as a crucial piece in Sean McVay's high-powered offense.
Before making his all-important decision, Beckham received a call from Rams cornerback Jalen Ramsey. The All-Pro defensive back, along with Stafford, Woods, and Cooper Kupp, made his pitch for Beckham to join them in LA, and he was convinced.
But Beckham also received some advice from Jefferson earlier in the week that may have swayed his decision a bit.
Justin Jefferson urged Odell Beckham Jr. not to sign with the Packers
Before Beckham was released by the Browns, Jefferson wore a shirt during warmups before a game against the Baltimore Ravens with the words "Free Odell" on the front. The two LSU alums have become good friends over the years, and Jefferson wanted to see his buddy thrive again on a new team.
But he took it a step further. Earlier this week, Jefferson called Beckham and begged him not to sign with his division rivals, per Lindsey Young of Vikings.com.
I was like, 'Look, bro, don't go to Green Bay. We ain't seen them yet. We still have to see them twice. Don't go there, please.'

Justin Jefferson
Thankfully for Jefferson and the Vikings, Beckham listened to his advice and took his talents to the Rams instead.
Did OBJ make the right decision?
Beckham couldn't have really gone wrong with either the Rams or Packers. Both teams figure to be strong contenders for the NFC crown this season, and both quarterbacks can figure out how to utilize Beckham's strengths on the outside.
But OBJ just makes more sense on the west coast in a shiny, new stadium. And with Woods going down just days later with a season-ending injury, Beckham fills a need that should help LA not lose a step.
The sky is the limit for Beckham in this Rams offense, but will he take advantage?
Like Sportscasting on Facebook. Follow us on Twitter @sportscasting19.