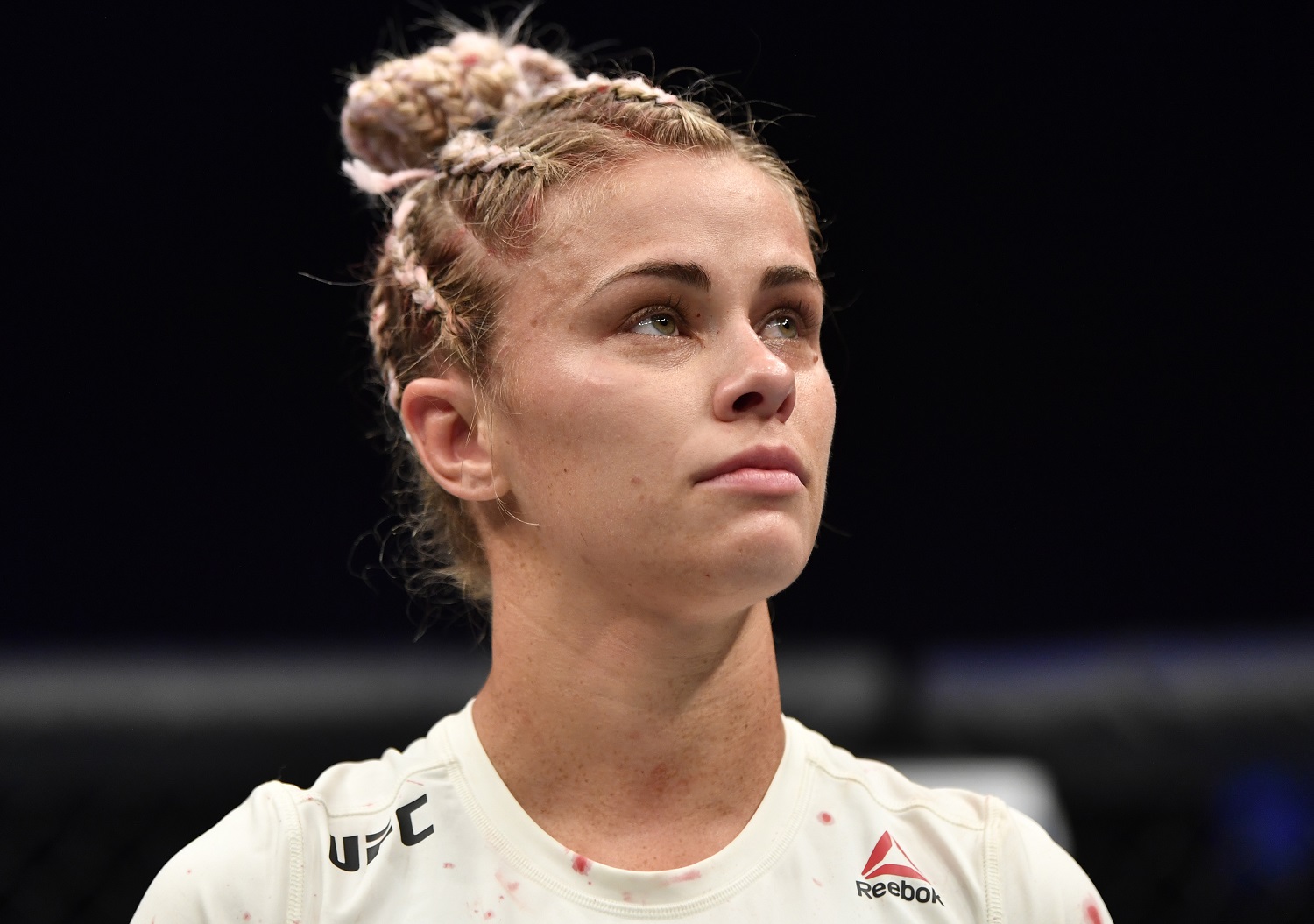 Paige VanZant's Weak UFC 251 Effort Makes Anna Kournikova Look Like Simone Biles
Paige VanZant might still have a career in mixed martial arts. but it won't be with the UFC after a horrendous showing in Abu Dhabi.
The athlete known as "12 Gauge" shot herself in the foot at UFC 251 on Fight Island in Abu Dhabi. With her portfolio outside the octagon and huge social media presence, Paige VanZant will always be able to find work. It just shouldn't be in mixed martial arts.
That being said, it's almost a sure thing she will try fighting again.
Paige VanZant's MMA career took a huge hit at UFC 251
Legal sportsbooks had a lot on the line at UFC 251 when Paige VanZant took on Amanda Ribas in a women's flyweight bout. VanZant was the biggest underdog on the main card and attracted an inordinate amount of wagering, according to Forbes. The sportsbooks stood to lose a ton if VanZant won.
Instead, VanZant came out the loser in every sense of the world. Ribas won by submission with an armbar midway through the first round. It was the first time since UFC 243 that a female fighter tapped out on one of the organization's signature cards. And it hadn't happened  on the main card since UFC 237, when Irene Aldana beat Bethe Correia.
VanZant has lost four of her last six fights – three by submission – and is 5-4 since joining UFC in 2014. With this being the last fight on her contract, she had a lot at stake on Fight Island. UFC czar Dana White had already cut VanZant a break by letting her take a crack at Ribas on the main card; a victory would have revived a career that's been taking off outside the octagon but struggling otherwise.
She's Anna Kournikova, minus a few titles
In fairness to Paige VanZant, repeated arm injuries in recent years have limited her, so UFC 251 was only her fifth fight in four and a half years. During that time, she's branched out in becoming a brand of her own.
She appeared in Season 22 of Dancing with the Stars in 2016, where she was partnered with professional dancer Mark Ballas. VanZant reached the finals of DWTS, finishing second to model Nyle DiMarco.
The following year included an appearance on Chopped on the Food Network, where VanZant, nicknamed "12 Gauge" because of her love on hunting, beat Olympic figure-skating champion Dorothy Hamill.
VanZant released an autobiography in 2018 and has 2.6 million followers on Instagram. In that sense, she's followed the footsteps of retired tennis star Anna Kournikova, whose modest 209-129 record in singles translated to zero professional singles titles but still garnered her international fame and millions in endorsements. Kournikova, who retired from WTA competition in 2003, at least has a pair of Australian Open doubles titles on her resume.
Kournikova was the subject of a certain amount of resentment on the WTA tour. As noted on her Wikipedia page, "Most of Kournikova's fame has come from the publicity surrounding her looks and her personal life."  Her net worth is in the $50 million range – more than a dozen times her career earnings on the court.
Compared to VanZant, however, Kournikova looks like multiple Olympic gold medalist Simone Biles.
Dana White is cutting Paige VanZant loose
UFC president Dana White spoke about Paige VanZant's future after UFC 251. It wasn't good news for VanZant.
"Look, I like Paige. I like Paige," White said. "You know, it's like (Curtis) Blaydes. When I talked, you know, when Blaydes fought last. When you talk all that stuff like, 'Oh, I am not being paid enough' … You know, fighting inconsistently. You know, one time in the last year. Injuries and stuff. Then you come get smoked in the first round of the fight. Yea, she should definitely test free agency."
She'll still have options. VanZant's husband, Austin Vanderford, already fights for Bellator. In addition, there's been speculation that she could wrestle in the WWE.
For now, however, the UFC is done with VanZant.