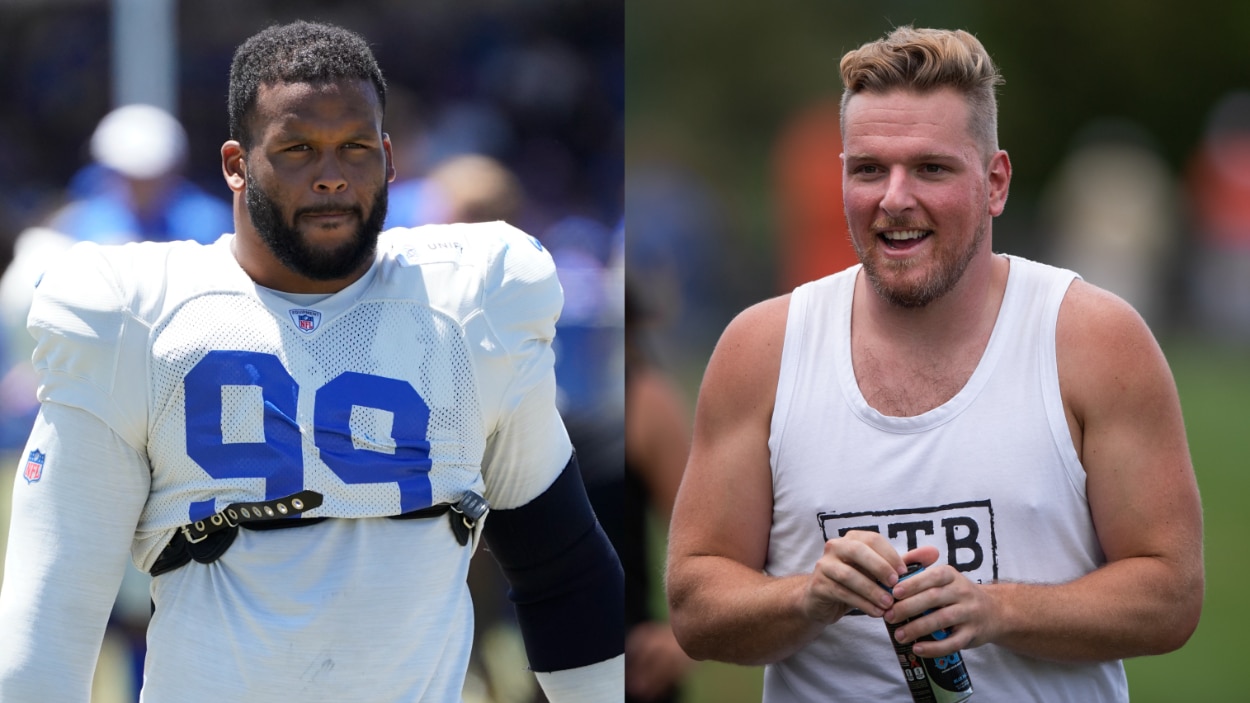 Pat McAfee Enrages Bengals Fans Defending Aaron Donald After Vicious Helmet Attack
Pat McAfee went on a sarcastic rant aimed at fans and media who think Aaron Donald should be suspended for his helmet-swinging attack.
This week, a video emerged of Los Angeles Rams defensive tackle Aaron Donald wildly wielding Cincinnati Bengals helmets in a fight during a joint practice between the two Super Bowl teams. Many around the NFL world are calling for the league to punish or suspend Donald. Sports talk host Pat McAfee is not one of those people, and his sarcastic rant in defense of Donald did not go over well with Bengals fans.
Pat McAfee stood up for Aaron Donald  
The last time we saw a player wildly swinging an opponent's helmet during a fight was in a 2019 Thursday Night Football game between the Cleveland Browns and Pittsburgh Steelers. Browns defensive end Myles Garrett took Steelers quarterback Mason Rudolph's helmet off in a fight and hit him in the head with it.
This nationally televised incident resulted in an indefinite suspension for Garret, which became the six remaining games of the 2019 season.
A similar incident happened again in 2022 training camp when a fan-shot video showed the Rams' Aaron Donald wildly swinging two Bengals helmets during a large-scale fight in a joint practice between the two teams.
NFL media and fans (especially Bengals fans) alike are calling for the NFL to step in and give Donald some type of suspension like they did with Garrett.
Former NFL punter and current sports talk radio host Pat McAfee disagrees.
On the Pat McAfee Show after the incident, the host unleashed a passionate (and often sarcastic rant aimed at people who think Donald should get suspended for something that happened in a practice.
McAfee's (sarcastic) solution to appease the fans who want Donald suspended is for the league to "suspend him every preseason game for the rest of his career!"
The former punter continued by saying he hopes the media members who want Donald suspended for "actual games for an incident that happened in an actual preseason practice" would "go to bat for me, when I'm kicking 65-, 70-yard field goals in practice, that I need to be f****** paid like the greatest kicker of all time."
McAfee argued suspending players for things that happen in practice is a slippery slope and that people suggesting it should happen to Aaron Donald "are being exposed for not really understanding the game, not understanding how the league works."
Pat McAfee offered Bengals fans a thoughtful response
After the Pat McAfee Show segment where McAfee crushed fans and media who think Aaron Donald should serve a suspension for swinging helmets during a fight, the host admitted he heard from many people on social media.
Instead of doubling down on his sarcasm or calling the people who disagree with him idiots, McAfee made the novel step of actually offering a more thoughtful response on Twitter.
McAfee acknowledged the social media pushback and responded, in part, "I can understand how it could potentially have sounded hypocritical due to the fact that I had a different reaction 2 when Myles Garrett took Mason's helmet off his head and then bonked it back off of Mason's exposed cranium on prime time television in the middle of an actual game."
He went on to say he doesn't support helmet swinging, but he also believes that joint practices are "actual fight factories." Plus, he says he just can't judge a primetime TV game the same as a practice.
McAfee finished his thread by offering fans an apology, but not one for his opinion. He wrote, "So… I apologize that we will have to agree to disagree."
Should the NFL suspend Aaron Donald?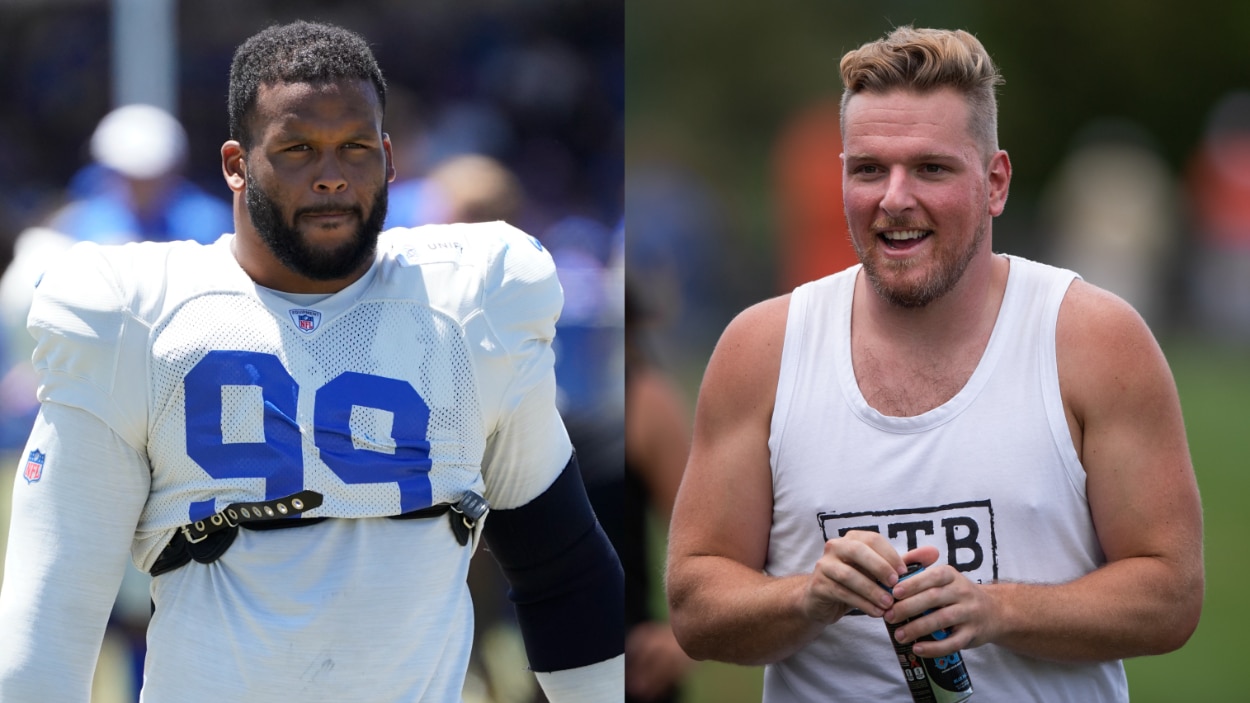 So, the question is, should Aaron Donald be suspended?
The answer is yes. Not for six games or indefinitely, but for one game.
In sports, there are unwritten rules. Most are stupid (no bunting up 10 runs or no blitzing in the preseason), but some are there for a reason.
The unwritten rule around fighting in sports is no using a weapon. You can't throw a ball or swing a bat in a baseball fight. You can't swing a stick or kick with a skate in a hockey fight. And in football, you can't swing a helmet.
Fights are part of professional sports and are absolutely part of NFL preseason joint practices. There are no real-world consequences, and that's how it should be.
That said, when a player swings a potentially deadly weapon during a sports fight, that goes above and beyond and escalates the fight closer to an actual assault. Even though it was at practice, the NFL should step in and set a one-game precedent to ensure this doesn't happen again, either in a game or practice.
So… I apologize, Pat McAfee. We will have to agree to disagree.
Like Sportscasting on Facebook. Follow us on Twitter @sportscasting19 and subscribe to our YouTube channel.