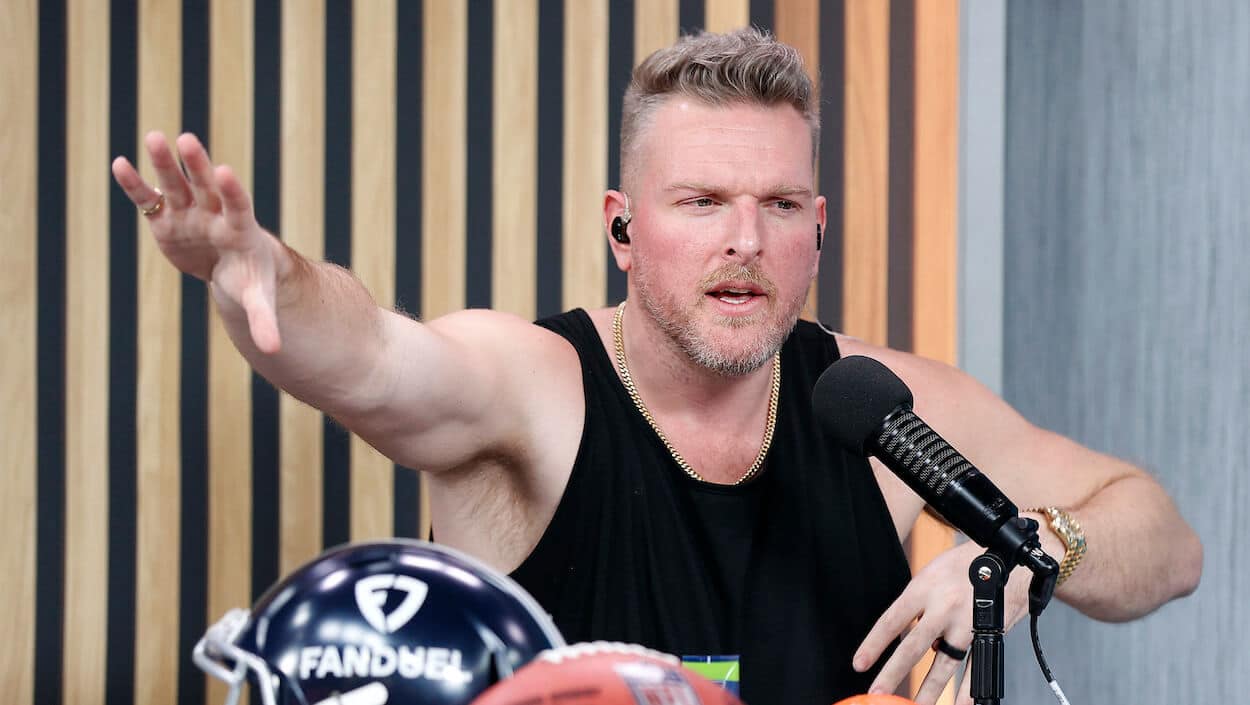 Pat McAfee Will No Longer Give a F*** After Announcing 'Multimillion-Dollar' ESPN Deal
The 'Pat McAfee Show' is moving to ESPN in a blockbuster deal, and the host is making one concession to appease his new Disney bosses.
Sports media mogul Pat McAfee is walking away from a $120 million partnership with FanDuel and to a new multimillion-dollar deal with the worldwide leader in sports, ESPN. The enormously popular Pat McAfee Show is moving to a new home, one that is owned by the family-friendliest company on earth, Disney. So, while McAfee says he will retain total creative control of the daily show fans have come to love, he does admit he will have to give up one thing: the expletive "f***."
Pat McAfee wanted out of his $120 million deal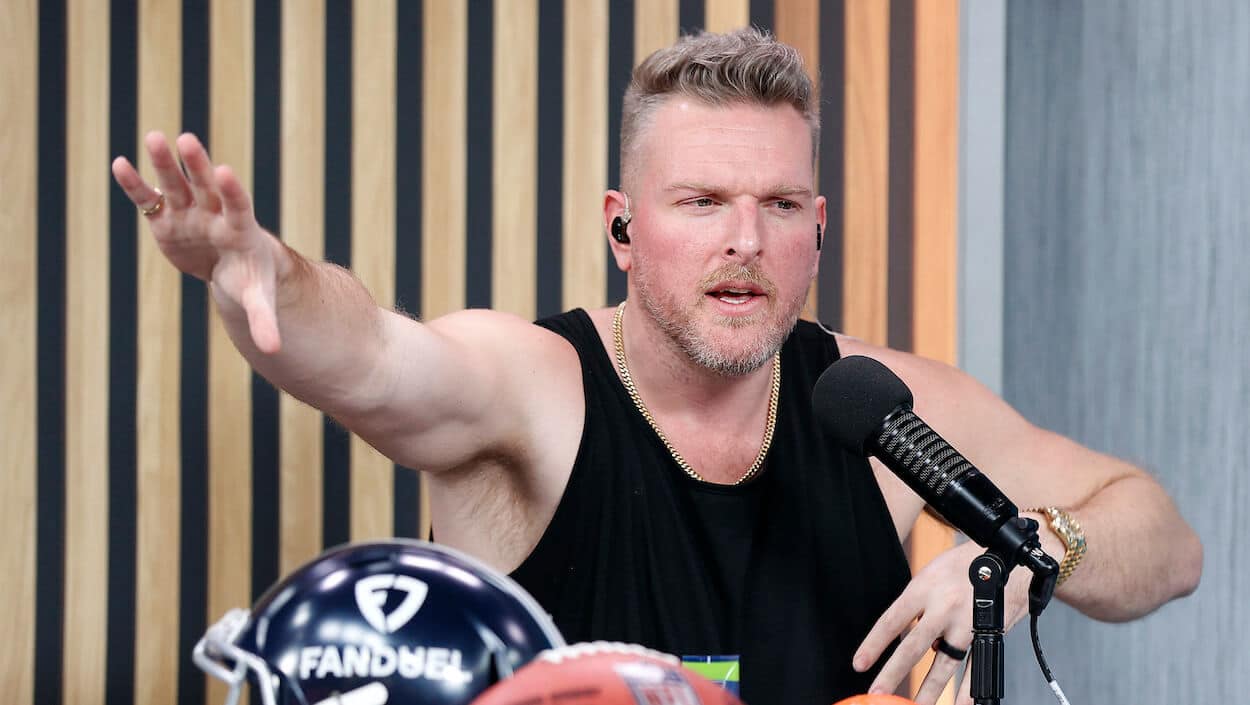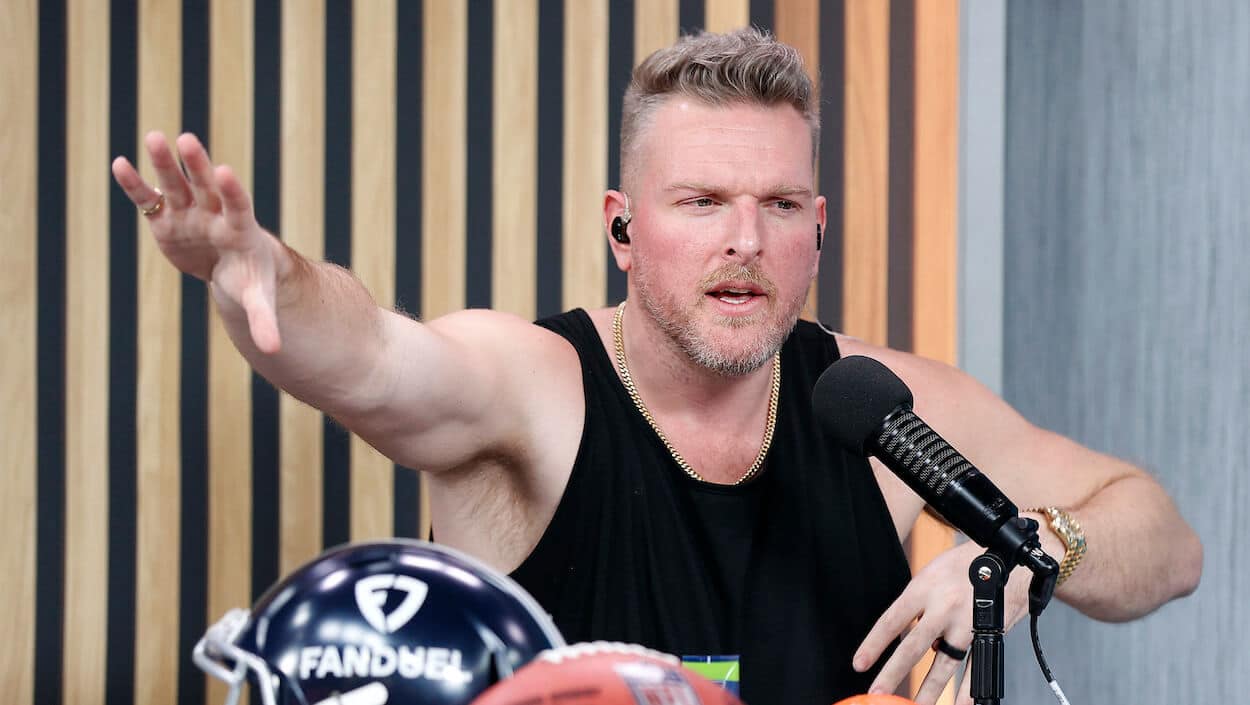 Sports talk show host Pat McAfee entered into a four-year, $120 million partnership with FanDuel just over a year ago (Dec. 2021). However, as the former NFL punter's life got busier, McAfee started looking for a new home for his show that would take some of the business responsibilities off of him.
In the last few years, in addition to hosting a daily talk show, McAfee has also worked in WWE and as an analyst on ESPN's College GameDay. Plus, on May 4, 2023, he became a father for the first time as his wife gave birth to a baby girl named Mackenzie.
All that is why McAfee and "the boys" entered, in show parlance, #UpToSomethingSZN in 2023.
New York Post sports media watcher Andrew Marchand and other outlets reported that ESPN was the leading network/platform to land the star, and on Tuesday, that became a reality.
Marchand reported that the exact details of "the multimillion-dollar blockbuster" are not known yet, "but it is more than eight figures per year, according to sources."
In a pre-taped video for his show and social media, McAfee — currently on semi-parental leave — told his viewers the show had "four significant offers from four great platforms/networks." However, in the end, the show will now be an ESPN property.
As part of the deal, the show will simulcast on the network's ESPN+ streaming service, the ESPN YouTube channel, and on ESPN following Get Up! and First Take.
The 'Pat McAfee Show' is moving to ESPN with one major change to his show
In McAfee's announcement video, the show joked about all the corporate-style changes that the show would be implementing with a move to ESPN before flashing a clip of Maury Povich saying, "That was a lie."
"We ain't changing a damn thing," McAfee then said into the camera. "That was literally the starter for every conversation with everybody this up to something season."
Despite his defiant proclamation, he did admit there will be one thing that changes with Disney as his new corporate boss.
"Out of respect for [ESPN], we have decided we won't be saying f*** nearly as much," McAfee admitted. "But, every other word is good to go."
The host then pointed to Chicago Bulls Documentary, The Last Dance, that aired on the network and how it used the word f*** liberally, which is OK on cable nowadays. However, being on during the middle of the day, McAfee says he and his crew will try and refrain from using the harsh curse word.
Outside of that, McAfee says he retained "full creative control" of the program, which won't change all that much upon its move to ESPN.
ESPN doesn't like controversy
While Pat McAfee was incredibly clear that the show would remain the show at ESPN, it is understandable that some of his fans are nervous about the move to the world's biggest sports network owned by the world's biggest family-friendly brand.
The history of ESPN includes plenty of bad behavior and wild tales, as chronicled in the excellent book Those Guys Have All the Fun: Inside the World of ESPN by James Andrew Miller and Tom Shales.
However, since Disney bought ESPN's then-parent company, ABC, in 1996, the network has been quick to quash any controversy that may have bubbled up.
The most glaring example was when ESPN signed Barstool Sports hosts Dan "Big Cat" Katz and PFT Commenter to do a talk show called Van Talk. Many company employees revolted against the move due to Barstool's sexist and misogynistic history. Then-president John Skipper canceled the show after just one episode.
That's just one example of the network being controversy-adverse over the years.
ESPN hired then pushed out firebrand conservative radio host Rush Limbaugh back in 2003 over comments he made on Sunday NFL Countdown about Philadelphia Eagles quarterback Donovan McNabb.
And in 2021, the network canceled the Rachel Nichols-hosted The Jump and pulled her off NBA Finals coverage following a leaked tape recorded without her knowledge in her hotel room caught her complaining that her Black colleague, Maria Taylor, got a hosting gig over her due to race.
Those are just a few of the times that ESPN has quickly bailed on talent when the hint of controversy pops up.
Hopefully, the Pat McAfee Show will cut down on the "f***s," and that will be enough to keep ESPN and Disney happy. However, history shows it may not be.