Patrick Mahomes Dominated the Eagles the Only Time He Faced Them, but the Super Bowl Won't Be as Easy
The Kansas City Chiefs are less than a week away from facing off against the Philadelphia Eagles in Super Bowl 57. These teams have played each other only nine times since 1972, with the Chiefs winning five of those matchups, but Patrick Mahomes does have one start against Philly in his career.
In fact, it came against Jalen Hurts just last season. If you're a Chiefs fan, you'll be rooting for Mahomes to somehow replicate that brilliant performance on Super Bowl Sunday, but that will be easier said than done against a much-improved Eagles defense.
Patrick Mahomes dominated the Eagles the first time he faced them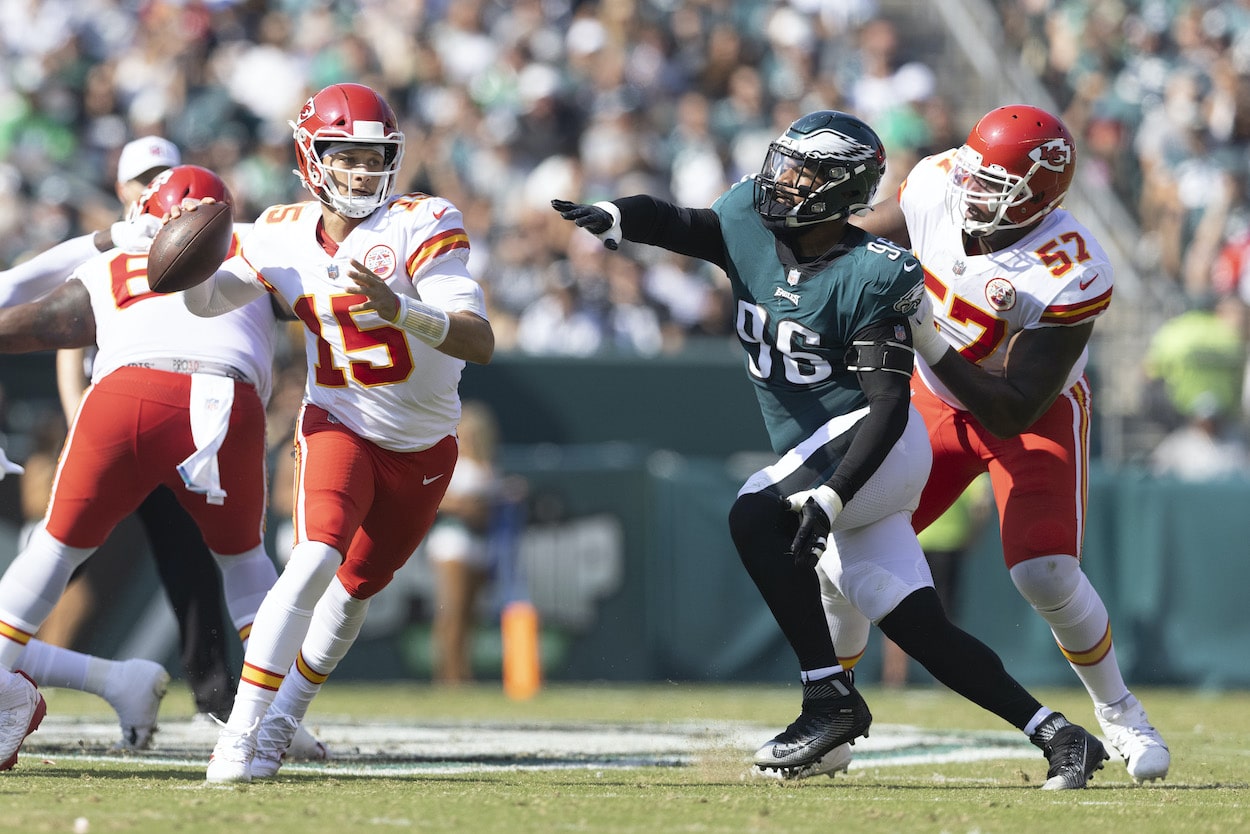 Patrick Mahomes' only career start against the Eagles came in Week 4 of the 2021 season. Both Kansas City and Philadelphia entered the game with a 1-2 record, so it was a crucial contest for both teams attempting to avoid a nightmare start to the year.
The Eagles jumped out to a 10-7 lead in the first quarter, but Mahomes didn't let that last very long. The star QB threw two touchdown passes in the second quarter to give the Chiefs a 21-13 halftime lead. After throwing an interception to start the second half, Mahomes bounced back by engineering three straight scoring drives to ice the game. The Chiefs went on to win, 42-30. It turned out to be the second-most points Kansas City scored all season.
Mahomes completed 24 of his 30 pass attempts for 278 yards, five touchdown passes, one interception, and 26 rushing yards on five attempts. His favorite target in the win was Tyreek Hill, who ravaged Philadelphia's secondary for 186 yards and three touchdowns on 11 catches. Travis Kelce, meanwhile, was surprisingly quiet with just 23 yards on four catches.
Patrick Mahomes won't be able to replicate that performance in the Super Bowl
Mahomes made it look easy in his first start against the Eagles, but it'll likely be a different story in Super Bowl 57.
For one, Mahomes was fully healthy for that game last season. He'll be nursing a sprained ankle on Sunday, and although he played well against the Cincinnati Bengals in the AFC Championship, he had a noticeable limp throughout the game.
Additionally, this Eagles defense is much stronger than the version Mahomes faced last season. The 2021 Eagles ranked 11th in passing defense and 29th in sacks, whereas this year's team ranks first in both categories.
Haason Reddick, James Bradberry, C.J. Gardner-Johnson, and Jordan Davis weren't on the roster last year. The Eagles couldn't generate pressure without blitzing in 2021, but now they're the best team in the NFL at getting to the quarterback with four rushers. Mahomes was also able to attack Philadelphia's secondary down the field while avoiding Darius Slay, but that's not as simple this year with Bradberry on the other side.
Mahomes, playing on an injured ankle, will be under constant pressure in the Super Bowl and will be forced to fit the ball into tighter windows all game. Oh, and he won't have Tyreek Hill to throw to, either.
Can the former MVP put up another monster stat line against the Eagles? Of course. He's Patrick freaking Mahomes. But it won't be as easy this time around.