Patriots: Rob Gronkowski Got His 1st NFL 'Oh S***' Moment From Vince Wilfork
For legendary New England Patriots tight end Rob Gronkowski, his "oh s*** moment" in the NFL came courtesy of 6-foot-2, 325-pound defensive tackle Vince Wilfork. Every NFL rookie knows the moment. It's the moment early in every young player's career when they experience the difference between college and the pros. As Gronk told Jason and Travis Kelce on the New Heights podcast, he earned respect after his NFL "oh s*** moment."
Rob Gronkowski shared a story about a rookie run-in with Vince Wilfork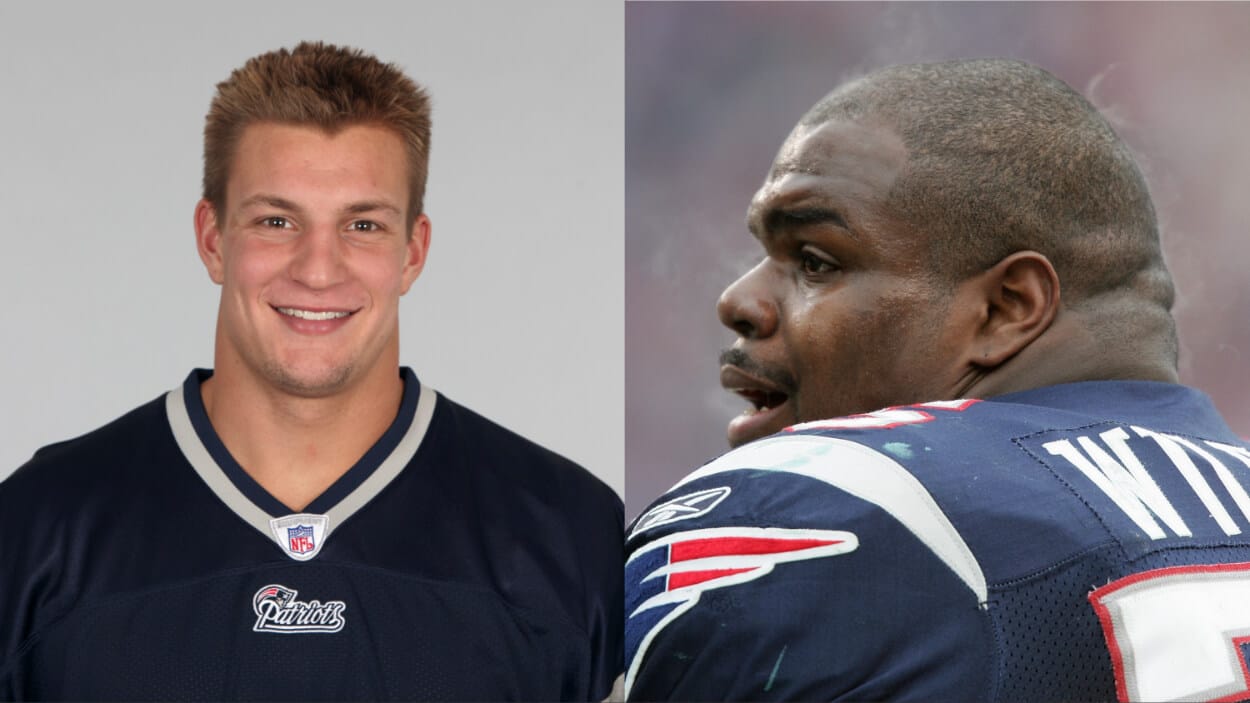 "Do you have like an oh s*** moment of being in the NFL?" Jason Kelce asked Rob Gronkowski when the former Patriots and Tampa Bay Buccaneers TE joined Jason and his brother, Travis Kelce, on their New Heights podcast.
"Yeah, I do," Gronkowski answered as Travis laughed because his fellow TE "didn't seem too pumped about it."
Gronk then went on to explain what a wham block is in football. Basically, it's when the center or guards let go of the defensive tackle to block someone else, and it becomes the tight end's responsibility to pick up that interior defensive lineman.
"I'm in training camp as a rookie, and Vince Wilfork —" Gronkowski started, but the Kelce brothers interrupted with joyful shouts at the mention of one of the biggest and most athletic DTs of all time. Jason also pointed out how smart the Patriots DT was on the football field and guaranteed he knew "exactly what was coming."
Gronk disagreed, but only about why he knew what was about to happen.
"I think [his Patriots teammates] told him, 'Yo, Gronk is gonna try and wham block you, let's see what he's all about. We're letting you know, light him up.'" Gronkowski revealed. "So, he goes, like, steps two feet playing it like he doesn't know. I'm coming full speed, and I was like, 'I gotta prove myself. This is wild.'"
Then the "oh s*** moment" happened.
"That dude lowered his shoulder and just gave me the biggest hit of my career," Gronkowski remembered painfully. "I went flying back four yards, and he just started celebrating."
In the end, though, the moment was important to Gronkowski as he earned his Patriots teammates' respect for taking on the mountain of a man that Wilfork was.
"Everyone came up to me, and they were like, 'You know something? No one else would run into that guy, and you just did it,'" Gronk shared.
So, while there was surely plenty of short-term pain for Rob Gronkowski after his first NFL "oh s*** moment," it was also the foundation the legend of Gronk was built upon. Not many tight ends took on Vince Wilfork in their career and lived to tell the tale, which is why, in that moment, you can see why the Patriots tight end became a future first-ballot Hall of Famer.