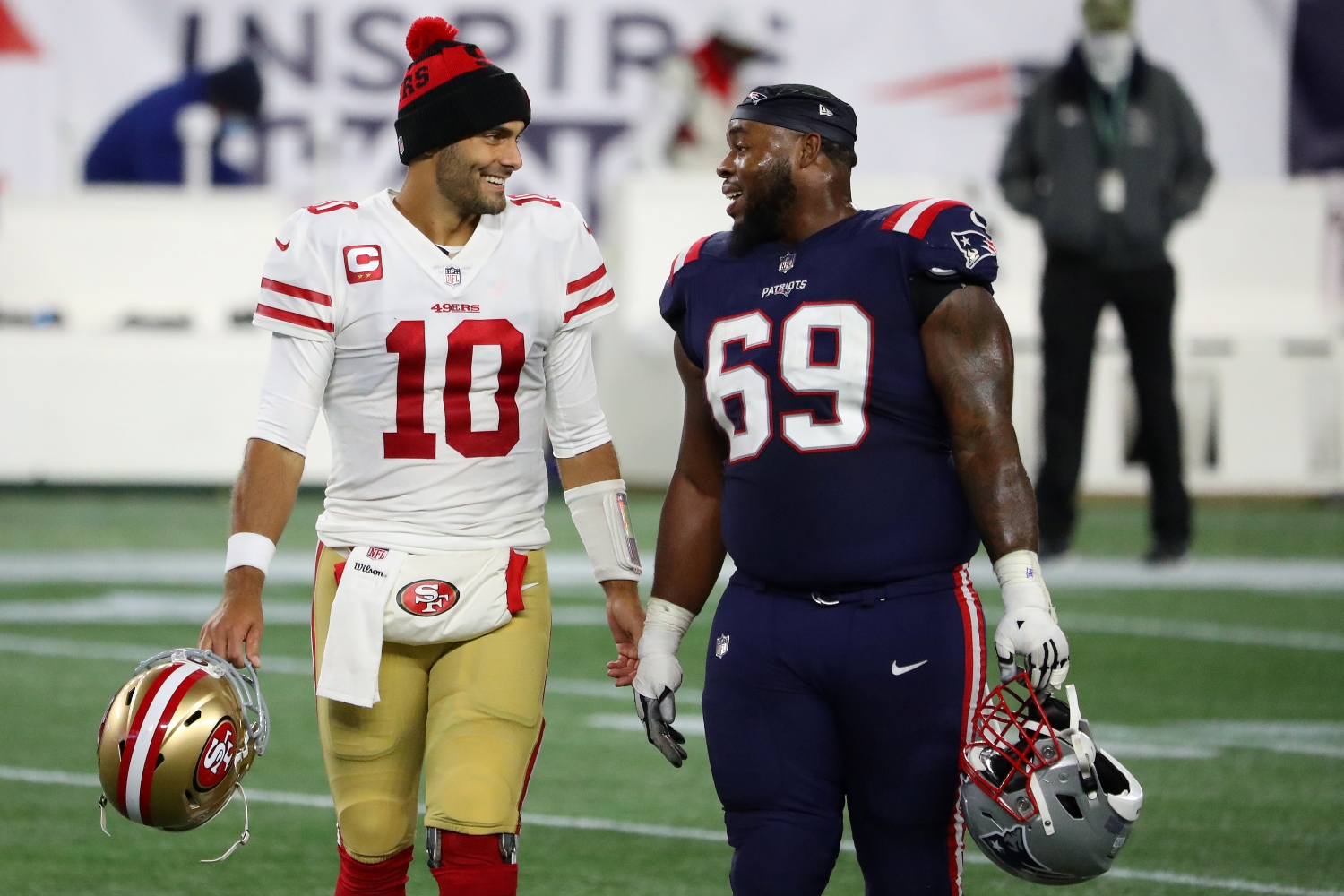 The Patriots Will Reportedly Have to Pay an Absurd Price to Bring Jimmy Garoppolo Back to New England
The New England Patriots will reportedly have to pay a steep price if they want to convince the 49ers to send Jimmy Garoppolo back to Foxborough.
Bill Belichick must explore every possible avenue to find a long-term answer at the quarterback position. However, if the New England Patriots want to bring Jimmy Garoppolo back to Foxborough, they will have to pay a reported asking price that qualifies as absurd.
And considering what the Patriots received for Garoppolo, Belichick shouldn't even consider giving the San Francisco 49ers what they want.
Bill Belichick sold incredibly low on Jimmy Garoppolo
Even after staging the largest comeback in Super Bowl history, Tom Brady still had to worry about the presence of Jimmy Garoppolo.
At least, until Halloween 2017.
Despite a previous report from Adam Schefter that the Patriots wouldn't trade Garoppolo for four first-round picks, Bill Belichick traded him to the 49ers for the mere price of a second-round pick.
The shockingly low return raised more than a few eyebrows. After all, why would the Patriots suddenly trade a highly-coveted asset for just a day-two pick? To some, the below-market return represented Belichick getting back at Robert Kraft for forcing his hand.
Ironically, though, with TB12 now in Tampa, the Patriots may have to part ways with a much more valuable asset to reacquire Garoppolo.
The Patriots reportedly will have to pay an absurd price to bring Garoppolo back to New England
The 49ers recently traded the 12th overall pick, first-rounders in 2022 and 2023, and a 2022 third-round selection to the Miami Dolphins for the third pick in the 2021 NFL draft. So after parting ways with significant draft capital, Kyle Shanahan and John Lynch have plenty of motivation to find a way to re-stock their war chest.
Of course, Jimmy Garoppolo represents one avenue to recoup a decent pick.
Unfortunately for Patriots fans ready to see Jimmy G back in New England, the team will reportedly have to pay an absurd price to make that happen.
"What I'm hearing right now is the asking price is a first-round pick," the NFL Network's Mike Giardi said Friday. "That might be too rich for the Patriots' blood."
Given Garoppolo's lengthy injury history and up-and-down play, a first-round pick represents a ridiculous price to pay to take him off the 49ers' hands. Considering he turns 30 this fall, why would the Patriots give up five years of control over a young prospect for two years of Garoppolo's services?
Belichick would be completely foolish to meet the 49ers' asking price
Bill Belichick may be tempted to try and make Jimmy Garoppolo the crowned jewel of a truly franchise-altering offseason haul. However, if the Patriots want to set themselves up for a brighter future, they shouldn't consider meeting the 49ers' asking price.
Instead of surrendering a first-round pick for an oft-injured quarterback, why not add a premier playmaker to a much-improved offense? A legitimate No. 1 receiver like DeVonta Smith could completely transform New England's offense with his wide array of skills. Former teammate Jaylen Waddle would instantly upgrade the return game while adding speed and explosion to the passing game.
On the other hand, Belichick could use the 15th selection to target a blue-chip talent on defense. With Stephon Gilmore and J.C. Jackson facing uncertain futures, New England could draft a cornerback with star upside. The Patriots could even add bolster their rebuilt front seven with an athletic linebacker or defensive lineman.
In addition, the 15th pick could also serve as the gateway to a young quarterback. If Belichick falls in love with a prospect, perhaps he will go all-in and trade up to get his guy. New England could even target someone in the second round, just as they did back in 2014 with Garoppolo.
At this stage of his career, the 29-year-old simply isn't worth what the 49ers want. Then again, all it takes is a team desperate enough to take a chance on a quarterback who Bill Belichick drafted to potentially replace Tom Brady.
Like Sportscasting on Facebook. Follow us on Twitter @sportscasting19.