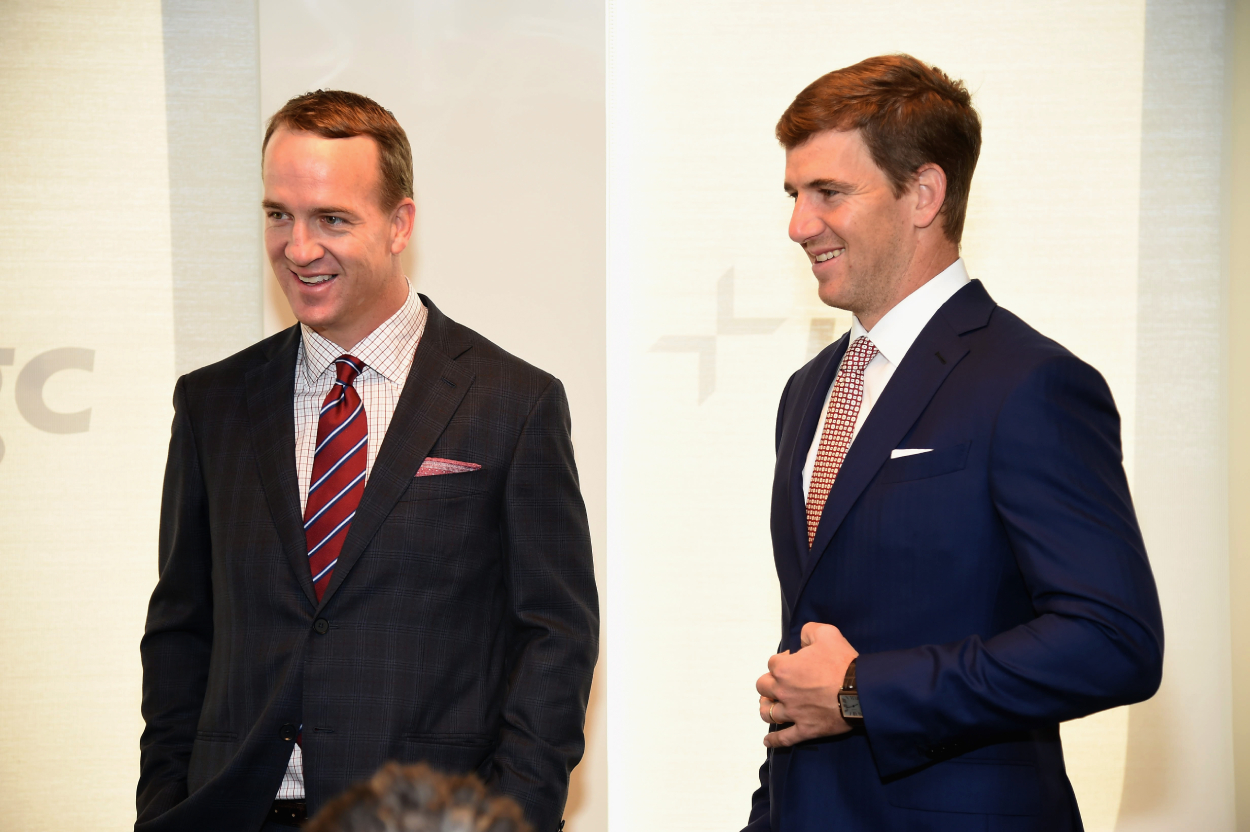 Peyton and Eli Manning's 'Monday Night Football' Telecast Finally Paved the Way for ESPN to Boldly Take a Risk It Should Have Taken Years Ago
Peyton and Eli Manning have their new 'Monday Night Football' telecast this season that's an alternate viewing option for fans instead of the primary broadcast on ESPN's main channel. The brothers have been a hit so far, too, and their telecast even paved the way for ESPN to finally take a long overdue risk.
Through the first two weeks of the 2021 NFL season, Pro Football Hall of Famer Peyton Manning and his brother Eli have stolen the show. They have given fans a new way to watch Monday Night Football on their alternate ESPN2 telecast where they discuss their experiences, talk about that week's contest from their perspective, bring some humor, and welcome various guests to the program.
One move they made, though, was a risk ESPN should have taken a long time ago. It not only made many fans and viewers happy, but it added even more humor to the broadcast, which made for a fun viewing experience.
So, what was this risky move? The Manning brothers welcomed Pat McAfee to their show, and the segment proved that ESPN should have added him to its main Monday Night Football roster years ago.
Peyton and Eli Manning welcomed Pat McAfee to their 'Monday Night Football' telecast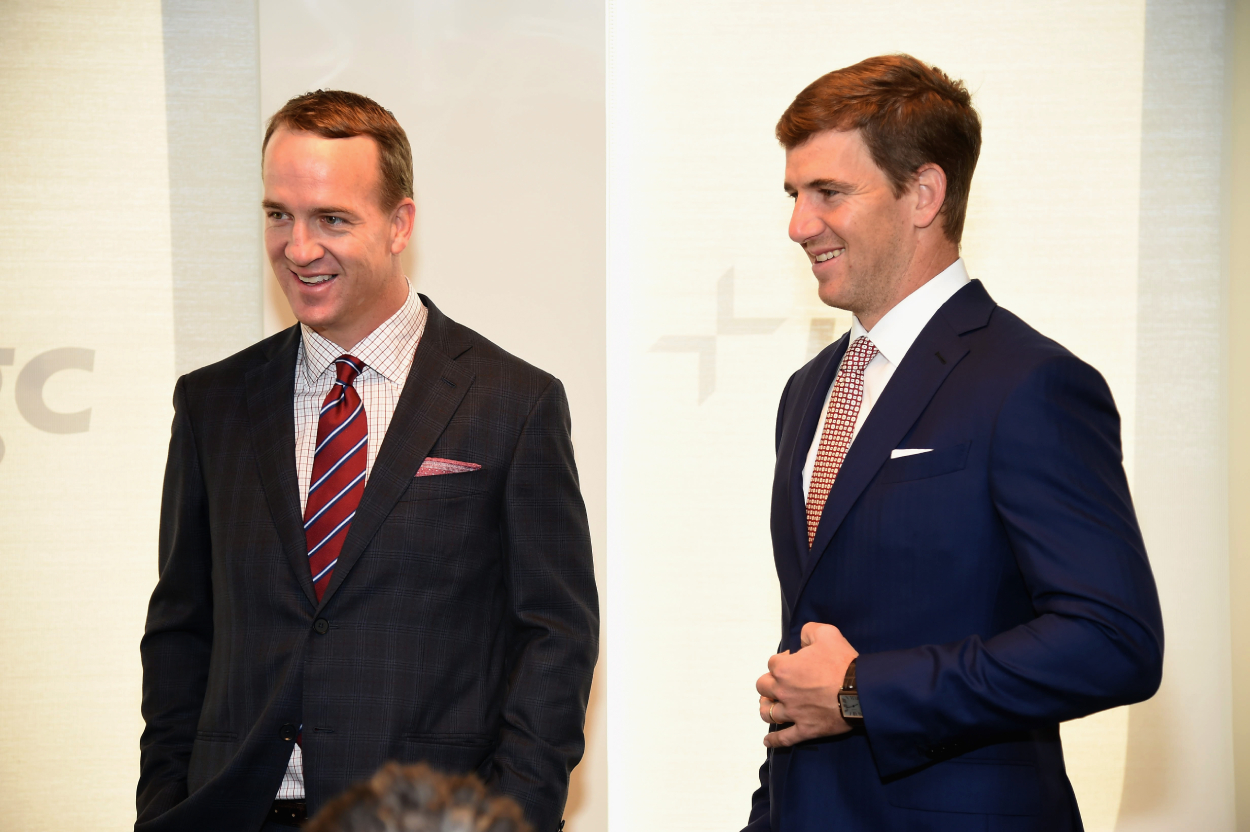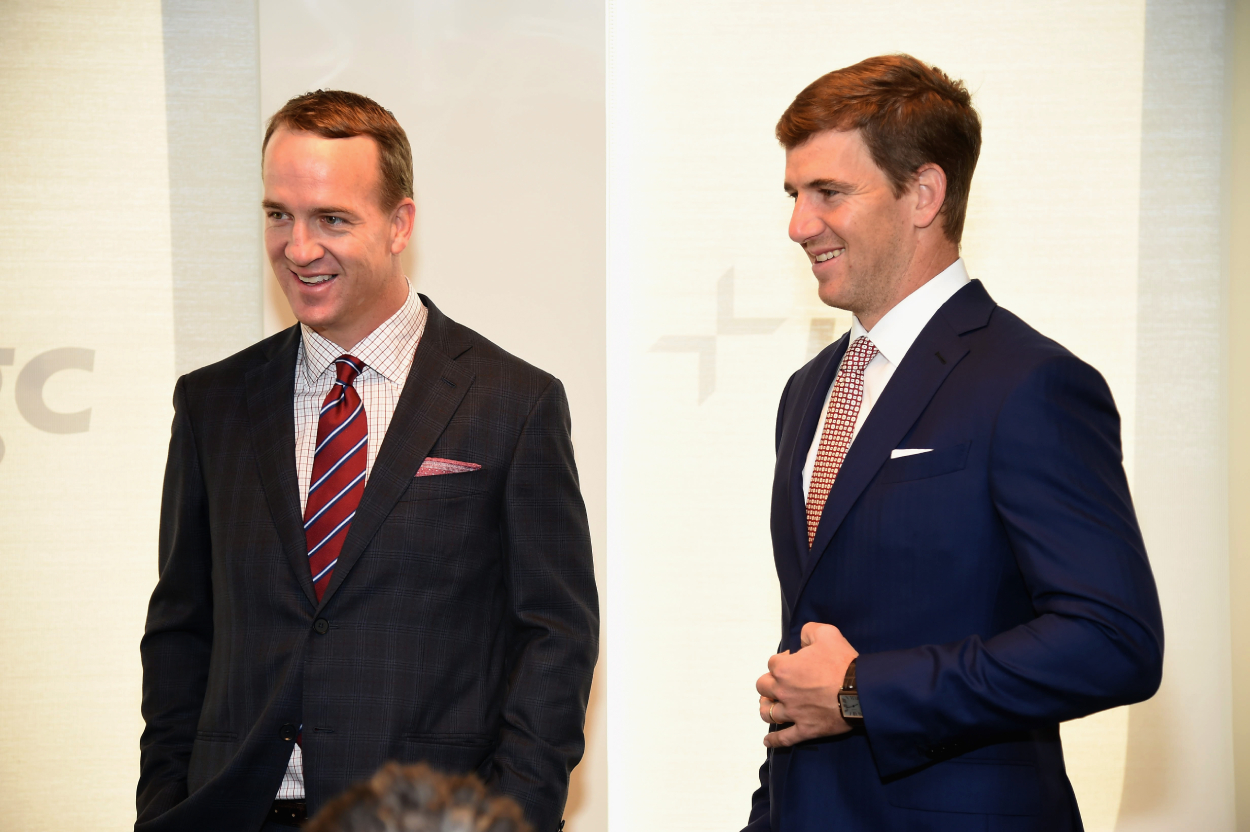 Starting this year and through the 2023 season, Peyton and Eli Manning are hosting a secondary Monday Night Football telecast for 10 games each year on ESPN2. And so far through the first two weeks, the reviews have been solid, with fans enjoying their banter and the way they talk about the game they played for so long.
In Week 2, though, Peyton welcomed his former Indianapolis Colts teammate, punter Pat McAfee, to the show, and McAfee — as expected — did a phenomenal job.
The former All-Pro discussed his relationship with Aaron Rodgers, asked Peyton what he thought about the Green Bay Packers QB not getting much say in Green Bay's organizational moves, and, of course, told hilarious stories about Peyton's Colts days.
"Peyton was talking about this last week, and I found it so fascinating, he was getting so mad about Derek Carr having to quiet the Raiders fans," McAfee said, per NFL.com. "Whenever Peyton would [wave his arms down] in Indianapolis, OK, literally babies would stop crying in hospitals; that's how quiet the place would get."
Some may have viewed the decision to bring McAfee on Monday Night Football as a risk given his loud personality and the fact no one ever knows what he's going to say next. He also has his own YouTube and SiriusXM show where he cusses a lot, which he can't do on ESPN due to FCC laws.
But despite the risk, McAfee's style is something ESPN should have welcomed to its primary MNF roster years ago.
ESPN should have welcomed Pat McAfee to 'MNF' years ago
The thought of Pat McAfee joining Monday Night Football is nothing new. In 2018 and 2019, #McAfeeForMNF campaigns made their rounds on Twitter after Jon Gruden and then Jason Witten left their spots on ESPN's main broadcast in consecutive years. 
The network, though, chose to go with Booger McFarland, Joe Tessitore, and Lisa Salters in 2019, while McAfee still made appearances on College GameDay and called college games in the booth with Matt Hasselbeck for ESPN. A spot in the MNF booth then opened up in 2020 as well, but the network passed on McAfee again and selected Steve Levy, Louis Riddick, and Brian Griese instead.
The aforementioned trio has done well, but the duo of McFarland and Tessitore clearly didn't work out, given they only lasted one season. None of the guys mentioned above have the personality McAfee does, either. No, he can't give the perspective a former quarterback can, but he has stories on stories to tell and an abundance of opinions and jokes that no network has looked for in commentators. 
In fact, unlike many of those in-booth guys, McAfee seems to realize that football fans don't watch shows/broadcasts just to follow games or receive more sports news; they watch them to be entertained. His jokes and personality make programs more of an experience for fans rather than just something they have on TV.
"We can enjoy football, you know?" McAfee said of calling games in March on an episode if 10 Questions With Kyle Brandt. "This doesn't have to be a surgery on the field. This is a celebration; this is a sport. Let's have a good time here."
Adding McAfee to the Monday Night Football booth would maybe be an out-of-the-box move, but it's something ESPN should have done years ago, and it should still try to do now.
There's still time for ESPN to add Pat McAfee to the 'Monday Night Football' booth
McAfee hasn't been on College GameDay this season, and there was some sort of beef between him and ESPN earlier this year when he said the network allegedly wouldn't allow its personalities on his show, although they are allowed on it now.
But fans loved McAfee on Peyton and Eli's Monday Night Football ESPN2 telecast, which should be enough proof that the network needs to bring the former punter into its primary MNF booth.
"Let Pat McAfee just come on every broadcast and talk forever," sports broadcaster Jordan Strack tweeted in response to McAfee's appearance with the Mannings.
Arizona Cardinals reporter Darren Urban also posted: "I'll take a booth of Peyton, Eli and [Pat McAfee] for every game I can."
Whether it would be on an already full crew with Levy, Riddick, and Griese, or with another roster entirely, McAfee would be good in almost any situation. He understands what makes good TV and would help usher in a new era of broadcasting for ESPN and its younger viewers.
It might finally be time for ESPN to take the risk and add McAfee to MNF.