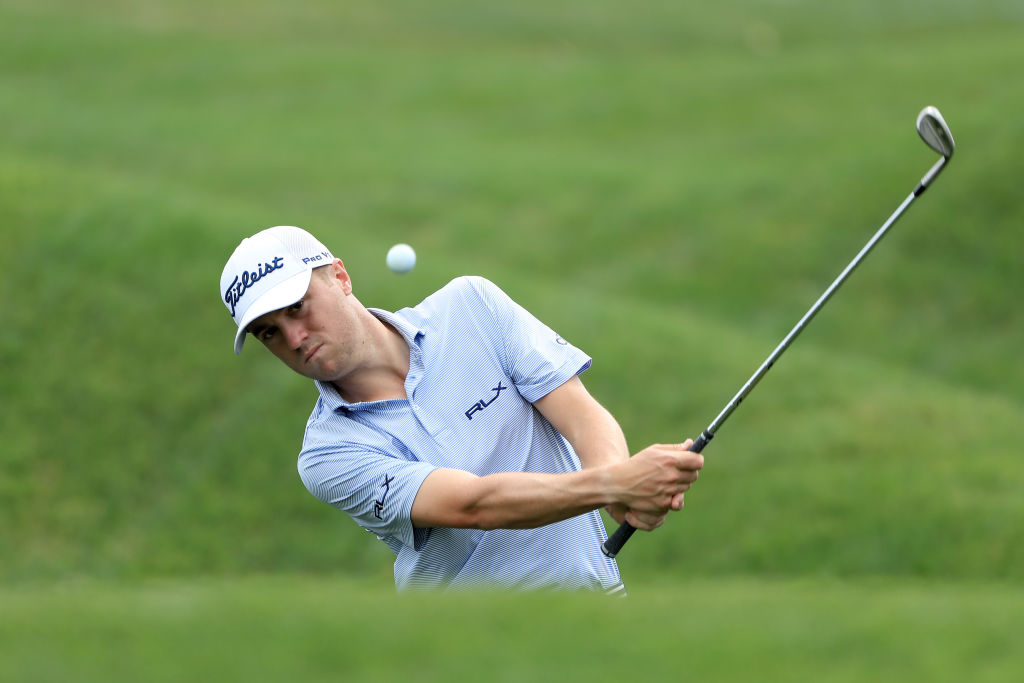 PGA Star Justin Thomas Is Happy to Be Living Like the Rest of Us
Justin Thomas, just named as the cover boy for PGA Tour 2K21, is enjoying some normal time at home for a change.
It may not rank up there with his triumph in the 2017 PGA Championship or the tournament he won after shooting a 59, but Justin Thomas has scored a nice little victory in the area of celebrity endorsements by getting his name up there with Tiger Woods and Rory McIlroy.
There's no Madden curse in golf
Appearing on the cover of Electronic Arts' annual John Madden-brand football game has been a jinx – for the players or the company – at least as often as it's been an honor. It began with Barry Sanders retiring after the game was released and before he could play another down.
The next four cover boys were Tennessee Titans running back Eddie George, Minnesota Vikings quarterback Daunte Culpepper, St. Louis Rams running back Marshall Faulk, and Atlanta Falcons quarterback Michael Vick. The curse was most definitely real: George squeezed in a strong regular season in 2000 but declined rapidly thereafter, and the other three stars all had their cover-boy seasons curtailed by injuries.
More recently, running backs Shaun Alexander, Peyton Hillis, and Adrian Peterson were all tripped up by the jinx.
Justin Thomas should have no such worries. Tiger Woods was on the EA Sports PGA Tour golf game cover from 1998-2013, a spectacular span of his career other than the 2010-11 washout. The only other golfer to grace the cover before Thomas landed the honor this week was Rory McIlroy in 2015.
Justin Thomas has earned the recognition
Justin Thomas, 27, a 12-time PGA Tour winner, was introduced Thursday as the cover subject for PGA Tour 2K21, which will be released on PlayStation 4, Nintendo Switch, and Xbox One on Aug. 21.
Eleven other golfers who'll be announced at a later date will be part of the game, which will give fans a chance to compete on 15 virtual courses that include TPC Sawgrass, TPC Scottsdale, Riviera, and Atlanta's East Lake Golf Club, site of the season-ending PGA Tour Championship.
Thomas has twice led the PGA Tour in season earnings. He won five times in 2017 – including the PGA Championship – and pulled off one of the most difficult feats in the sport that year at the Sony Open in Hawaii by shooting a 59 in the first round on his way to winning by seven strokes. He also fired a 63 during the U.S. Open at Erin Hills in Wisconsin.
Thomas earned the FedEx Cup championship and was selected Player of the Year in his breakthrough season. He followed in 2018 with three more tournaments titles that allowed him to finish atop the money list for the second time.
Justin Thomas has been taking the sabbatical in stride
The PGA Tour suspended its season during The Players Championship in March. Tournaments are expected to resume June 11-14 with the Charles Schwab Challenge, which will start a series of events with no galleries present.
With many golf courses shut down during the pandemic, there isn't much of an opportunity for Justin Thomas to work in meaningful practice. He estimates that he's played seven to 10 rounds since mid-March, and not all of them have been serious.
Thomas and Rickie Fowler played left-handed last month, with Fowler shooting a 94 to win by seven strokes. Another round was played with just a handful of clubs, and a third was played with a set of persimmons.
Thomas has averaged 25 tournaments a season on the PGA Tour since 2015. He told The Washington Post that the extended break does have certain advantages to it:
"This is, 100 percent, the most nights in a row I've slept in my own bed … probably since high school, I would say. Which, now that I'm saying that out loud, it's kind of bizarre to think about."