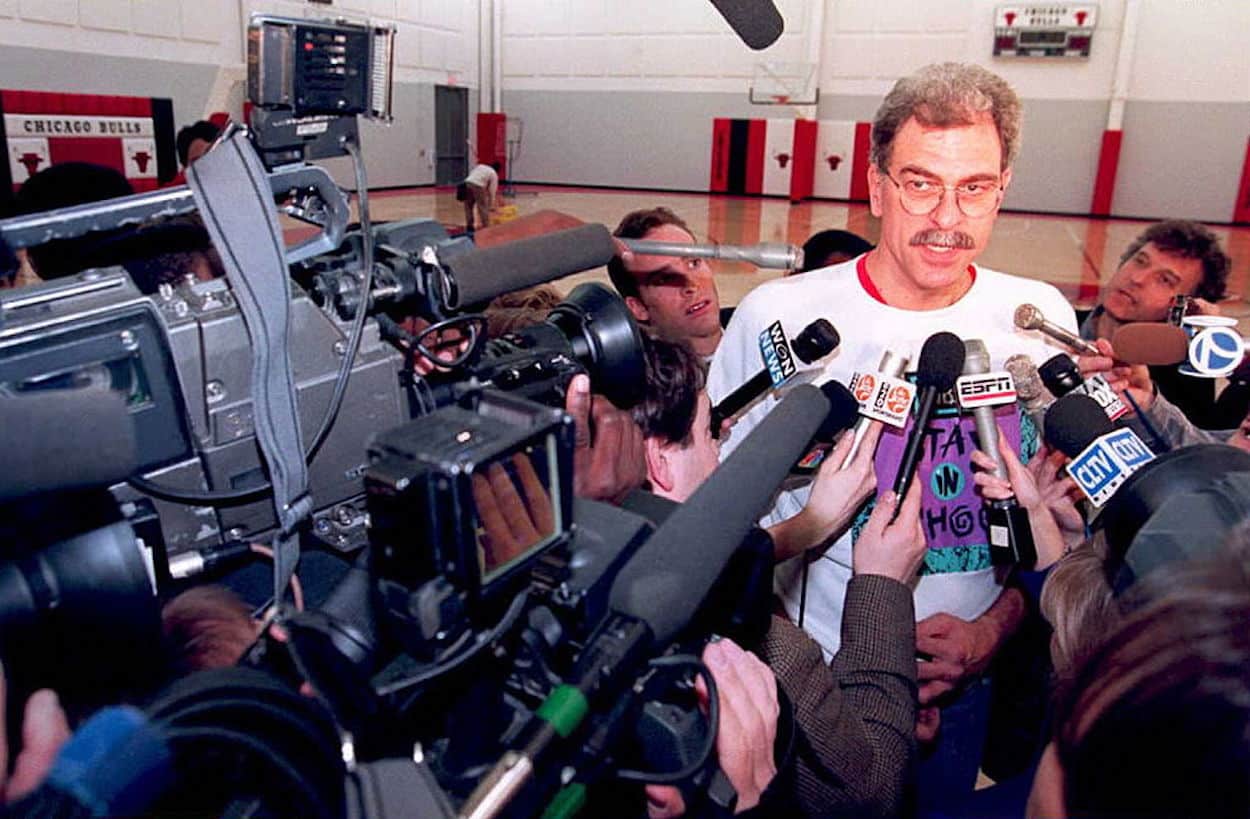 Phil Jackson Might Not Have Won 11 NBA Championships Without a Lesson From Ronald Reagan
Phil Jackson wasn't happy about Ronald Reagan winning the 1980 election, but it could have changed the course of his coaching career.
When you think of modern NBA coaches, few names loom larger than Phil Jackson. Despite his failure in the New York Knicks' front office, the Zen Master found incredible success on the bench. During his time with the Chicago Bulls and Los Angeles Lakers, he led his teams to an incredible 11 championships.
Some of that success, it seems, is owed to Ronald Reagan, an unfavorable political result, and an important lesson.
Sound a bit unbelievable, especially everything we know of Jackson's personality? Let's travel back to 1980 and look at the election that might have changed the coach's career.
Phil Jackson 'was aghast' when Ronald Reagan became president but turned that into a crash course in communication
In the late 1970s, Ronald Reagan was running for president. At the same time, Phil Jackson's playing career was starting to wind down before he headed to those sidelines. That former career change could have influenced the latter.
"He is well known as a liberal Democrat, and when Ronald Reagan won the presidency in 1980, Jackson was aghast at the choice America had made," Frank Deford explained in an old Sports Illustrated story.
He thought about this. 'Eventually I realized that what was so important, so attractive, was that Reagan delivered a coherent message that the people could understand,' he says. 'And he had the bearing, the carriage." Jackson pauses and, wryly, smiles. 'The smell. Whatever it was, Reagan had the smell.'"
While you could argue that he was aided by the incredible talent at his disposal, the coach's "smell" probably did help him achieve NBA greatness. Great players come with both positives and negatives; they can win games but also can require some massaging to keep everyone's ego in check. And, with Michael Jordan in Chicago and the duo of Shaquille O'Neal and Kobe Bryant in Hollywood, Jackson had plenty of large personalities and only one basketball to go around.
With some help from the triangle offense, though, he communicated and got everyone to buy in. When things went wrong, and they inevitably did, Jackson was able to keep everyone pulling in the same direction. Above all else, he had that same "smell" as Reagan.
"The one thing every successful coach needs is an ingredient: the intuitive ability to change a conflict situation into a team-building one," he replies. This is exactly what Jackson used that one awful time when a player–the star–publicly disobeyed him, attacking the very core of team sports. Jackson goes on, in his deep bass timbre: "Sometimes just the coach's voice is enough. Whatever. Sometimes…who knows? Sometimes it can be just the way you smell."

Frank Deford, Sports Illustrated
Would Jackson have found some success in Hollywood and Chicago simply by virtue of the talent on his roster? Probably, but his ability to communicate and present a vision helped his teams reach the top of the mountain again and again.
Jackson's story is a reminder that coaches need to develop and learn like players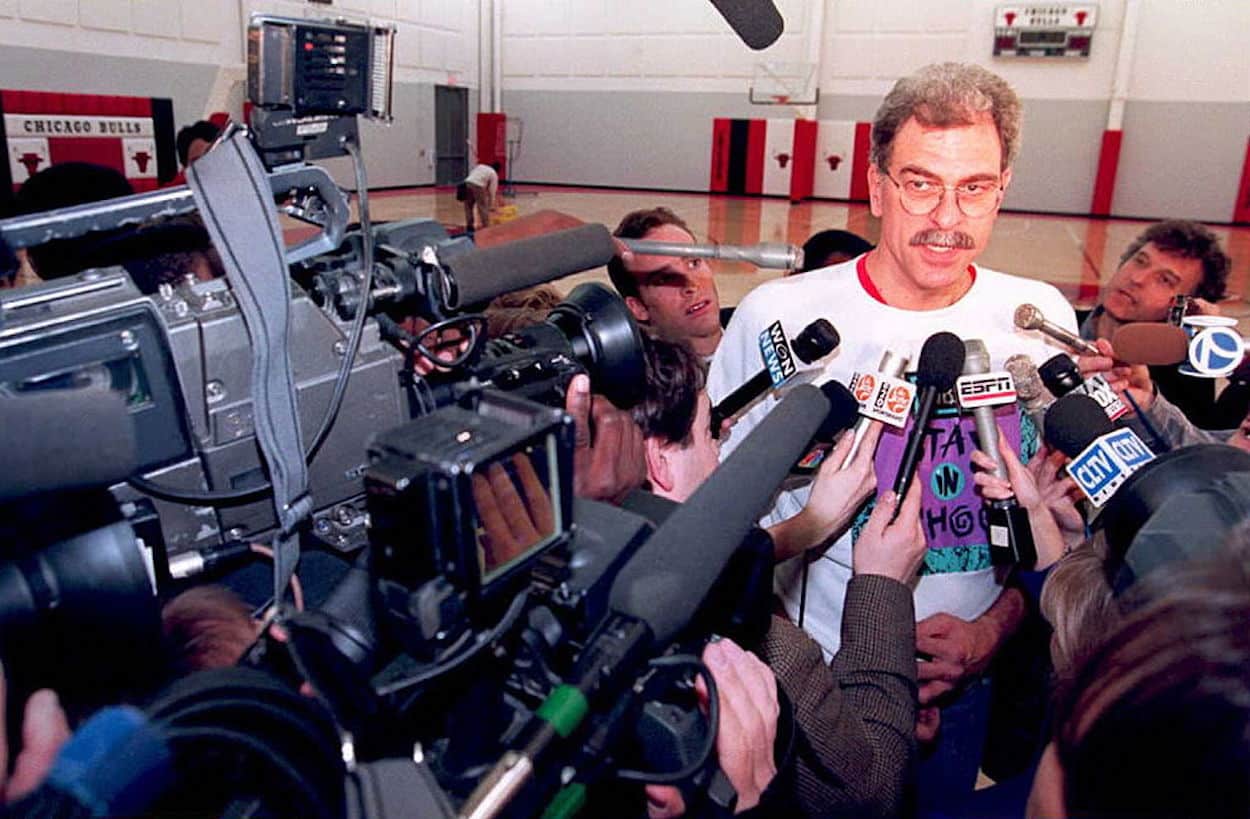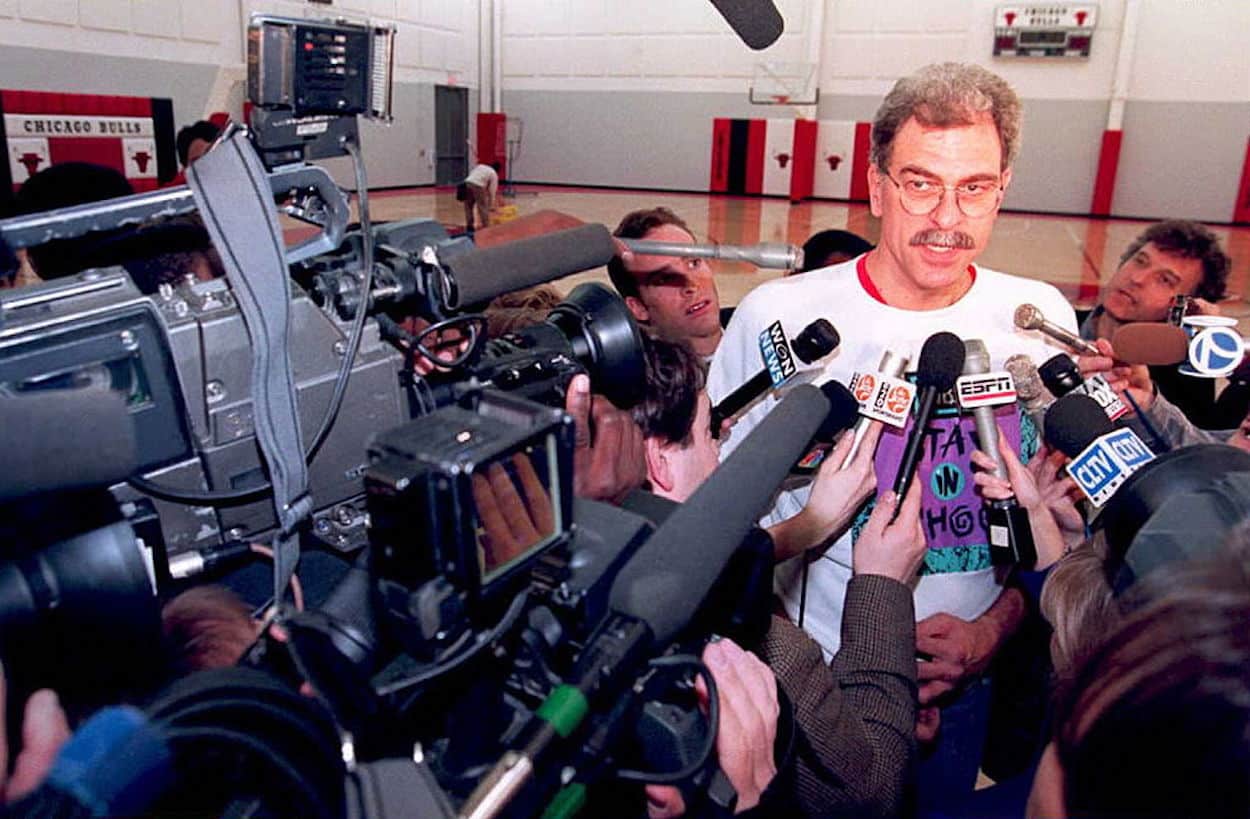 While there's no way to really know how much of a difference that lesson made to Phil Jackson, we can still take something away from the anecdote: Even coaches need to hone their craft.
As sports fans, it's easy to focus on players. They, after all, are the ones on the field, court, or whatever playing surface you prefer. Coaches, for the most part, are confined to the sidelines and the locker rooms; barring some extremely obvious decisions, it can be tough to see their impact.
That reality makes it easy to view coaches as fully formed entities. Whether you're talking about a tough taskmaster or a more accommodating player's coach, they simply do what they do until the day they retire. Phil Jackson, however, is a reminder that isn't the case.
While the Reagan-inspired revelation came relatively early in the Zen Master's career — he didn't become an NBA head coach until 1989 — it was still a valuable learning experience. A good idea, like the triangle offense, isn't enough to lead; you have to be able to explain the concept and have others buy-in. No matter how he learned that lesson, Jackson needed the crash course.
So, the next time your team's coach makes a questionable choice or otherwise drops the ball, keep Phil Jackson in mind. He learned an important lesson from a disappointing political result, which set the stage for 11 championships. Even if your bench boss doesn't turn into an all-time great, there's still room for coaches to grow.
Like Sportscasting on Facebook. Follow us on Twitter @sportscasting19 and subscribe to our YouTube channel.