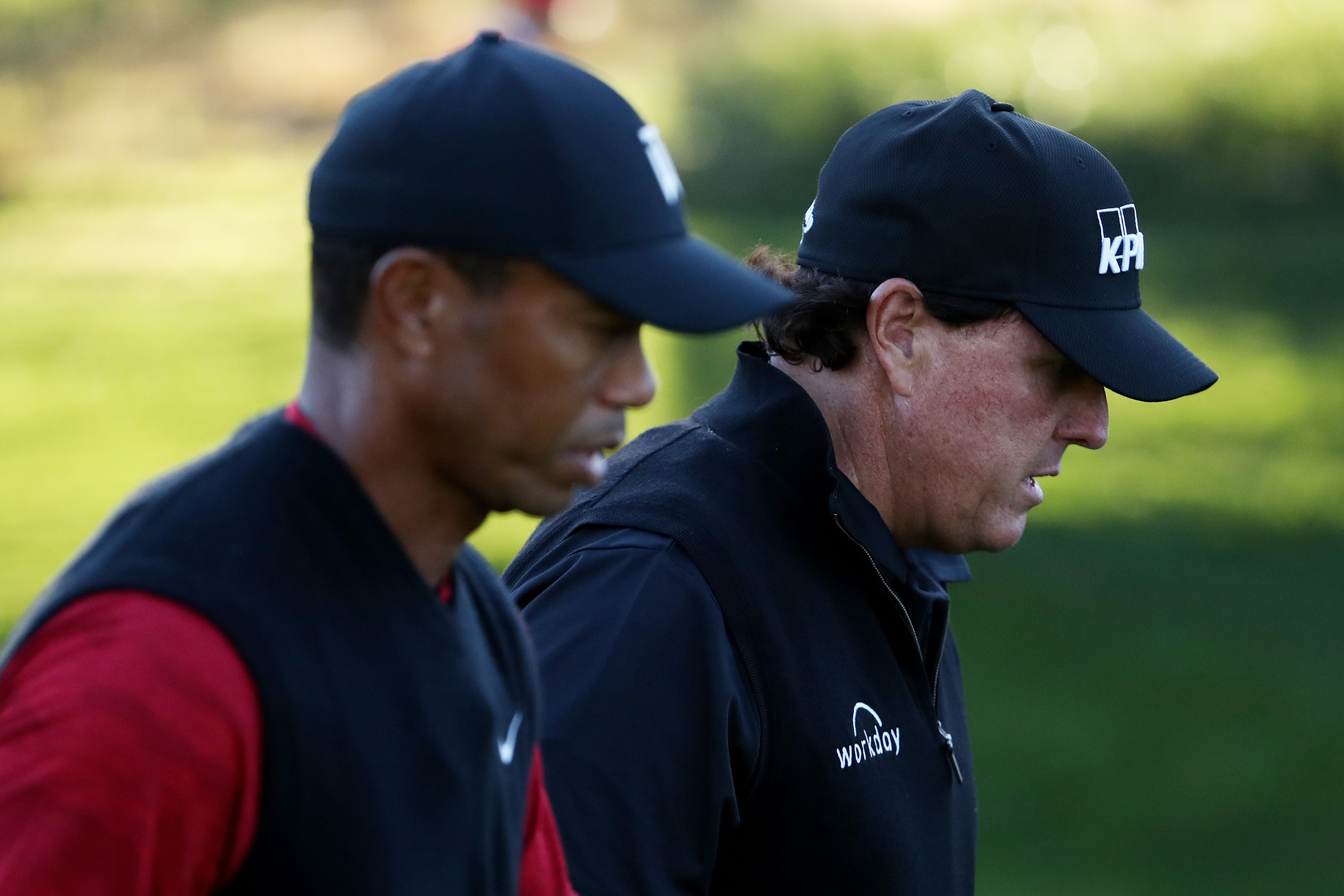 Phil Mickelson Shows Tiger Woods 'Random Appreciation' in Twitter Post
Phil Mickelson shows golf rival Tiger Woods some 'random appreciation' in a Twitter post that was sent Tuesday night.
Phil Mickelson admitted it was random. It was a nice gesture aimed at Tiger Woods. Maybe he was trying to take the lead and show the world that a random act of kindness is needed in these trying times. His tweet to Tiger Woods has sparked thank yous and appreciative thoughts across social media. The man they call Lefty claims it was nothing but 'random appreciation.'
Phil Mickelson's golf career
Phil Mickelson attended Arizona State on a golf scholarship and then quickly turned pro in 1992 after graduating. Mickelson, 50, has put together quite the professional career, collecting 44 PGA Tour victories. He is second to Tiger Woods on the all-time PGA career earnings list, raking in $92,107,252, according to PGATour.com.
Of Mickelson's 44 PGA Tour wins, he's won five major championships. Mickelson won the first of his three Masters Tournaments in 2004. He won that Masters with an 18-foot birdie putt on the final hole to defeat Ernie Els. With that win, Mickelson became just the third golfer with a left-handed swing to win a major. Mickelson also won the Masters in 2006 and 2010.
Mickelson has also claimed the PGA Championship in 2005 and then won the Open Championship in 2013. He is one of 12 golfers to win three of the four majors. Only the U.S. Open eludes him. He has finished second in the U.S. Open six times, the last coming in 2013.
Lefty's relationship with Tiger Woods
They sit among the top of the all-time PGA career money leaders. Phil Mickelson and Tiger Woods will forever be linked. They were both big-time competitors and now they are friends. It wasn't always that way as the competitiveness may have gotten in the way. They were rivals during their peaks and now they've gotten much closer.
During an interview on the Dan Patrick Show, Mickelson pointed to the time when he believed his relationship with Woods got stronger. "Our relationship turned around 2016 when we were working together for the Ryder Cup," Mickelson said. "He was an assistant captain. We spent a lot of time on the phone. When we worked together for a common goal, it brought us closer."
According to ESPN, Mickelson was there for Woods, who was struggling to get back after suffering from a back injury. "When I was trying to deal with the nerve (pain) in my back, trying to come back and trying to play and I wasn't very good, he always texted me some very encouraging words," Woods said. "On top of that, when you guys all saw how I was chipping so poorly (in 2015), my nerve and my back was not doing very good and I was flinching a lot, he offered numerous times to help. He's one hell of a competitor and it's always a challenge to try to beat him."
Mickelson's 'random appreciation' of Tiger Woods
It seemed to come out of nowhere, but Phil Mickelson posted a short note directed at Tiger Woods late Tuesday night. The message was straightforward and got right to the point. It was something that generated a lot of positivity, something that's been desperately lacking in the country lately.
"Dear Tiger, Thank you for all that you've done for this great game of golf," Mickelson posted on Twitter. "No one has benefited more than me and I just wanted you to know I appreciate you and all you've done. That's all. Thank you."
When someone replied to Mickelson's tweet and asked what sparked the tweet, Mickelson simply responded, "Random appreciation."