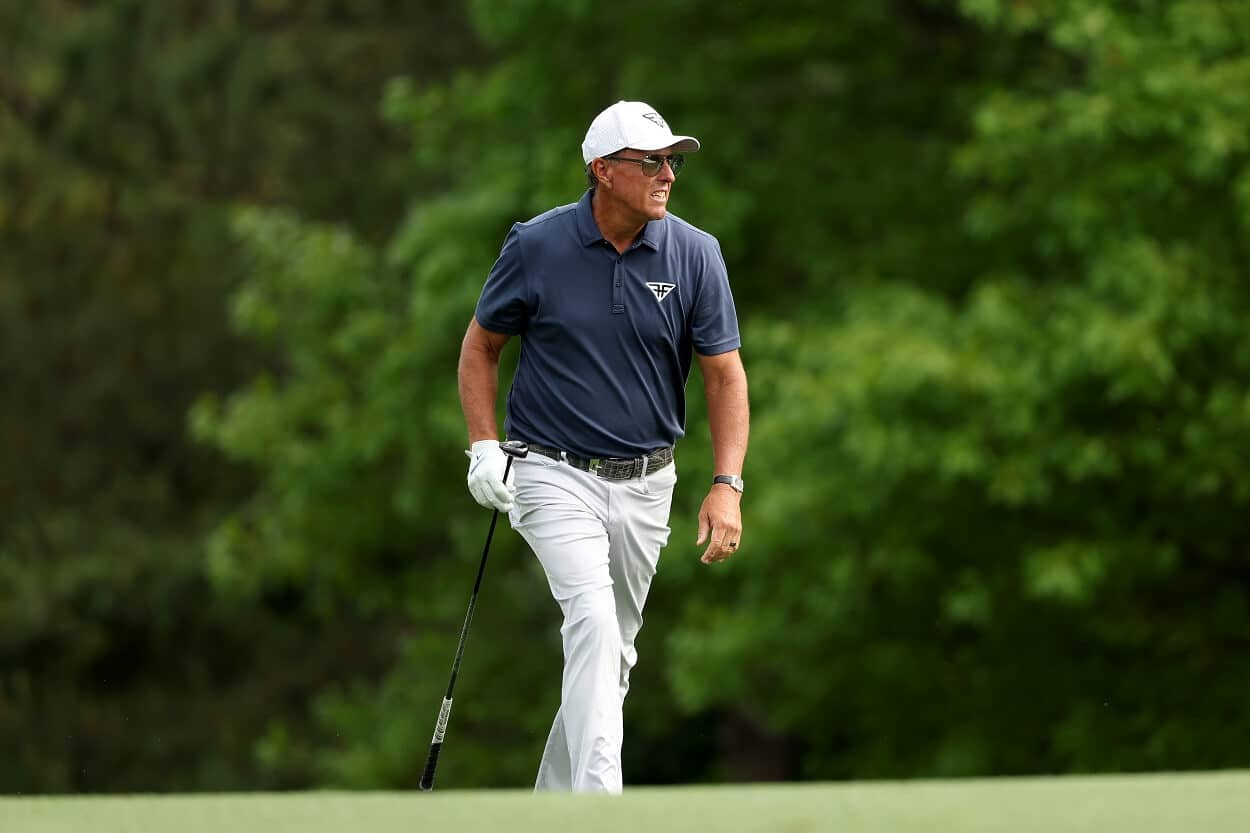 Phil Mickelson Torches Both Scottie Scheffler and Rory McIlroy in the Second Round of the Masters
Phil Mickelson was far better than both Scottie Scheffler and Rory McIlroy in the second round of the 2023 Masters.
Coming into this 2023 edition of the Masters, I genuinely gave Phil Mickelson no shot of making the cut. And I don't think I was wrong for thinking that. I also know I wasn't the only one.
Sure, Mickelson has a phenomenal history at Augusta National, one that started with him taking low amateur honors in 1991. And in 28 Masters appearances as a pro, he's recorded 15 top-10 finishes, including three victories. But since 2015, Lefty has cracked the top 20 just once, that being a tie for 18th in 2019, the year his longtime rival, Tiger Woods, won his fifth green jacket.
And let's get real here. Mickelson's play since joining LIV Golf has been atrocious. In the 10 starts for the Saudi-backed series (not including the Team Championship, which doesn't include an individual component), Phil has recorded just one top 10 and has an average finishing position of 31.3. Don't forget those are 48-player fields.
In his three starts this season, he finished 27th at Mayakoba, 32nd in Tucson, and narrowly escaped his worst-ever outing for LIV Golf last weekend in Orlando, finishing 15 shots back of winner Brooks Koepka in 41st.
But as he arrived at the Masters, Mickelson was adamant that he was close to turning things around. And turn things around he has. In Thursday's first round, Phil fired a 1-under 71, putting him in a tie for 26th. And he was even better on Friday. In fact, he was so good that he dusted the top two players in the world.
Phil Mickelson trounced both Scottie Scheffler and Rory McIlroy in the second round of the Masters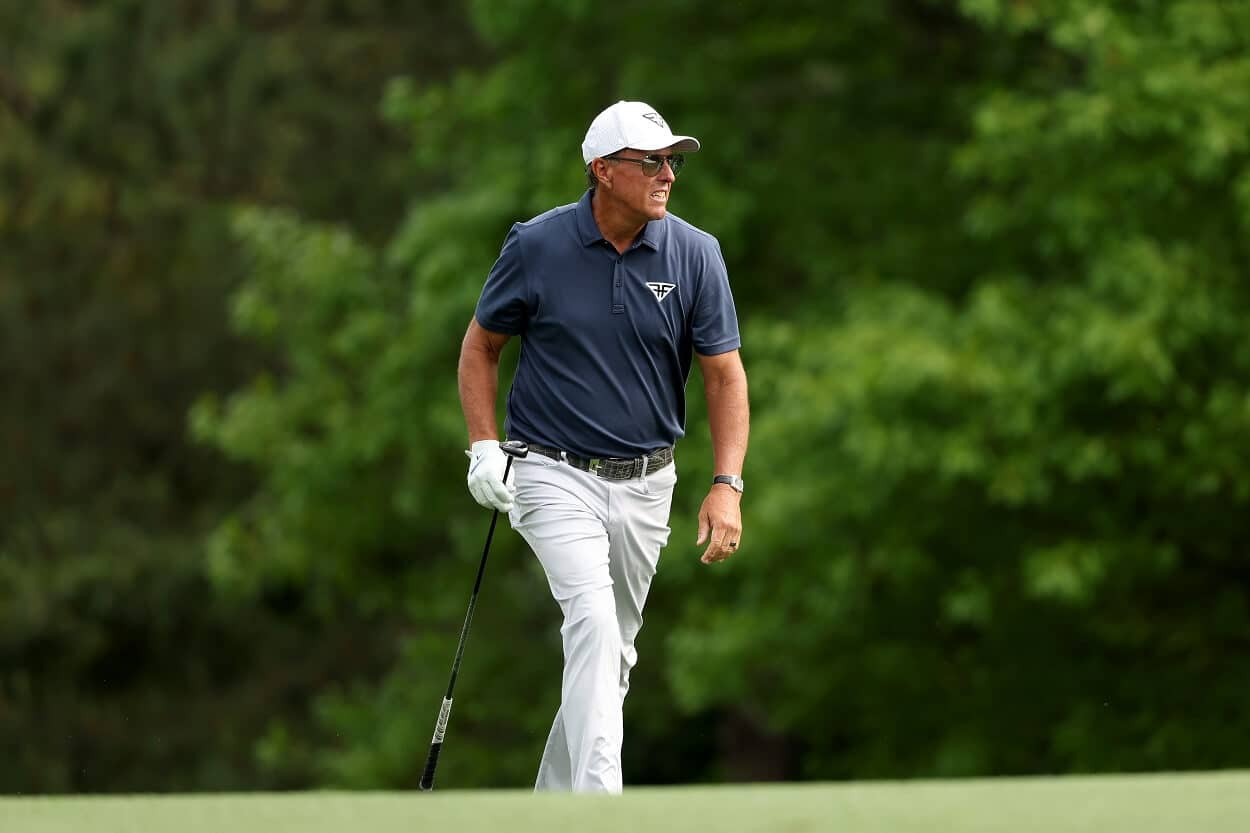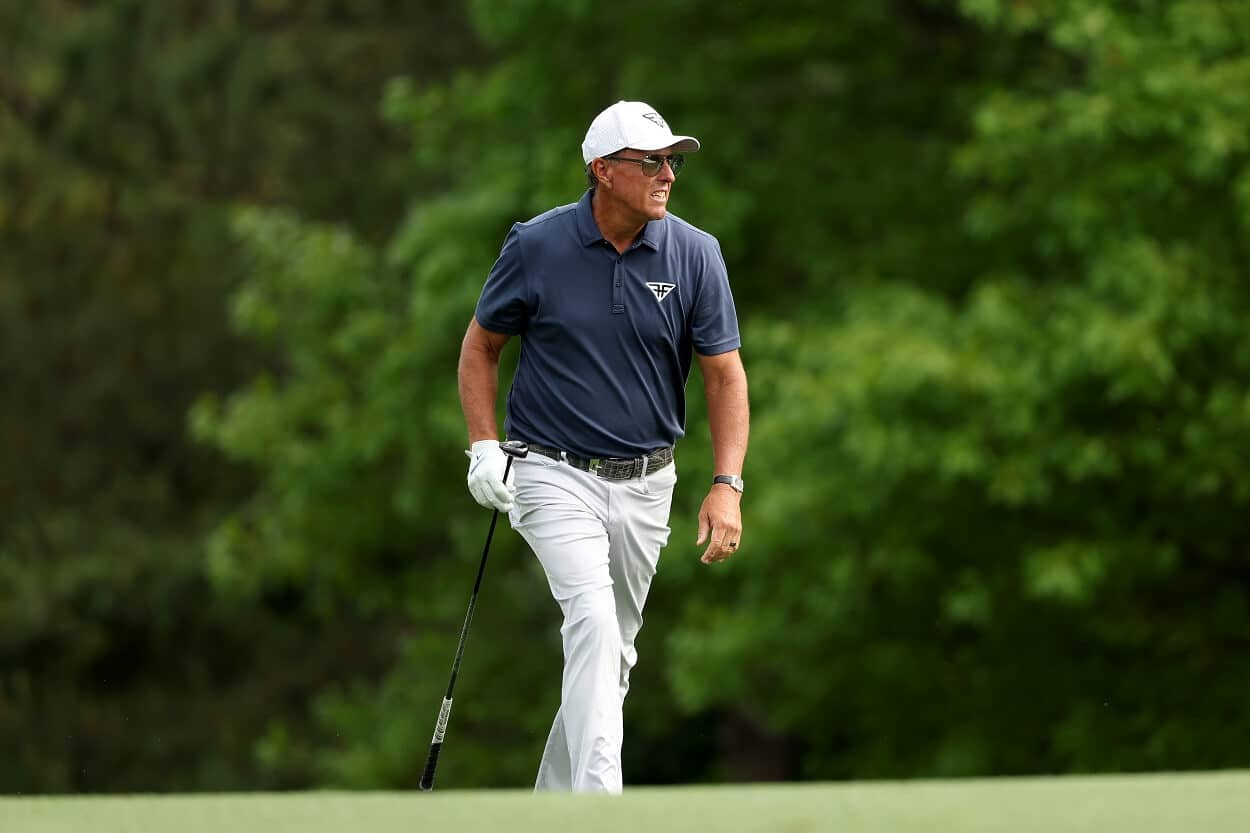 Mickelson was one of those fortunate enough to get his full round in before the weather change on Friday, and he certainly took advantage, making birdie at the first and then rattling off four straight pars on the tough opening stretch at Augusta.
His lone hiccup of the day came at the par-3 sixth, where he made double-bogey, but the 52-year-old got one of those shots back with a birdie at the par-5 eighth. After pars at nine, 10, and 11, he finished off Amen Corner on a high note, making birdies at both the par-3 12th and the redesigned par-5 13th.
Mickelson then parred the next four holes and finished strong with a birdie on the 18th after hitting his approach to about five feet, giving him a 3-under 69, which puts him at 4-under for the week. While he's eight shots back of fellow LIV Golf competitor Brooks Koepka, who sits at 12-under following a second-round 67, Mickelson was tied for 10th when he left the golf course.
Seriously, who saw that coming? And on a related note, who would have guessed that on a day where scoring conditions were somewhat favorable, Phil Mickelson would outplay both Scottie Scheffler and Rory McIlroy? And it wasn't even close. At around the same time Lefty was inching his way up the leaderboard, Scheffler and McIlroy were heading in the other direction.
McIlroy, who only needs a Masters win to complete the career Grand Slam, will have to wait another year as he shot a 5-over 77 and won't be around for the weekend.
And Scheffler, the top-ranked player in the world, played his worst-ever round at the Masters, shooting a 3-over 75. So he'll have a lot of work to do if he wants to join the highly exclusive club of back-to-back winners at Augusta.
Will Phil Mickelson win his fourth Masters? Probably not. But he's certainly proven that he's still got the game to compete with the best players in the world — at least this week.