Philadelphia 76ers Have a Brutal Record When It Comes to Trading Unhappy Stars
The Philadelphia 76ers find themselves in a position they've seen before. An unhappy star wants a trade. This time it's 2017-18 Rookie of the Year Ben Simmons, under the microscope all offseason because of his shooting problems. Giving Simmons what he wants while not giving away the star point forward will be the challenge for 76ers president of basketball operations Daryl Morey.
Morey finds himself in the same spot as past Philadelphia executives. Billy King pulled the trigger on the unpopular Allen Iverson trade in 2006 and didn't get fair value in return. In 1992, general manager Jim Lynam essentially gave away Hall of Famer Charles Barkley. Back to the late 1960s, when general manager Jack Ramsay gave Wilt Chamberlain his wish with a trade to the Los Angeles Lakers, it's a scenario in which the 76ers usually lose and lose big.
Chamberlain wanted to leave the Philadelphia 76ers in 1968
Chamberlain played with the Philadelphia 76ers for parts of four seasons. Team owner Irv Kozloff got Chamberlain for a song, giving up journeyman center Connie Dierking, guards Connie Dierking and Lee Shaffer, and cash. The San Francisco Warriors surrendered Chamberlain. That launched one of the best eras in 76ers history.
The immediate returns weren't great. When they made the trade, Philadelphia was 21–21 and finished the 1964–65 campaign at 40–40. But they took the Boston Celtics dynasty to seven games in the Eastern Division Finals. The 76ers followed that with three Eastern Division titles and a championship in 1967.
But after the Celtics upset them in the 1968 division finals, Chamberlain wanted out. Ramsay gave Chamberlain to the Lakers for Archie Clark, Jerry Chambers, and Darrall Imhoff. Clark wound up traded to Baltimore. Imhoff played two years before a trade to the Cincinnati Royals. Chambers went to the Phoenix Suns for another center, the immortal George Wilson, while still completing his Army commitment.
The Philadelphia 76ers valued profit over winning, according to Barkley
After the Philadelphia 76ers missed the playoffs in 1992, Barkley asked for a change of scenery. Shortly after taking the GM job, Lyman sent him to the Phoenix Suns for solid guard Jeff Hornacek and disappointing big men Andrew Lang and Tim Perry.
Lynam later made the deal worse by flipping the dependable Hornacek for the rapidly fading Jeff Malone. Hornacek helped the Utah Jazz to two NBA Finals. Malone helped Philadelphia go deeper in the lottery by missing 63 games with a foot injury. Then he went to Greece.
Philadelphia didn't return to the postseason again until 1999, averaging 24.3 wins a season the first six years after dealing Barkley.
For his part, Iverson didn't ask out of town. But King gave him a list of teams to choose from, and AI picked the Denver Nuggets. The return was The Professor, Andre Miller, the well-traveled Joe Smith, and two 2007 first-round picks.
Smith shares an NBA record with three other players, competing for 12 different teams in 16 seasons. Miller helped Philadelphia to two first-round exits before bolting for the Portland Trail Blazers as a free agent. In true King fashion, he turned two first-round draft choices into Daequan Cook and Petteri Koponen. Cook was traded on draft night to the Miami Heat for Jason Smith. Koponen never left Europe.
Now Morey is on the spot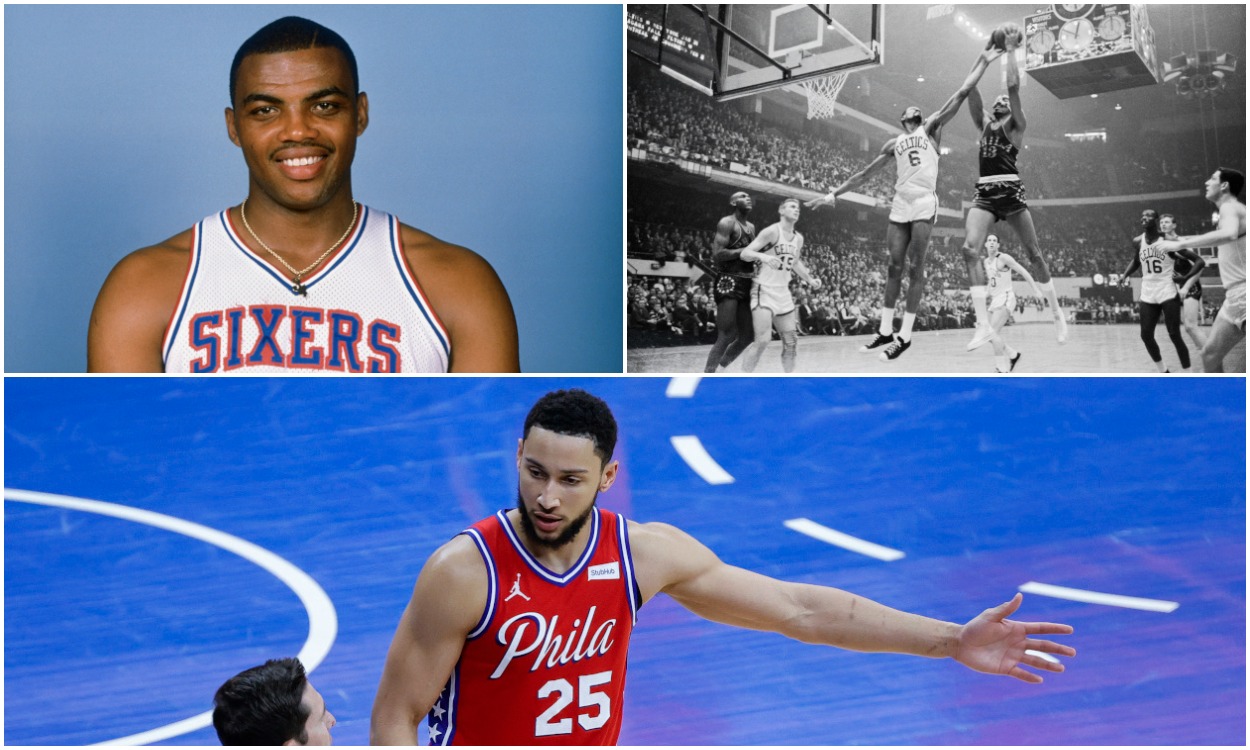 Daryl Morey is entering his second season as the decision-maker in the Philadelphia 76ers front office. He avoided the James Harden debacle with the Houston Rockets. But now he has a mess on his hands with Simmons.
Simmons had a nightmarish postseason for the 76ers. He shot 34.2% from the free-throw line and played late in games like a guy terrified of having the ball. That's not ideal for the guy running your offense. His playoff scoring numbers dipped from 16.3 points in 2018 to 13.9 in 2019 and 11.9 in 2021. He missed the 2020 playoffs with a knee injury.
Meanwhile, his free-throw shooting dropped off in the same span from 70.7% in 2018 to 57.5% the following year. Last year he entered "let's make Shaquille O'Neal look like Stephen Curry" territory.
Simmons reportedly wants to go to one of three teams in California. The general assumption is that he does not include the Sacramento Kings on that list because no NBA player seems to willingly go to Sacramento unless there are no other options available.
Morey's challenge is to get something close to fair market value for Simmons rather than giving him away. He has the advantage that Simmons is under contract for four seasons (and more than $140 million). Let's see if he can fare better than his predecessors did when trying to accommodate an unhappy superstar.
Statistics courtesy of Basketball Reference.