Phoenix Proved Just How Far Apart Former Team Penske Teammates Joey Logano and Brad Keselowski Truly Are
Former Team Penske teammates Joey Logano and Brad Keselowski were on opposite sides of the NASCAR Cup Series a year ago, and Sunday's race at Phoenix Raceway reinforced where their two Ford teams currently sit in the series.
Logano and Keselowski are both former champions of the series, and Keselowski actually lobbied team owner Roger Penske to bring Logano aboard after Joe Gibbs Racing did not renew his contract after the 2012 season. 
Keselowski, 39, won the 2012 Cup Series title with Team Penske and won all but one of his 35 career Cup Series victories in the No. 2 car for Penske. His driving talent had not wavered by the time he left the organization in 2021, as he finished eighth or better in the points standings each of his last five seasons at Penske, but he had a career/business opportunity that took his career on a new path.
Brad Keselowski has experienced struggles while trying to restore RFK Racing
Brad Keselowski bought into what was Roush Fenway Racing at the end of the 2021 season to become a co-owner of what is now Roush Fenway Keselowski Racing. He took over the seat of the No. 6 car, but he has had to endure growing pains as he attempts to pull RFK Racing from the middle-of-the-pack doldrums it had experienced for nearly a decade.
A car owned by Jack Roush had made the playoffs only twice since 2014, when Keselowski came on board. Keselowski and teammate Chris Buescher did not make the playoffs last year, either, but Buescher won the September night race at Bristol Motor Speedway, and the organization showed positive gains in the second half of the season.
Meanwhile, Joey Logano is still riding high with Team Penske at age 32, much like Keselowski did for much of the previous decade. Logano won his second Cup Series title in 2022 and has finished eighth or higher in the points standings in nine of his 10 seasons with the company, including the 2018 championship.
The 2023 season has been relatively similar for both drivers. They currently reside next to each other in the points standings, in fact, as Logano is in 12th, three points ahead of Keselowski in 13th. Their races at Phoenix showed how far apart those teams still are, however.
Keselowski began the 312-lap race with a season-best fourth-place starting spot. Logano had his worst qualifying effort of the season and started 16th.
The two drivers stayed near their starting positions for much of the race. Keselowski finished ninth in Stage 1 and third in Stage 2, while Logano did not receive any stage points and had to battle Ricky Stenhouse Jr. at the end of Stage 1 to be in the lucky dog position to get his lap back at the stage break.
Logano had moved himself up to 15th when a caution came out with 11 laps to go, and Keselowski sat seventh. They restarted 14th and ninth, respectively, when another wreck sent the race into overtime.
Keselowski's No. 6 car started to have power issues, which relegated him to an 18th-place result despite what was arguably his best non-superspeedway race since he made the move to RFK Racing more than a year ago. He had his third-best starting spot since joining RFK and ran inside the top 15 for 97.2% of the race, yet still finished 18th.
Conversely, Logano had been a lap down early in the race and spent only 30% of the event in the top 15, but he still took home an 11th-place finish.
Joey Logano's team showed resilience that Keselowski's team still lacks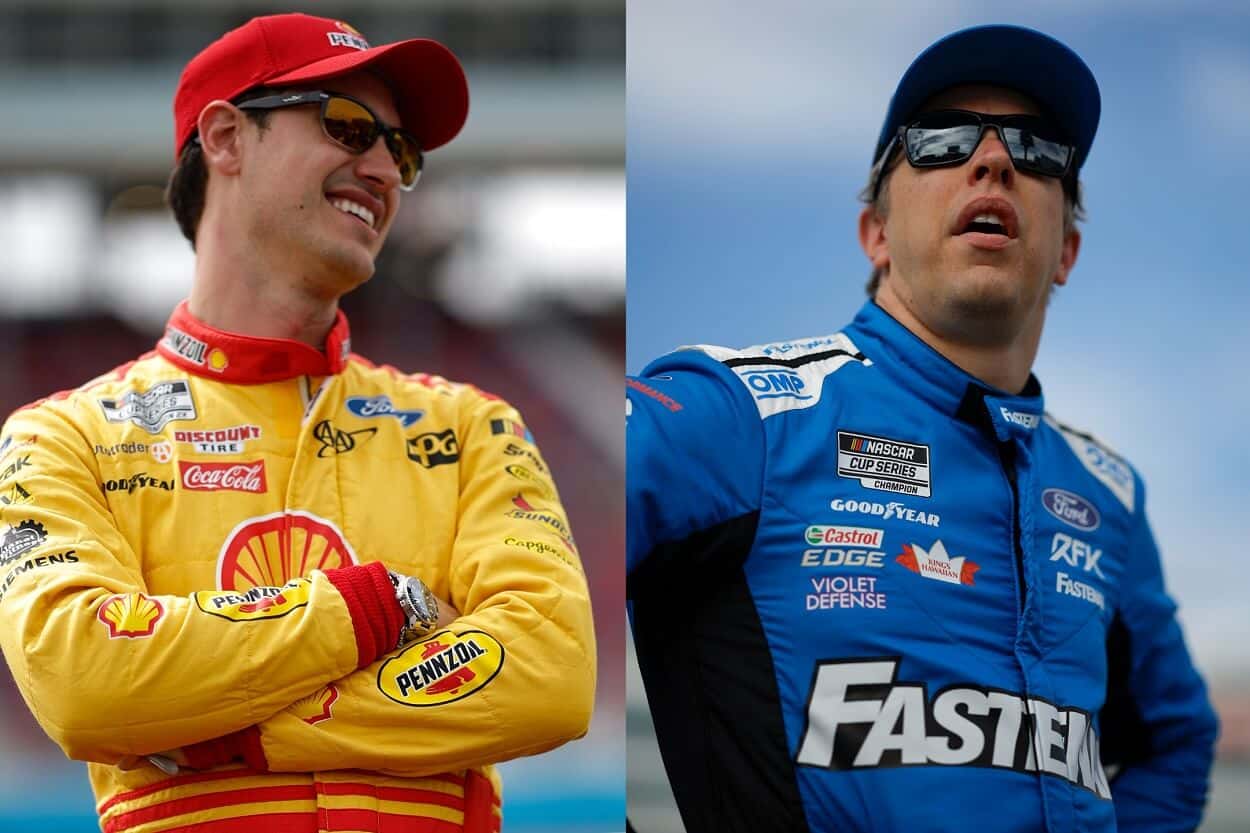 The ability to make a good result out of a race that was largely a struggle is typically a trademark of championship-quality teams. Logano and his No. 22 team showed they are still in that realm, while Keselowski's No. 6 team showed there is still substantial room for improvement. Keselowski might not have been able to drive any differently in the final laps, but mechanical issues are an aspect of racing that tests a team's depth beyond just the crew at the track.
With the caveat that a regular-season win essentially makes any talk about points standings moot, Keselowski could have been tied with Ryan Blaney for eighth in the standings if he had not lost those nine positions in the final laps of the race. Conversely, Logano would be behind Buescher in 14th if he had not rallied late in the event.
These types of races might not directly impact each driver's championship potential this early in the season. Still, they do give some insight into which teams are deep enough to get positive results out of bad days rather than give away good finishes after having a strong car throughout the weekend.
It's still early, of course, but right now, Joey Logano and his No. 22 Team Penske crew appear capable of putting up a strong defense of their title this season. In contrast, Brad Keselowski and the No. 6 RFK crew have seen how much improvement is still necessary to become a championship-contending team.