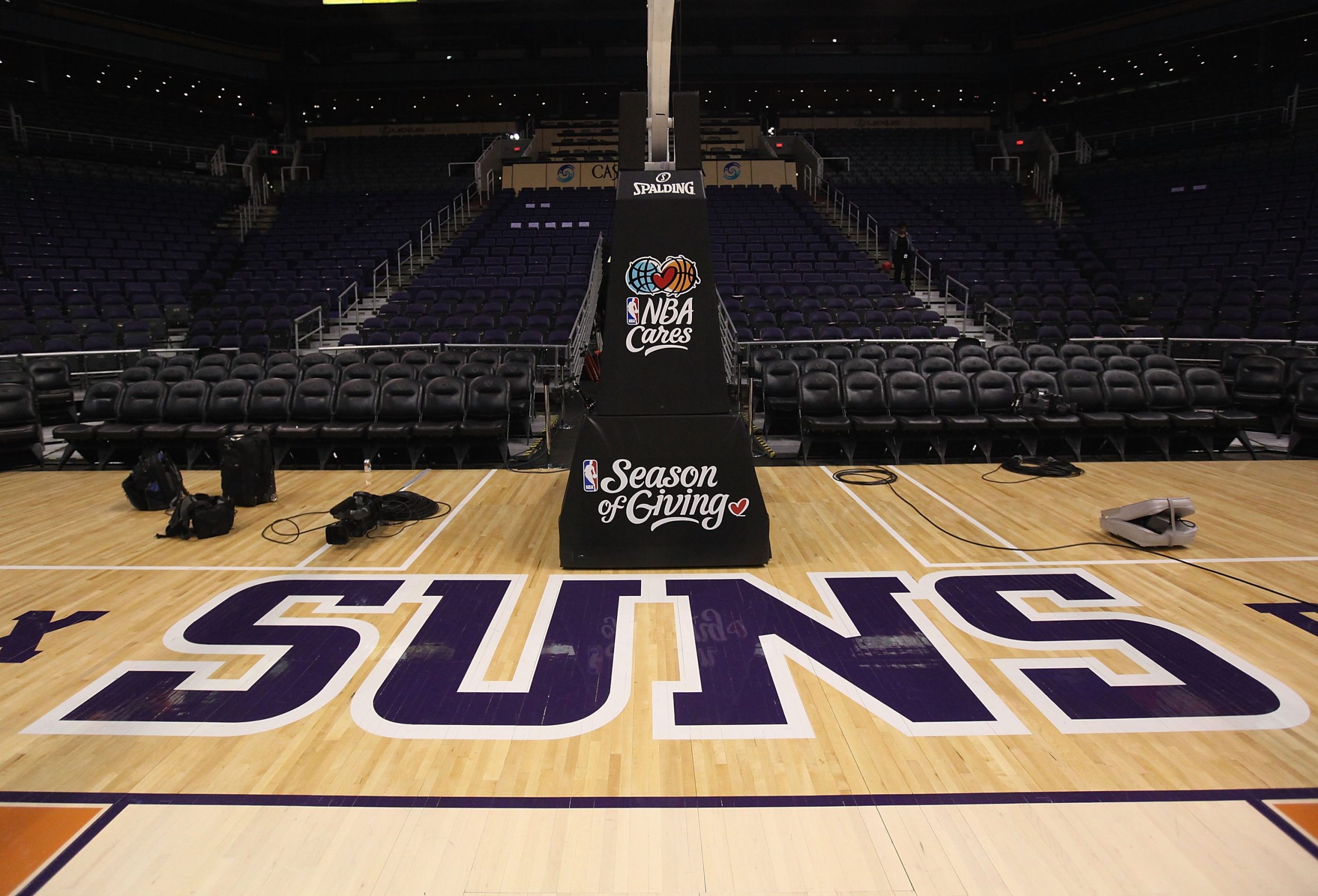 Phoenix Suns Fan Nick McKellar Has His Own Action Figure and the Bidding War Has Escalated to Insane Levels
Nick McKellar has become the talk of the Phoenix Suns after getting into a fight.
Talk about capitalizing on the moment. Phoenix Suns fan Nick McKellar, also known as the "Suns in four" guy, has seen his fame grow to new levels ever since Game 3 of the Western Conference Semifinals. McKellar, who lives in Colorado, was at a Denver Nuggets home game to cheer on his Suns. After some good-natured chirping escalated into a fight, McKellar, decked out in a Suns jersey, walked away a hero, even to Nuggets fans. His fame has grown significantly and shows no signs of slowing down, judging by the price of a quickly-made action figure of McKellar.
Nick McKellar and his famous 'Suns in 4' line are reaching new heights
In a viral video that made its way through social media, McKellar found himself in a fight after two Nuggets fans confronted him after McKellar was doing some good-natured trash-talking. His Suns were about to go up 3-0 in the series, but two Denver fans didn't seem to appreciate all the smack talk.
One of the fans threw beer on McKellar and then issued a sucker punch. That's when the "Suns in four" legacy was born. McKellar defended himself and calmly threw in a few uppercuts for good measure. When he finished pummeling the fan, he flashed four fingers, yelling "Suns in four," implying a Phoenix sweep was on the way. The Suns did with the series 4-0.
Since that night, McKellar has been everywhere. He's conducted several interviews and has a t-shirt deal with Barstool Sports with the "Suns in four" phrase slapped on it.
Suns star guard Devin Booker even reached out to McKellar and invited him to attend Game 1 of the Western Conference Finals in Phoenix.
Nick McKellar has his own Phoenix Suns action figure and the bidding war is crazy
McKellar's face has popped up everywhere lately. He's on television, radio, and podcasts. He even has his own action figure on the market. The action figure is generating quite a bit of interest on ebay.
On Friday, ebay seller zachp81 put the figure on the market. It's an unopened action figure of McKellar wearing his Steve Nash jersey and holding up four fingers. It's marketed as a 1/1 piece autographed by McKellar. The figure is made by Hands Of Doom Toys.
In the description, the seller writes a portion of the proceeds will go to charity. The bidding opened at 99 cents, and the auction ends Wednesday night. As of mid-afternoon Tuesday, 99 bids had been placed and the bidding had reached $6,600.
McKellar was a huge hit at the Phoenix Suns game Sunday
McKellar attended Game 1 of the Western Conference Finals against the Los Angeles Clippers and was a star among stars. He received an ovation from the crowd, and fans stood in line waiting to take photos with their newfound star.
Booker's team reached out to McKellar after the incident in Denver. He sent him tickets to the game and an autographed jersey. Although he's still trying to process the whole fame thing, he's taking full advantage of his new lifestyle.
I'm just trying to take it step by step," he said on the Pardon My Take podcast. "Just trying to be chill with it."
It's going to be tough being "chill" with it when one day you're getting into a fight as Nick McKellar, and the next day you have a $6,600 action figure of you as the "Suns in four" guy.