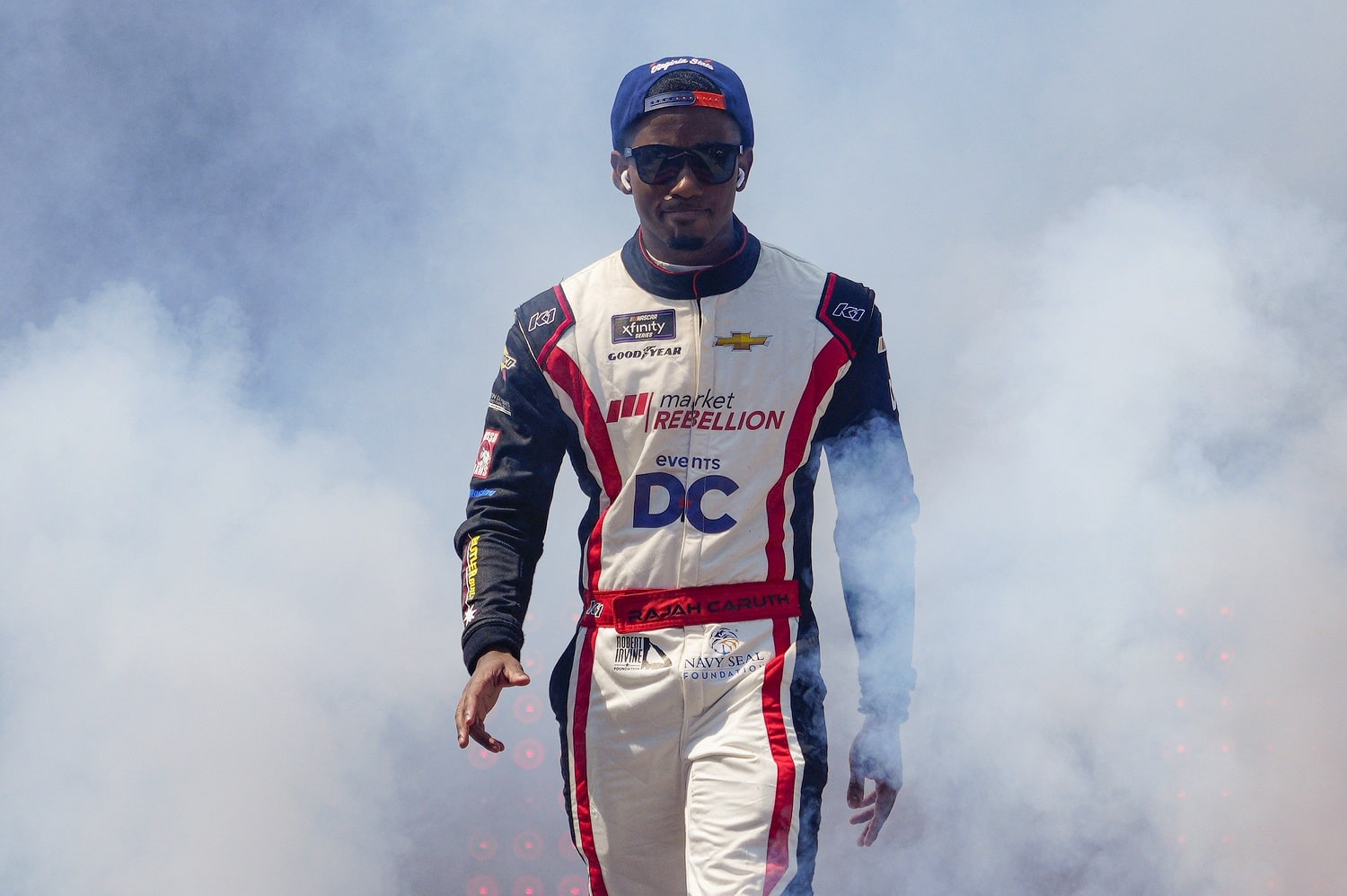 Rajah Caruth Experienced 1 of the Biggest Issues Holding Back Young Drivers
Rajah Caruth had too much time to think following a race-ending mistake last season. Now, he enters the fast-paced world of a full season of Craftsman Truck Series competition.
It's funny to hear Rajah Caruth speak about how his upcoming season with GMS Racing is the opportunity he's been waiting for his whole career. After all, he wasn't even born yet when Kevin Harvick made his first 40 or so NASCAR Cup Series starts.
Nevertheless, the excitement is justified. Caruth's first full-time ride is going to be with a team that's placed a driver in the top 10 of the Craftsman Truck Series for nine consecutive seasons. The fact that Maury Gallagher has put his faith in a 20-year-old driver with 11 races in the Xfinity and truck series under his belt speaks to his potential.
Now that it's a full-time job, however, Caruth will need to keep his head in the game and show both competence and confidence every week, a lesson than came into play this past season.
Rajah Caruth is in an enviable position in NASCAR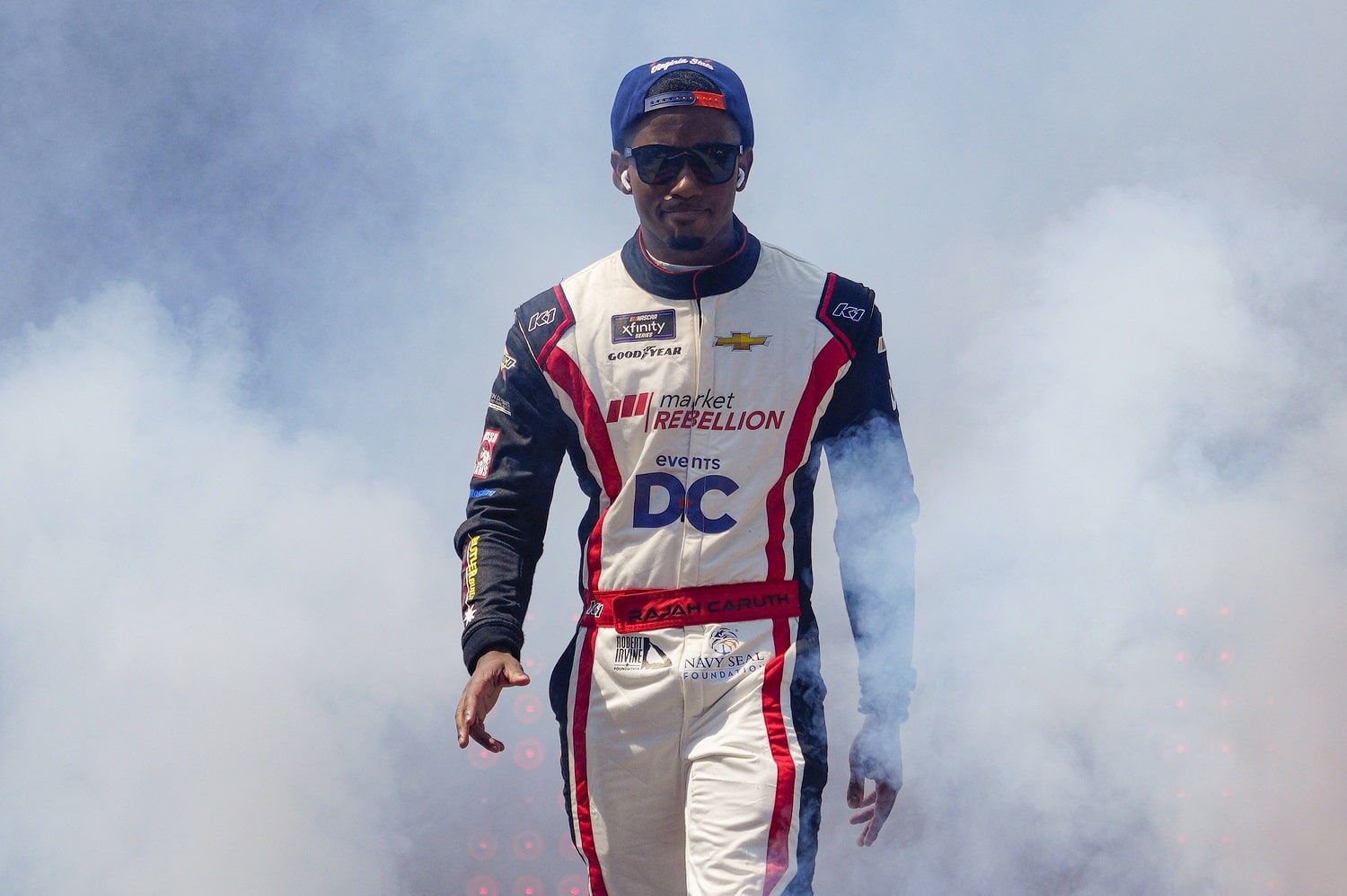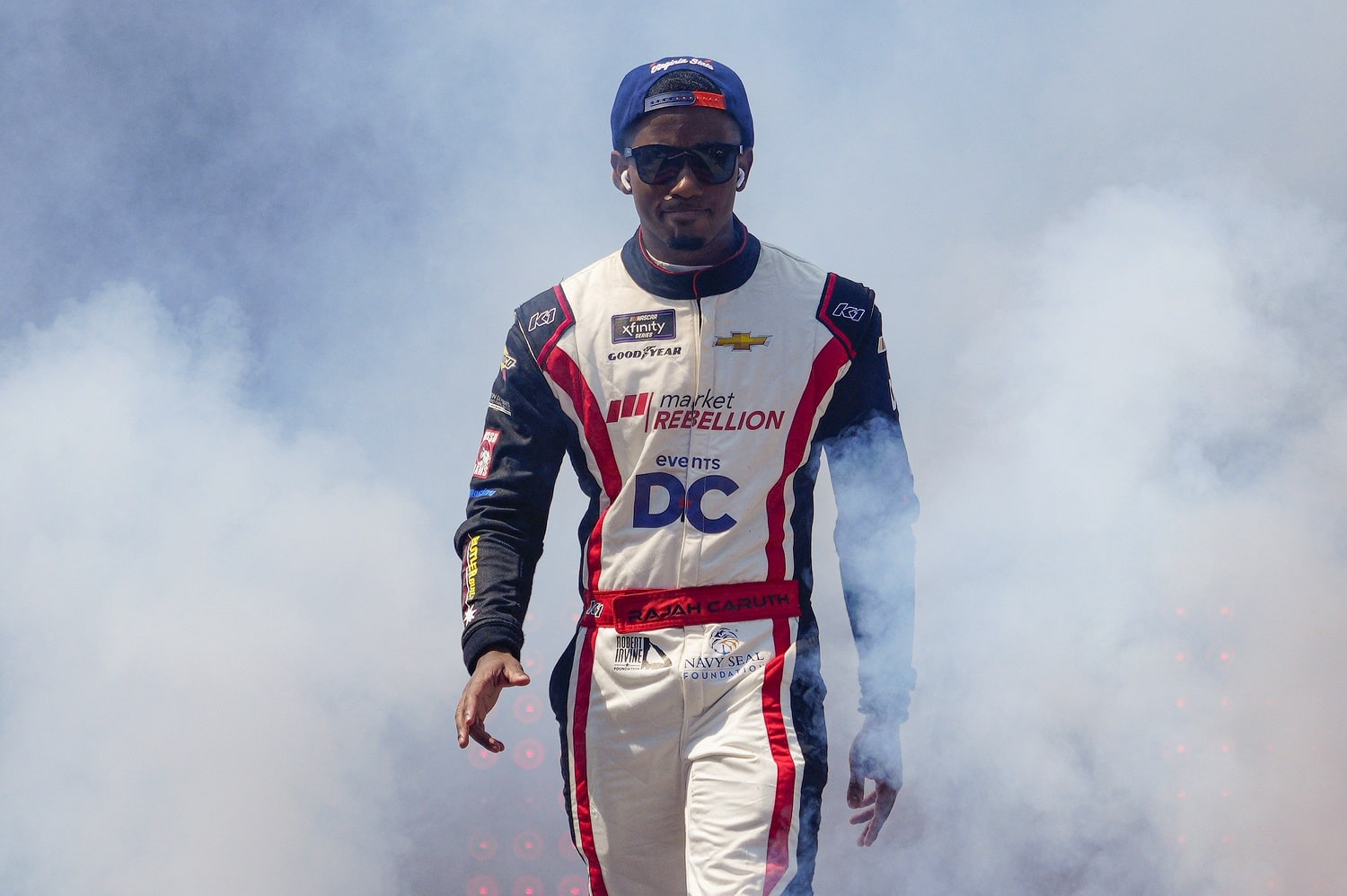 Rajah Caruth has come flying through the developmental ranks since being accepted into the Drive for Diversity program and cutting his teeth in iRacing as a teenager.
He's yet to win a race in two seasons of ARCA Menards competition interspersed this year with 11 rides in NASCAR's two lower-tier national series, but eight top-five showings in the national ARCA series this summer earned him third place in the standings.
With Jack Wood departing for Kyle Busch Motorsports and GMS Racing owner Maury Gallagher committed to returning to three full-time trucks, Caruth has landed in an enviable spot for 2023. Gallagher's team is a major player; Johnny Sauter (2016) and Sheldon Creed (2020) won titles in his trucks, and Zane Smith was the runner-up in 2020 and '21.
"It wasn't a situation of they wanted me for what I could bring to the team and a funding standpoint," Caruth told The Podium Finish. "It was like, 'Nah, we want you as a driver for us for now and hopefully the future, and we're going to do whatever it takes to get you here.'"
Rajah Caruth experienced one of the biggest issues for a young driver
Up-and-coming competitor Rajah Caruth took on four truck series races for Spire Motorsports and seven in the Xfinity Series for Alpha Prime Racing in 2022. His best showing was 11th place in his truck debut at World Wide Technology Raceway at Gateway.
Seven weeks after that, Caruth experienced an incident that he admits knocked him off the game. Racing Xfinity cars at Pocono in mid-July, Caruth made contact with Alex Labbe on Lap 2. Both drivers spun exiting Turn 3 and hit the inside wall. Caruth said the day-ending wreck resulted from a mistake on his part, and he couldn't simply shake it off.
"I didn't really handle it the best way mentally for really like the month, month and a half after. It really just messed up my swagger. I had no confidence. Like, I was just at kind of a low point. … That was really hard because I'd never really had a mistake like that."

Rajah Caruth
That's a common malady for young drivers. Caruth was in just his third race for the team and wanting to make a good impression. Because of scheduling, he didn't make another start for Alpha Prime Racing until Sept. 10. In the interim, he made one start in the truck series at Richmond, finishing 25th.
That's a lot of idle time during which self-doubt can be quick to set in.
Jimmie Johnson can be a key to the young driver's growth
On Dec. 6, GMS Racing made the announcement that it had signed Rajah Caruth for the upcoming Craftsman Truck Series season. His teammates will be Daniel Dye and Grant Enfinger. Almost immediately, Jimmie Johnson posted his congratulatory message for Caruth on social media.
Like Caruth, Johnson is a newcomer at GMS – though on an entirely different level. The seven-time NASCAR Cup Series champion has ended two years away from NASCAR to concentrate on IndyCar and IMSA competition by joining Petty GMS as a minority owner as well as a part-time Cup Series driver.
Dye and Enfinger will be helpful as Caruth adjusts to the day-to-day rigors, but Johnson figures to be an ideal mentor in handling the bigger picture.
"I've got to go through some experiences on my own," the youngster said, "but at the same time, I mean, I've got one of my heroes, Jimmie Johnson, that is not only a co-owner of the team but a driver here. That will be invaluable."
Got a question or observation about racing? Sportscasting's John Moriello does a mailbag column each Friday. Write to him at [email protected].