Jeffrey Earnhardt Lands His Overdue Opportunity but Must Produce Quickly
When news broke on Tuesday that Alpha Prime Racing was giving Jeffrey Earnhardt a full-time spot in the 2023 NASCAR Xfinity Series, the social media reaction was almost entirely positive.
The sentiment is understandable. Team president Tommy Joe Martins is taking a leap forward with his team's development, and there's widespread fondness among racing fans for the grandson of the legendary Dale Earnhardt. It's a win for everyone if Earnhardt harvests a slew of top-10 finishes and perhaps challenges for a playoff spot.
That being said, Earnhardt will need to score his fair share of successes in the upcoming NASCAR season. Martins is sticking his neck out with the changes he's making and won't have the luxury of being as patient as most established teams.
Jeffrey Earnhardt is part of Alpha Prime Racing's growth process
While Alpha Prime Racing fielded two cars for the 2022 Xfinity Series, fans couldn't tell the drivers without a scorecard. Eleven competitors took turns behind the wheel, and only Ryan Ellis (11) and Stefan Parsons (12) raced more than seven times in the Nos. 44 and 45 Chevys.
There were a combined two top-10 results in 64 starts, but the season served as a good shakedown for president Tommy Joe Martins, who was the organization's exclusive driver the previous two seasons. While fielding two cars each weekend isn't twice as expensive as fielding one, the logistics can be daunting, particularly when a quarter of the team's races ended in mechanical failures or wrecks necessitating additional work back at the shop.
The team needed to go through that as a step toward competing for playoff spots and championships. Now, APR is telegraphing the possibility of running three cars in 2023, which would truly stretch resources in a way the team hasn't yet experienced:
Jeffrey Earnhardt was introduced this week as a full-time driver who'll be playoff-eligible.
Open-wheel convert Sage Karam and Ellis have been announced as part-time drivers, and their deals seemingly fill the schedule for Alpha Prime's second car.
Fox Sports' Bob Pockrass reported on Twitter that he expects the team to make a car available for Parsons at times while also accommodating Rajah Caruth for some races.
Jeffrey Earnhardt nearly broke through in 2022
Without a doubt, Jeffrey Earnhardt's appearance in the Talladega spring race was one of the underrated moments of the 2022 Xfinity Series. While it felt gimmicky beforehand, Richard Childress handed the keys to the No. 3 Chevy to Earnhardt. Making the most of his ride in a car so closely associated with his Hall of Fame grandfather, the Mooresville, North Carolina, native captured the pole and then placed second to Noah Gragson in the race.
That was Earnhardt's only appearance for Childress, but he did make a dozen other appearances for Emerling-Gase Motorsports or Sam Hunt. Alas, their equipment was in no way comparable, and the best he could do was seventh place at Nashville.
Consequently, Earnhardt is still looking for his first NASCAR victory. He has run full seasons in both the Cup Series and Xfinity Series as well as a handful of truck races, by Earnhardt hasn't visited Victory Lane in a combined 230 attempts.
The window for proving himself could be short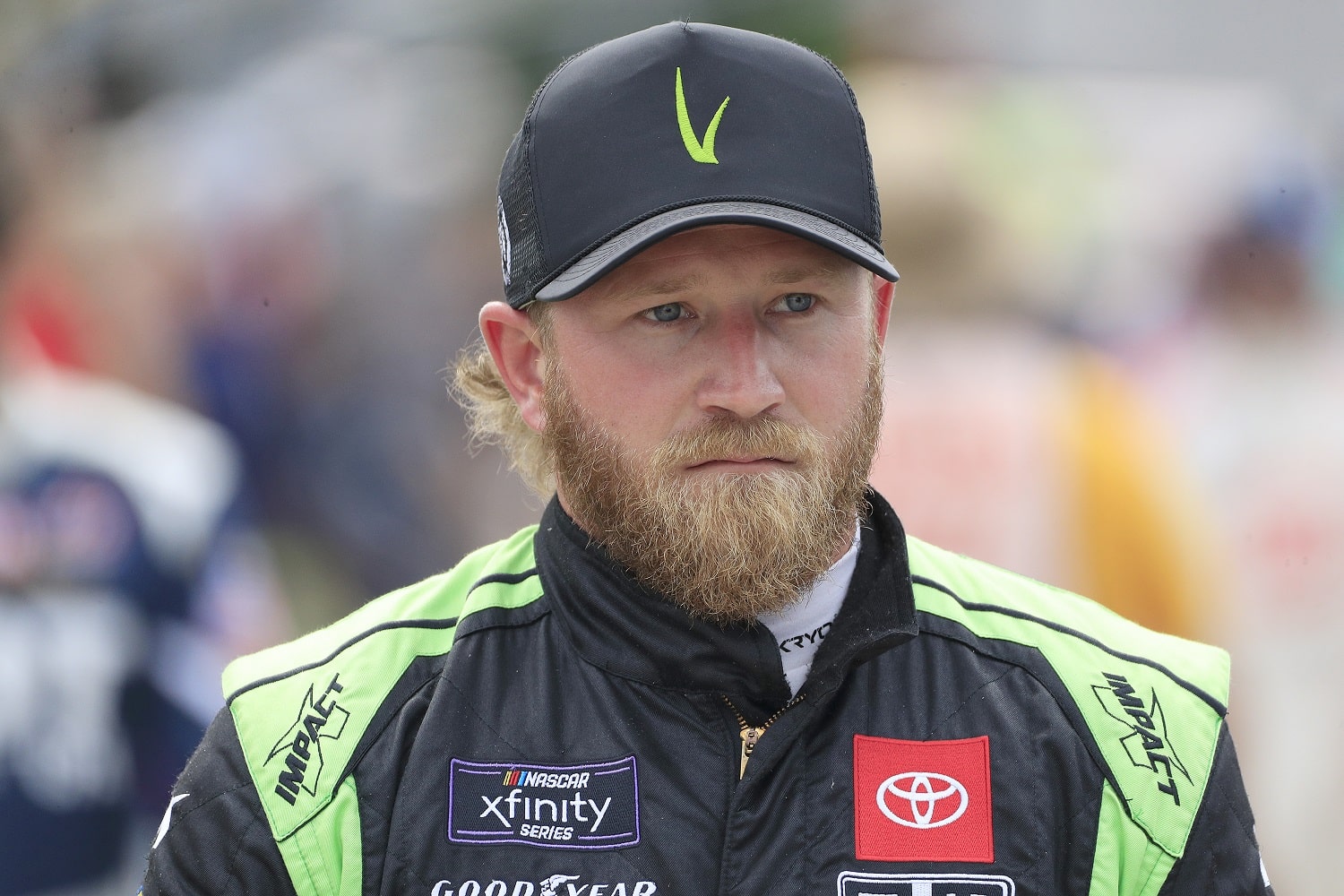 Jeffrey Earnhardt indicated that the decision not to return to JD Motorsports for the 2022 Xfinity Series season was his. After nothing better than 11th place in 58 starts there, he said his goal was to pursue rides for a top-tier team, even if it meant a limited schedule.
That didn't pan out as hoped, and now he's back to full-time driving for a team that's potentially a step up from JDM but still needing to establish itself.
"We're so excited to have Jeffrey with us next season," Tommy Joe Martins said in the Alpha Prime Racing announcement. "Jeffrey has been a competitor and a friend to me for a few years now. When Caesar (Bacarella) and I started this team last year, we both talked about having Jeffrey at the top of our roster, so to see this all come together for 2023, he and I both feel like we finally got our guy."
The challenge facing Earnhardt, 33, is that APR has an abundance of drivers, all with approximately the same NASCAR credentials as him – which is to say minimal. Employing a full-time driver and presumably adding a third car indicate the team is intent on making a mark in the second-tier series.
Should Sage Karam and/or Ryan Ellis score a breakthrough in a part-time role, Martins and Bacarella could have a tough decision in 2024, especially if sponsorship money slips away in a potential recession or if Earnhardt doesn't perform as hoped. On the plus side, ForeverLawn's financial backing is following Earnhardt to his new destination.
"I'm fortunate to have my sponsors from last season continuing their support and we've got some new partners onboard," he said. "I'm looking forward to putting on that bowtie and leading this team to their first victory next season."
That would be huge personally and for a team with growing ambitions.
Got a question or observation about racing? Sportscasting's John Moriello does a mailbag column each Friday. Write to him at [email protected]