Jeffrey Earnhardt Is Looking for a Fresh Start in the Xfinity Series, but Prospects Are Bleak
Article Highlights:
Jeffrey Earnhardt has announced his departure from JD Motorsports
Earnhardt is part of the family's fourth generation of racing
Xfinity Series lineups remain in flux for 2022, but finding a new opportunity could be difficult
There is an axiom that says it's always the third generation the screws up a family business. Grandpa builds it, mom or dad grows it, and then the kids run it into the ground. Technically speaking, Jeffrey Earnhardt is fourth generation when it comes to racing, but you get the idea.
The grandson of Dale Earnhardt and nephew of Dale Earnhardt Jr. is looking for his next NASCAR ride, but he's probably going to find Xfinity Series interest in him to be softer than the New York Jets' defense.
Jeffrey Earnhardt's Xfinity career at JD Motorsports is over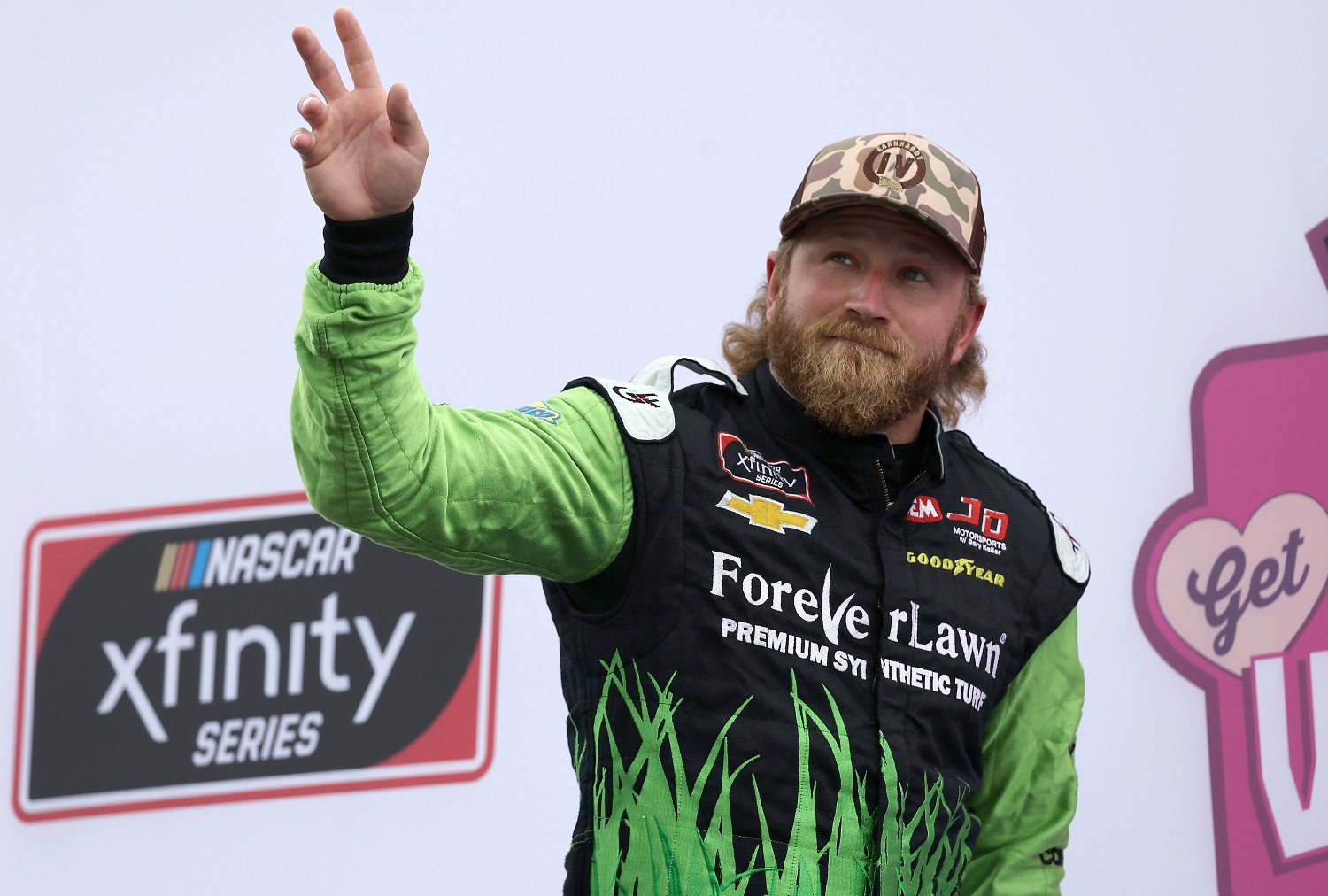 While the racing community was still busy digesting Kyle Larson's victory at Phoenix Raceway to win the NASCAR Cup Series championship and cap off an impressive season-ending weekend, Jeffrey Earnhardt went on Facebook on Nov. 9 to announce he won't be returning to JD Motorsports in 2022.
Earnhardt, 32, drove the No. 0 Chevy for the past two seasons in his second stint with JD Motorsports, owned by racing veteran Johnny Davis. Earnhardt never finished better than 11th in 58 Xfinity Series starts with the team. His results in 2021 were dismal, with a best showing of 18th place and only five finishes in the top 20.
Earnhardt finished 26 in points. Stablemates Landon Cassill (22nd), Ryan Vargas (27th), and Colby Howard (32nd) also lacked top-10 finishes, so it isn't as though Earnhardt underperformed. However, there isn't much on Earnhardt's prior resume to suggest that the great-grandson of Ralph Earnhardt will be the one adding to the family's rich racing heritage. His two best finishes in 76 Cup Series starts from 2015-19 were 11th and 21st, and all three of his top-10 results in 131 Xfinity starts came in 2019.
Jeffrey Earnhardt bids farewell, looks ahead
Driver Jeffrey Earnhardt's Facebook message announcing his departure from JD Motorsports indicated a desire to start fresh someplace where he might be able to contend, whether that is in a part- or full-time role.
"To everyone at JD Motorsports with Gary Keller thanks for the opportunity and I wish everyone a great future," he wrote. "To the fans, thanks for the support and always having my back. It matters more than you know. As we turn to the 2022 season I've decided I'm going to seek out race winning opportunities as sponsorship permits.
"My goal has always been to win races and if that means less races in winning equipment that's what we'll do as we build our sponsor base. Looking forward to the future."
Earnhardt has already repped nine teams in parts of nine Xfinity Series seasons since 2009, so he undoubtedly knows his way around the landscape. And, despite the noted lack of success, the family name will carry some cachet as he tries to line up sponsorship money that can facilitate landing a new gig.
Xfinity lineups will be fluid into early 2022
Team owners were understandably cautious about committing to running cars in the 2021 season because of pandemic-related uncertainty. Sponsors were eager to resume business as usual in promoting goods and services while remaining cognizant of the possibility of sudden steps backward in the recovery due to new outbreaks.
The landscape looks more promising in 2022, but full Xfinity lineups remain fluid until after the year-end holidays.
Joe Gibbs Racing is a case in point. Harrison Burton has landed a Cup Series ride for 2022, and reigning Xfinity champion Daniel Hemric is moving over to Kaulig Racing to team up with AJ Allmendinger. That leaves JGR with just Brandon Jones, though the announcement on the addition of grandson Ty Gibbs is just a formality.
JGR would certainly want to run more full-time cars, but will it be one or two? And as long as we've mentioned Kaulig Racing, the team has not said yet that Jeb Burton will return.
Factor in the drivers likely getting bumped out of the Cup Series, like Anthony Alfredo, or ripe for promotion from the trucks circuit, and Jeffrey Earnhardt faces a bumpy road on the way to taking his next green flag.
All stats courtesy of Racing Reference.