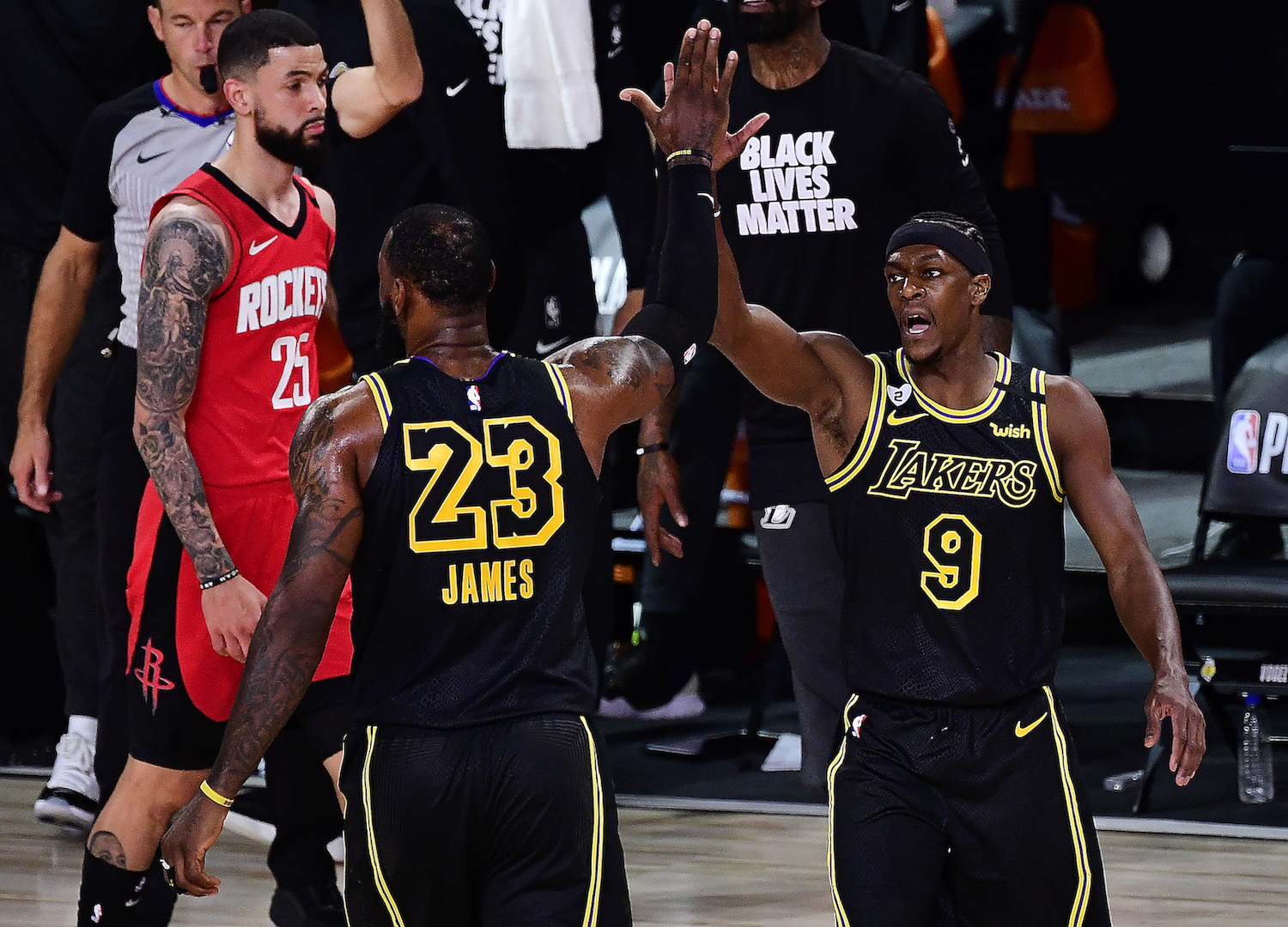 Rajon Rondo's Biggest Contribution to the Lakers Is His 'Swag,' Not Points or Assists
On Sunday night, Rajon Rondo helped the LA Lakers defeat the Houston Rockets. After the game, Frank Vogel praised the veteran guard's "swag."
During his time in the NBA, Rajon Rondo has built up quite a resume. During his time in Boston, the current LA Lakers guard won a championship; he's also proven that he can assist and defend with the best of them. Frank Vogel, however, things he brings something different to the floor every time he dons the purple and gold.
During Sunday night's win over the Houston Rockets, Rajon Rondo stepped up and played a key role in tying the series at one game apiece. According to his head coach, however, the guard's true impact wasn't point, assists, or anything else in the box score, but his "swag."
Rajon Rondo's impressive NBA career
Thanks to the presence of LeBron James and Anthony Davis on the Lakers' roster, Rajon Rondo can fade into the background and seem like a bit-part player. The guard, however, has had an impressive NBA career.
After playing two NCAA seasons at the University of Kentucky, Rondo entered into the 2005 NBA draft. The Phoenix Suns selected him with the 21st overall pick, but didn't hold onto the guard for long; they promptly traded him to the Boston Celtics.
Rondo spent his rookie year as a backup but, come the 2007-08 season, claimed a starting job. While that brought increased responsibilities, the guard didn't miss a beat; that summer, he helped the Celtics win an NBA championship.
While the Rondo continued to improve and made a name for himself with his assists and steals, things would eventually go off the rails a bit. The guard tore his ACL, missing most of the 2013-14 season. He returned to action but, in December 2014, was traded to the Dallas Mavericks. After that, Rondo joined a new team each summer, looking for a long term home. He spent time with the Mavs, Kings, Bulls, and Pelicans before joining the Lakers.
Frank Vogel highlights the guard's swag
On Sunday night, the LA Lakers defeated the Houston Rockets, tying their playoff series at one game apiece. While all of the big stars made an impact, Rajon Rondo also stepped up. He finished the game with 10 points, nine assists, and five steals; the Lakers also outscored the proposition by 28 points when he was on the floor.
After the game ended, however, Frank Vogel didn't praise Rondo for his production. Instead, he cited a different metric. "His impact on our team is measured in swag," the coach explained, according to Sean Highkin of Bleacher Report.
While that might sound like unconventional praise, Vogel has cited Rondo's swag before; in November, he made a similar comment, albeit with some extra explanation.
"Rondo had 10 assists, but Rajon's statistics are not measured on a stat sheet," Vogel said after the Lakers beat the Thunder in November, according to Lakers Nation. "It's measured in swag. He just gives us some confidence and an air about us that we know we're going into a battle with just a heck of a basketball player and he just helps our swag."
LeBron James gave Rajon Rondo a similar compliment after Game 2
While citing swag might not be a conventional metric, Frank Vogel isn't the only one to praise Rajon Rondo for his contributions. After Game 2, LeBron James made similar comments, making reference to intangibles, rather than swag.
"I think he was just extremely aggressive, not only offensively, but defensively—taking the challenge on James [Harden], taking the challenge on whoever he was guarding," LeBron explained, according to Russell Greaves of the Sporting News. "Just trying to lead."
"I mean, that's what 'Do [Rondo] is," James continued. "He's a leader. And for us to have him back in the postseason, it's a key for our team. He comes in, he pushes the tempo, he gets guys involved and that doesn't always show up in the stat sheet. The intangibles that he does both offensively and defensively — his nose is always around the ball and he just makes plays for us, and tonight was another example of that."
While stars are a key part of any championship run, every team needs a couple of role players to pitch in. With his swag, intangibles, and ability to contribute off the bench, Rajon Rondo could be an invaluable contributor to the Lakers' chase for the title.
Stats courtesy of Basketball-Reference