Ranking the 5 Best 2022 NFL Draft Prospects Playing in the College Football Playoff
Seeing as the College Football Playoff showcases the four best teams in the country every year, it's no surprise that more than a handful of first-round NFL draft picks the following spring come from the CFP. That will be no different this year, as all four teams in the CFP figure to have at least one first-round pick on their roster. In fact, the No. 1 overall pick in 2022 might come from the playoff this season.
So, who are the five best 2022 NFL Draft prospects competing in this year's CFP, and where might they hear their names called in a few months?
5. Ahmad Gardner, CB, Cincinnati
Cincinnati has made it this far in large part because of its defense, and no one has been more impactful on that side of the ball than Ahmad Gardner.
Gardner is arguably the most talented cornerback in the entire country. He has it all. Speed. Athleticism. Instincts. Versatility. And at 6-foot-2 and 188 pounds, he has the size NFL scouts are always looking for in a corner.
The junior CB doesn't just pop out on tape and with his metrics, though. He hasn't allowed a single touchdown in more than 1,000 coverage snaps throughout his Cincinnati career. Talk about lockdown.
Gardner will most likely be a first-round pick in the 2022 NFL Draft, and he could realistically sneak into the top 10 as the No. 1 corner in the class.
4. Jordan Davis, DT, Georgia
You don't need to know much about football to know that Jordan Davis is very, very good at it.
He's impossible to miss. At 6-foot-6 and 340 pounds, Davis swallows offensive linemen whole and spits them out for pleasure. He scoffs at your double-teams, disrupts entire running games, and makes quarterbacks rethink their career choice with one thunderous hit.
But the Georgia defensive tackle is more than just a roadblock. He's also a skilled pass rusher with active hands, and his quickness and sideline-to-sideline speed will make you think he was made in a laboratory.
He's another surefire first-round pick in next year's draft.
3. David Ojabo, EDGE, Michigan
David Ojabo has only been playing football for five years, but you wouldn't know it by watching his junior year tape.
After registering just one measly tackle as a sophomore, Ojabo shot out of a cannon this season to the tune of 11 sacks, 12 tackles for loss, and five forced fumbles. The Michigan EDGE is explosive off the ball and can beat even the quickest tackles to the outside. And when he finds his way to the quarterback, he never misses his target.
Ojabo was a no-name entering this season. Now, his draft stock is soaring up more exponentially than Tesla's. He could be a top-10 pick in 2022.
2. Evan Neal, OT, Alabama
It seems as if every year Alabama has another offensive lineman strolling across the stage and shaking hands with Roger Goodell within the first few picks of the draft, and that's no different this year.
This time, it will be Evan Neal's turn.
Neal has long been considered the best tackle prospect in the 2022 class. The 6-foot-6, 360-pound lineman can overpower the strongest pass rushers there are, and his impressive length helps him subdue quicker players. He can play both right and left tackle, and his powerful run blocking style will help any NFL team's run game from Day 1.
Neal should be the first tackle off the board in April.
1. Aidan Hutchinson, EDGE, Michigan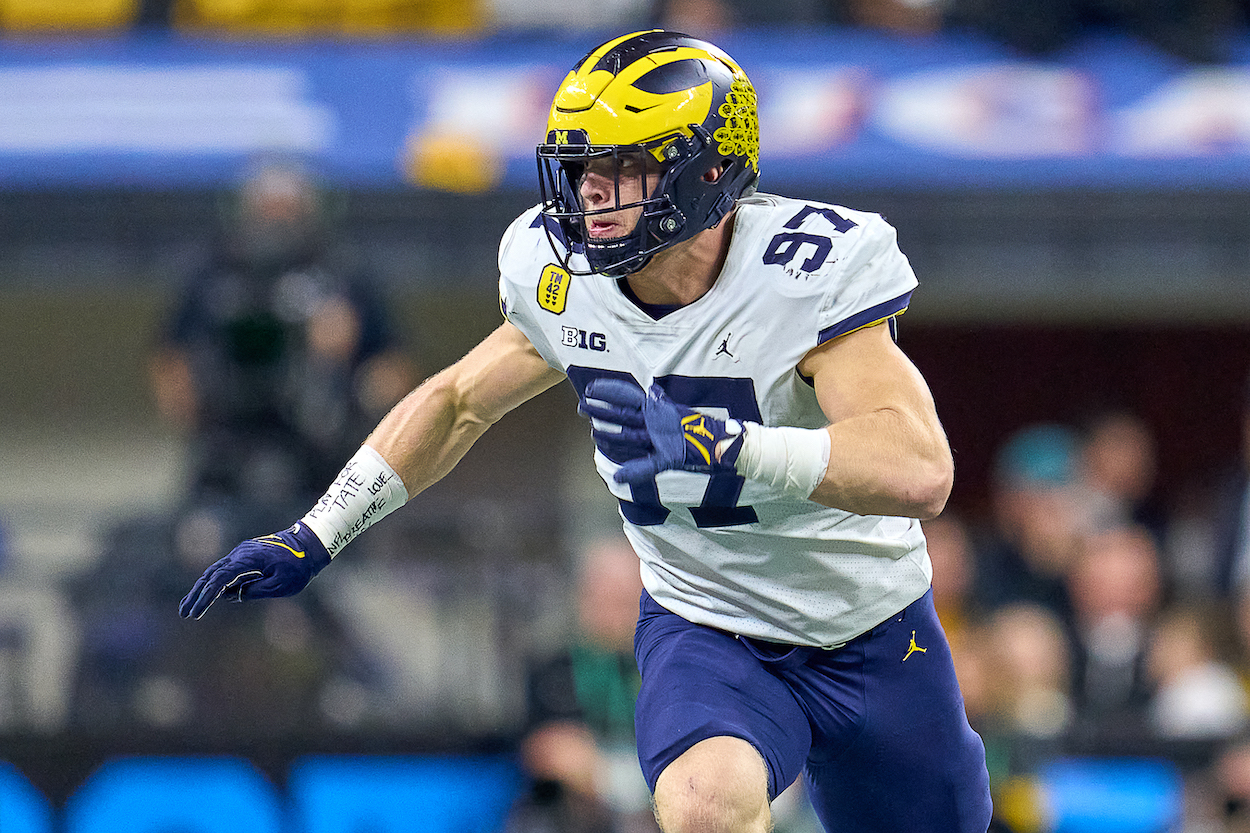 All four players above have bright NFL careers ahead of them, but none are in the running for the No. 1 overall pick in the 2022 NFL Draft.
Aidan Hutchinson is.
Hutchinson has recorded 14 sacks and 15.5 tackles for loss in his senior season, but stats don't tell the entire story. The Michigan EDGE is a ferocious pass rusher who will stop at nothing to reach the quarterback on every single pass play. His elite combination of size (6-foot-5, 270 pounds), speed, length, and motor make him a can't-miss prospect.
I don't know who hurt this man, but he plays every snap as if he hasn't eaten in a week and the opposing quarterback stole his lunch money.
Hutchinson should be the first name called in the 2022 NFL Draft.
Like Sportscasting on Facebook. Follow us on Twitter @sportscasting19.